Past Issues of WoodenBoat Magazine
2014 WoodenBoat Magazines
---
WoodenBoat 237, March/April 2014
Table of Contents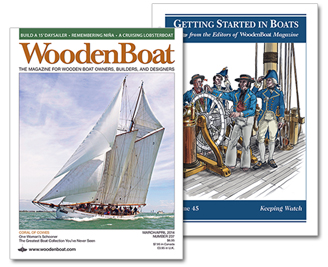 FEATURES
A Schooner for Miss Dolan — Creating DEFIANCE for a strong-willed yachtswoman by Bill Peterson

SPARTINA — A lobsterboat-style Great Lakes cruiser by George D. Jepson

Remembering the Schooner NIÑA — Part 1: Her early years by Richard Dey

Thumper's World — An inspired waterman, a 100-year-old schooner, and the notorious Delaware Bay by Randall Peffer

The Return of the Giant-Slayer — The schooner CORAL OF COWES by Nic Compton

Aboard TOLKA — A limousine launch for Muskoka by Timothy Du Vernet

The Ghosts in the Rossie Mill — by Stan Grayson

How to Build Phoenix III, Part 2 — A versatile, easy-to-build 15-footer by Ross Lillistone

Cover: CORAL OF COWES is well suited to Caribbean and European charters, which she has done since 2011. Largely original in all but her rig (she was launched as a yawl in 1902), the storied British yacht lay dormant for decades until a restoration was completed in 2005.
Photograph by Nic Compton

Getting Started in Boats
Supplement Insert to WoodenBoat Magazine
Keeping Watch by Jan Adkins

Looking for a particular article you saw?
WoodenBoat 236, January/February 2014
FEATURES
Table of Contents
The Designs of Arch Davis — Classic forms for the contemporary builder by Robert W. Stephens
FETCH — Adapting a small daysailer for cruising by Tom Jackson
The Lives of a Cat — CONJURER and her succession of saviors by Skye Davis
FAST PIECE OF FURNITURE — From Cold War Estonia to Maine's cold winter by Bill Buchholz
Aged in Wood — How SAWDUST became the legacy of three boatbuilding generations by F. Marshall Bauer
Aboard EVERGLADES — A contemporary glass-cabin launch by Maria Simpson
How to Build Phoenix III, Part 1 — A versatile, easy-to-build 15-footer by Ross Lillistone
TACOMA — How an American tuna clipper changed the face of Australian fishing by Bruce Stannard
Cover: On Maine's Chickawaukie Pond, Bill Buchholz gets a running start with his Monotype XV iceboat. He built the boat to a design that originated in Estonia before World War II.
Photograph by Alison Langley
Getting Started in Boats
Supplement Insert to WoodenBoat Magazine
Towing for the Yachtsman by Andy Chase
Looking for a particular article you saw?