ALTAMAR
A California 32-Class Sloop
---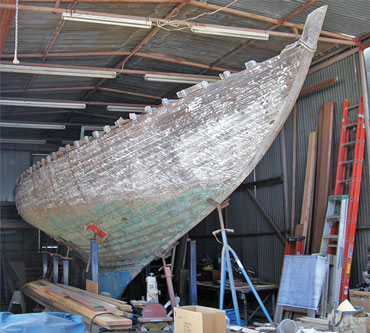 Only a glance at ALTAMAR's stripped-out hull, and you'll see that getting her fixed up and sailing again will be a major job—so major that one might question why in the world anyone would undertake such a project. In truth, ALTAMAR's needs are not that different from most 75-year-old boats; it's just that here they're more apparent. She needs new transverse framing (steam-bent frames, floor timbers, and deckbeams), along with a new deck, interior, and rig. There's a fair amount to start with, even though there's a long road ahead: the ballast keel of cast lead, backbone timbers of teak, and most of the planking of Douglas-fir can be reused.
ALTAMAR is a rescue boat. With designer Doug Peterson's encouragement, Doug Jones of Traditional Boatworks in San Diego saved her from the chainsaw several years ago and has stored her in one of his sheds ever since—waiting for a savior. Given the Cal 32's Southern California heritage and outstanding racing record, it's hard to believe she's languished this long. Now it's crisis time again because Doug is moving his shop to Port Townsend and will be leaving ALTAMAR behind—outside the shed in all probability.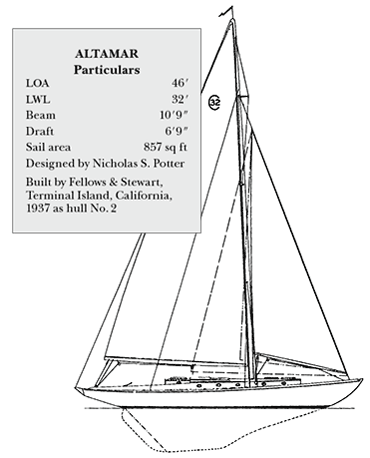 A few years ago in Saint-Tropez I had a chance to study CHOLITA, the first boat of this seven-boat racing/cruising class, and marveled at her elegant simplicity. (She was also burning up the Mediterranean racecourse that year.) She had wide, uncluttered decks; an unusually long trunk cabin that gives headroom in the galley and fo'c's'le; a footwell-type cockpit; and tiller steering. There were only three deck winches—a pair for the headsail and backstays, and a single winch on the cabintop for the mainsheet. These boats have a private stateroom aft, so the main companionway is offset—to starboard and forward, by means of a jog in the trunk cabin—which brings the ladder into the main saloon instead of the stateroom. Like the similar New York 32s, the Cal 32s were laid out for a paid crew, so the galley and crew's quarters are located forward of the mast.
Five Cal 32s were built together in 1937, and two more came from the South Coast Co. after World War II. You can read more about Cal 32s, and the designer and builder, in Tom Skahill's well-researched articles in WB Nos. 83 and 173. And you can speculate, as I have, at the genesis of the design. I see a goodly amount of the Fishers Island 31s in their profile and midsection, which may be the result of Nick Potter's visiting the Herreshoff plant where he got his training while those boats were a-building.
Lately, both the Fishers Island 31s and the New York 32s are being rediscovered for the fine yachts they are— with several restorations completed or ongoing. I hope this Cal 32 likewise can enjoy a renaissance.
Maynard Bray is WoodenBoat's technical editor.
For more information, contact Douglas Jones at doug@traditional boatworks.net; 619–993–9295.
Send candidates for Save a Classic to Maynard Bray, WoodenBoat, P.O. Box 78, Brooklin, ME 04616.