Family BoatBuilding Links
Please contact us with any questions about participating in, or producing a Family BoatBuilding event.
WoodenBoat Magazine
P.O. Box 78
Brooklin, ME 04616
T: 207-359-4651
F: 207-359-8920
Email: jim@woodenboat.com
Boat Models & Kits
---
Choose Your Boat
Whether you want to row, sail, or power on the water, there are boat kits available to construct craft that are sturdy, attractive, and easy to assemble.
There is no one kind of Family BoatBuilding boat. Different Family BoatBuilding events worldwide will be using different boat models—some constructed out of pre-cut kits and some built using design plans. Below are some examples of the boat models used successfully at Family BoatBuilding events held over the past several years.
Bevin's Skiff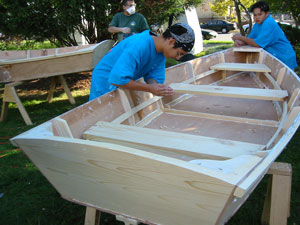 Length Overall: 11′ 8″
Beam: 4′ 6″
Max capacity: 460 lbs. (7″ freeboard)
Building Time: 25 hours from kit; add at least 8 hours if building from plans
This rowing boat is a straightforward design built with common construction methods. Designed by Joe Youcha, who has led dozens of Family BoatBuilding events across the country, the Bevin's Skiff design was born out of his experience in building hundreds of boats with families and community groups. This is a traditional skiff design that's built just like most of the work skiffs that have come before it—no lofting, no molds, no spiling, no special tools. The kit includes all the parts, fasteners, and adhesive.
Weekend Dinghy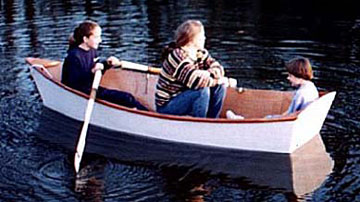 Length Overall: 9′ 0″
Beam: 3′ 4″
Draft: 0′ 4″
Weight: 70 lbs
Optional Sail: 37 sq ft
The Weekend Dinghy, designed by Karl Stambaugh, is constructed out of a stitch-and-glue kit. Builders use wire-ties and epoxy to assemble the boat, and finish it by sanding off excess epoxy, painting and varnishing the craft (at least two weeks after construction). All of the skiff's plywood parts are provided pre-cut using a computer-controlled router table. A sailing rig is available.
Follow this link for more information about the Weekend Dinghy.