Boat Plans & Kits Categories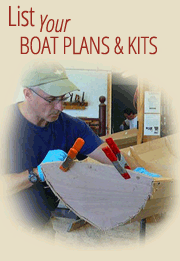 Please login or register to post your Boat Plans & Kits.
You are here
65 ft Trawler

The hull is hard chine,with a bulbous bow. A unique feature is that she has two engine rooms, with redundant systems. With one side down the other engine room gives &5% of speed and full electrical power for all ship service systems and partial air conditioning. The wheelhouse is protected by a Portugeeze bridge, and anchors are handled by hydraulic winches so there are no anchor lockers below decks to set up corrosion. The mast is hinged and can be lowered hydraulicly. The vessel is strengthened to take a 2000 pound davit. There is a large flybridge with very usable space. There are lots of deck lockers with cast aluminum doors to give a clean uncluttered look to the deck. The vessel is fully self righting.
DESIGN SPECS
Designer:
Year of Design:
LOA:
Beam Length:
Draft Length:
Displacement:
Materials:
Propulsion:
Skill Level to Build:
Cost:
Website:
Contact Information:

2017 Niagara Stone Road

Niagara-on-the-Lake Ontario L0S 1J0
Phone: 905-341-6113
<< VIEW ALL BOAT PLANS & KITS