Boat Plans & Kits Categories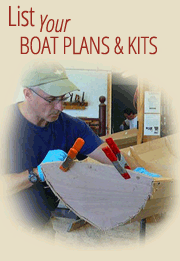 Please login or register to post your Boat Plans & Kits.
You are here
Beg-Meil

Beg-meil is a stunning small dayboat or a big sailing dinghy, if you will. Notice the elegant deck line that works so well, visually, with the sheer and profile. We are big fans of this boat and hope to have one built to bring to shows sooner than later. One is under construction in Montana by our customer Gary Davis and they should be sailing by next summer. Beg-meil has a centerboard that provides a great deal of stability to this sailboat making her feel more seaworthy and stable than one might find possible in a 14 1/2 footer. The deck, flotation, and ample freeboard make excursions out of the harbor easy and safe. She has a good amount of sail area for her size and would provide very fast sailing for those just looking for pure fun. When the wind dies or you get to the ramp and the wind is further out, she can be rowed by one person (oars cleverly stow well out of the way). Did I mention we want one for oursleves? This boat is detailed in the 2010 Small Boats issue.
DESIGN SPECS
Designer:
Year of Design:
LOA:
Beam Length:
Draft Length:
Displacement:
Materials:
Propulsion:
Skill Level to Build:
Cost:

$2,959 for CNC pre-cut kit

Website:
Contact Information:

49 Fox Street

Portland 4101
Phone: 207/602-9587
<< VIEW ALL BOAT PLANS & KITS