Boat Plans & Kits Categories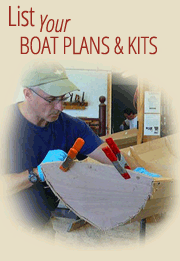 Please login or register to post your Boat Plans & Kits.
You are here
CAT 46 POWER / SAILER

The Catamaran ROBERTS CAT 46 was designed to be built using the fibreglass panel construction techniques. The method is very simple to use and perfect for the inexperienced builder. All of the developing is done in the computer and patterns are supplied for the female frame formers. Special pre-scaled drawings are supplied for each hull panel making it simple for the builder to laminate all of the hull and superstructure on a flat table. The panels are set inside the pre-erected framework and laminated together similar to the plywood Stitch and Glue method.
www.bruceroberts.com/public/HTML/descriptions/cat46_description.htm
DESIGN SPECS
Designer:
Year of Design:
LOA:
Beam Length:
Draft Length:
Displacement:
Materials:
Propulsion:
Skill Level to Build:
Cost:
Website:
Contact Information:

1352 WALNUT AVE

ANNAPOLIS MD 21403
Phone: 1-410 279 2525
<< VIEW ALL BOAT PLANS & KITS