Boat Plans & Kits Categories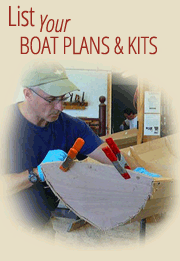 Please login or register to post your Boat Plans & Kits.
You are here
D 870

The design of the daysailer, stems from the desire to obtain an extremely simple, in all its characteristics, without penalizing any aspect. It makes building with traditional materials, reinterpreted with the knowledge and ability techniques achieved in recent years. The materials are the marine plywood, the epoxy resin and the carbon fiber. The construction of marine plywood is used for more than 50 years and the hulls and structures are still in excellent condition.
Today, with the new epoxy resins, longevity is further improved. The fact to consider is that, in comparison to the fiberglass boats, the structure is not of the type "disposable", but destined to last long as there is no risk of osmosis, delamination etc. The other advantage is given by the rigidity, an essential aspect in the performance of the boat. The marine plywood and epoxy allow their boats to get faster thanks their rigidity. Its low density, allows the marine plywood to be a lightweight material. At constant flexibility is more solid fiberglass used in boat of equivalent weight.
The project includes a hull 870 cm long and 225 cm wide with a lifting keel bayonet allows a draft of 195 cm lowered and lifted for the operations of road transport. In fact, the boat can be transported on a cart pulled by an average car, thanks to the ability to remove the rudder acting on one bolt. The weight of the boat is 500 kg to 600 kg which are added between drift and torpedo lead.
It provides a Crew of 5: 300-400 kg. The deck layout has a set of maneuvers to facilitate use in the presence of crew limited number and configuration of the entire flush deck forward part allows to have a wide area it can dedicate sun. The cockpit is equipped with benches offering a comfortable seating for six people and their strangeness the running rigging is convenient for guests on board. The tree with two orders of spreders quartered to 30°, to eliminate the backstay, provides a rig fractional 7/8 with a top square sail and reduced overlap that goes well with the needs easy sailing.
The overall design of the vessel is directed to a large cockpit which represents more than 50% of the total length and a flush deck. The cost of construction and complete customization of the boat, given the construction semi-artisan, is a strength of this project. The clean design and powerful hull to fit into a slice of the contemporary market. Available boat plan www.amyacht.com.
DESIGN SPECS
| | |
| --- | --- |
| Designer: | |
| Year of Design: | |
| LOA: | |
| Beam Length: | |
| Draft Length: | |
| LWL: | |
| Displacement: | |
| Materials: | |
| Skill Level to Build: | |
| Available as: | |
| Cost: | |
| Website: | |
| Contact Information: | ALESSANDRO COMUZZI ARCHITETTO Via Cisis, 9 33100 Udine | Italia 4, Cité Magenta 75010 Paris | France mob ITA +39.328.2649038 mob FRA +33.(0)6.95362615 |
<< VIEW ALL BOAT PLANS & KITS