Boat Plans & Kits Categories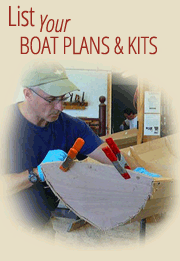 Please login or register to post your Boat Plans & Kits.
You are here
Dace - RYD-8.4

RYD-8.4 has a few different rig combinations possible, as do most boats this size. She has a healthy PPI for a craft this size so bringing along crew isn't a problem. This boat is a load bearer and shouldn't be confused with other more specialized craft . As designed, she'll weight about 60 pounds, but can be built to about 50 if desired, which is quite respectable for a partly decked 10′ boat.
Plans are very complete and show all rig possibilities. Plans are available in imperial and metric and include; lines, offsets, sail, spar, rudder, centerboard, station molds, fore hatch, bulkheads, blocks, engine well, plywood panel layout and construction drawings. Also included are rough assembly guides, building tips and tricks, assembly photos and epoxy use techniques.
DESIGN SPECS
Designer:
Year of Design:
LOA:
Beam Length:
Draft Length:
Displacement:
Materials:
Skill Level to Build:
Cost:

$20 study plans $15 for download, full set $60 (USD)

Contact Information:

34539 Marshall Road
Eustis FL 32736
Phone: 352-357-1248
<< VIEW ALL BOAT PLANS & KITS