Boat Plans & Kits Categories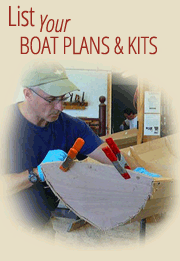 Please login or register to post your Boat Plans & Kits.
You are here
Escort

Escort was designed as a combined day cruiser and utility boat. A good example of the round bottom type, she was easy and comfortable in a seaway. A speedster, she was capable of whisking her owners along at 28 1/2 mph. She epitomized style under power.
DESIGN SPECS
Designer:
Year of Design:
LOA:
Beam Length:
Draft Length:
Displacement:
Materials:
Propulsion:
Skill Level to Build:
Cost:

Please contact us for pricing

Website:
Contact Information:

170 Mason St.

Greenwich 6830
Phone: 203-687-4700
<< VIEW ALL BOAT PLANS & KITS