Boat Plans & Kits Categories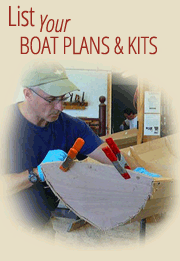 Please login or register to post your Boat Plans & Kits.
You are here
EURO 3200 - POWER BOAT KIT

Euro 32 M / 106 ft Motor Yacht (Charter version)
This boat would cost several million Euros and more in US$ so only enquire if you are planning say 5 million or more !
Bruce Roberts designed POWERBOATS and TRAWLER YACHTS are available as cut-to-size kits and complete boats.  Pre cut boat kits are all the metal parts required to build a complete boat. These parts are computer generated and NC Plasma cut before they are packed and delivered ready for you to start assembling and welding into the finished boat. We design and nest the package using our specialized computer programs, then cut on a computerized plasma-oxygen cutter. These kits are shipped world-wide each in individual containers.
DESIGN SPECS
Designer:
Year of Design:
LOA:
Beam Length:
Draft Length:
Displacement:
Materials:
Propulsion:
Skill Level to Build:
Cost:
Website:
Contact Information:

1352 WALNUT AVE

ANNAPOLIS MD 21403
Phone: 1-410 279 2525
<< VIEW ALL BOAT PLANS & KITS