Boat Plans & Kits Categories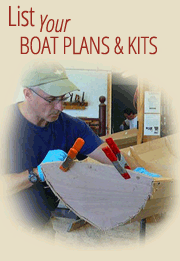 Please login or register to post your Boat Plans & Kits.
You are here
ROBERTS SPRAY 55

As there are SEVERAL THOUSAND Bruce Roberts' SPRAY SAILBOATS in service world-wide plus another 1,000 SPRAYS currently being built from our boat plans and patterns.  We have been willing to listen to YOUR ideas about this wonderful boat and several boat plan layouts have been drawn with many features that are interchangeable between the various versions.

The Spray 55  is designed for building in multi-chine steel or aluminum, and can be rigged with a variety of sail plans including a gaff schooner, Bmu cutter, junk rig etc. Custom sail plans and additional accommodation layouts may be drawn to suit your requirements for a reasonable fee.
www.bruceroberts.com/public/HTML/descriptions/Spray55_description.htm
DESIGN SPECS
Designer:
Year of Design:
LOA:
Beam Length:
Draft Length:
Displacement:
Materials:
Propulsion:
Skill Level to Build:
Cost:
Website:
Contact Information:

1352 WALNUT AVE

ANNAPOLIS MD 21403
Phone: 1-410 279 2525
<< VIEW ALL BOAT PLANS & KITS