Boat Plans & Kits Categories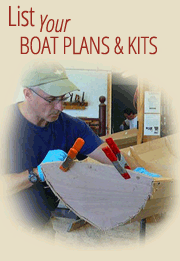 Please login or register to post your Boat Plans & Kits.
You are here
Sabor, RYD-14.6

RYD-14.6 is intended to bring performance to back yard builders. Her flanks and bottom can be managed from a few pieces of plywood, no scarfs or scabbing little bits on to make up the length.  Her rig can be custom as drawn or she could wear a number of modern production boat rigs, in her size range, such as the 420 or Jet 14. As drawn, her performance level will be much like a Wind Mill, though she looks a whole lot better. With more area rigs, she'll really fly.  RYD-14.6 fine entry, V hull form will permit full plane in 8 knots of wind and the narrow beam insures you don't have much to hold you back. The cockpit is self draining, missing the transom, the appendages well shaped and her floatation chambers are designed for hiked out seating. A dozen sheets of plywood and some epoxy is all it takes to get her built. 
DESIGN SPECS
Designer:
Year of Design:
LOA:
Beam Length:
Draft Length:
Displacement:
Materials:
Propulsion:
Skill Level to Build:
Cost:

$20 study plans $15 for download, full set $80

Website:
Contact Information:

34539 Marshall Road

Eustis FL 32736
Phone: 352-357-1248
<< VIEW ALL BOAT PLANS & KITS