Past Issues of WoodenBoat Magazine
The Buyboat THOMAS J.
The unlikely survival of the buyboat
---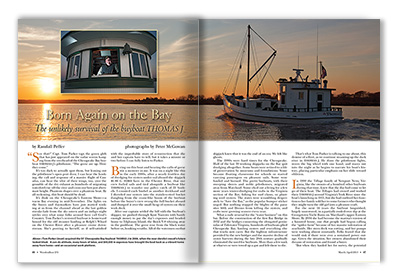 By all reckoning, the Chesapeake Bay buyboat THOMAS J. should be dead. For fourteen years, this no-nonsense Chesapeake workhorse languished and rotted in a partially roofed-over slip at the Georgetown Yacht Basin on Maryland's upper Eastern Shore. When hauled for a pre-purchase survey, the potential buyer saw that her bottom had extensive deterioration, and he walked away from the deal. That's when Tom Parker bought the boat for $550, rebuilt the bottom, and refurbished the rest of the boat. He now works and cruises the THOMAS J., while helping to keep the buyboat legacy alive.