Design Challenge IV
Rethinking the Wooden Runabout
---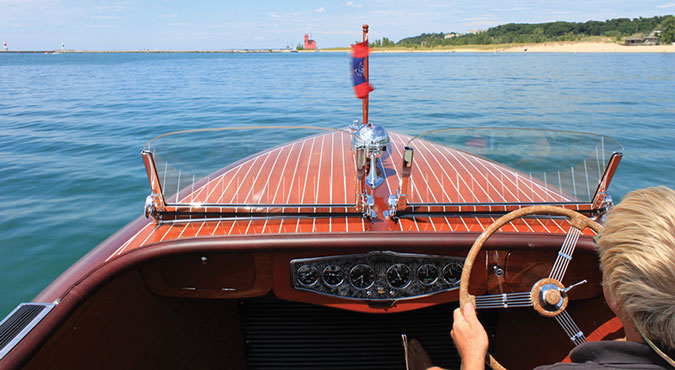 The runabout, without a doubt, is one of the world's favorite recreational boats. For fishing, picnicking, water skiing, or just zipping around on a sunny summer day, it's hard to beat the pure fun of this versatile family boat.
The popularity of the type dates back to the years between the two World Wars, when builders such as Gar Wood and Chris Smith popularized these boats through mass production. The efficiencies they achieved helped make boat ownership an attainable dream for the person of average means. The booming post-World War II economy brought about great evolution in the design of these boats, but these changes came with the fiberglass revolution, and there was little fresh thinking in wood—at least compared with the great variety of fiberglass runabouts that emerged during that era.
For this new Design Challenge, we ask you to rethink the wooden runabout, applying design principles, power­ing options, layouts, and construction techniques not available or conceived of during Chris-Craft's heyday.
Parameters:
Conceive a fun, multipurpose day boat, in wood, that could be built by a dedicated amateur.
The length of the new boat must fall between 18' and 25'.
There is no stated horsepower restriction, but common sense should prevail.
There must be a minimum seating capacity for four people.
Submissions must be the designer's original, previously unpublished, work and must include:
A narrative description of the design concept (Word document or PDF).
Lines, profile, sections, and construction plans, an accurate weight study, and performance and cost calculations (JPG or PDF).
The judging of this Challenge will include a "reader favorite" category, requiring that the materials described above be posted on the WoodenBoat magazine website, www.woodenboat.com, for judging.
We will award $1,000 to the first-place design, $500 to the second-place winner, and $500 to the reader-favorite winner.
Entries must be received by November 1, 2012.
WoodenBoat's sister publication, Professional BoatBuilder, is currently sponsoring a similar contest, but for a production-built boat. These two contests will be judged separately, and so must be entered separately.
Wooden Runabout Design Challenge
WoodenBoat magazine
P.O. Box 78 • Brooklin, ME 04616 USA