Family BoatBuilding Links
Please contact us with any questions about participating in, or producing a Family BoatBuilding event.
WoodenBoat Magazine
P.O. Box 78
Brooklin, ME 04616
T: 207-359-4651
F: 207-359-8920
Email: jim@woodenboat.com
Family BoatBuilding Events Calendar
---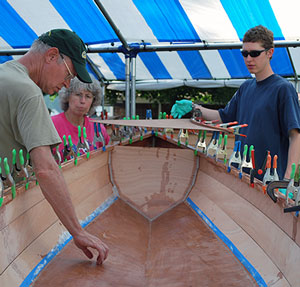 Family BoatBuilding events are happening all over the world! Below is a list of the events scheduled to date. Please check this page frequently for updates.
Add your Family BoatBuilding event to this page.
Texas
Sponsoring Association: Traditional Small Craft Association — Texas Chapter
Producer: Port Aransas plyWooden Boat Festival
Event Start Date: 17 October 2014
Event End Date: 19 October 2014
Address: Farley Boat Works, 716 W. Avenue C Port Aransas, Texas 78373 United States
Type of Boat: QT Skiff Rowboat
Contact: Frank Coletta
Phone: (210) 218-9961
Email: coletta_j@msn.com
Event Description: Would you or your family like to build a boat with expert supervision along with 5 other families? If so, sign up now for the Family Boatbuilding event at the Port Aransas plyWooden Boat Festival.

Each family (it can be a single adult or up to 4 people including kids as young as 10) will build a QT Skiff, designed by noted small boat designer, Jim Michalak. This fine little "Flattie" skiff is perfect for fishing, birdwatching or just messing around in boats. It can be carried in the back of a piccup truck or on top of a car. The boat is 13 feet by 45 inches and weighs 75 pounds.

Each student will take home a completed unpainted boat at the end of the class. Materials will be provided.