MotorBoats Magazine
A Decade of Wooden Power Craft
---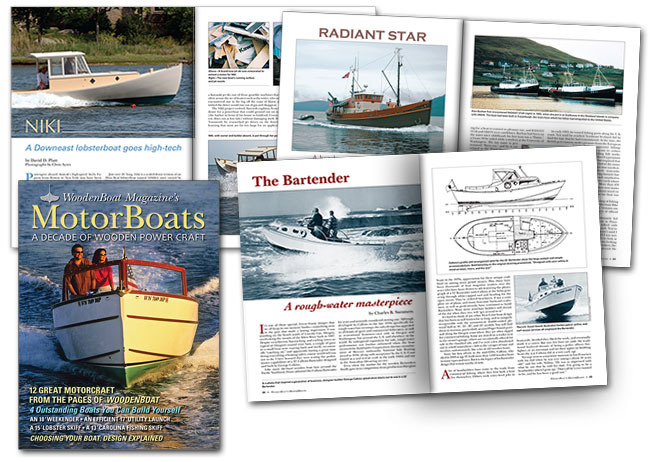 Discover the top 12 powerboats as voted by the Editors of WoodenBoat magazine. This limited-edition issue has been created to let you:
Feel the Power of a 316-hp, 12-Cylinder Scripps Engine
Learn the Possibilities of Stitch-and-Glue Construction
Tackle Rough Waters in a Calkins Bartender
Understand the Pleasures of Electric Power
Plus Much More...
Niki: This 26′ lobsterboat-style cruiser boat from the shop of Connecticut Builder Tom Townsend is lightweight and fast, and it's powered by a most unlikely engine: the powerplant of an eviscerated Kawasaki Jet Ski.
Radiant Star: This lucky Scottish fishing boat was saved from the chainsaw by an owner from the Pacific Northwest, delivered to her new home via Cape Horn, and converted into an elegant long-range motor yacht.
The Calkins Bartender: This legendary motorboat was designed in the mid 1930s by boatbuilder Charles Calkins, who developed the hull in fours sizes: 19′, 22′, 26′, and 29′. Thousands have been built worldwide, and they've been used by both the U.S. Coast Guard and the Australian surf patrol.