Boat Plans & Kits Categories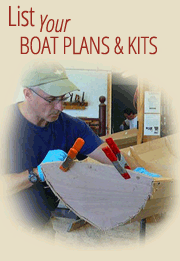 Please login or register to post your Boat Plans & Kits.
You are here
HAKA 122

ULDBs offer without any doubt the best building cost, performances, inside volume ratio. Haka 122's slim hull will provide outstanding passage making averages. Combining sail power with reasonable draft was done with our latest evolution of the Lerouge Twin Keel System. A carbon mast is required to carry lots of sail without compromising stability. Accommodation is simple and structural to achieve a high ballast ratio. All weights, such as the engine under the table, are kept amidships. Fresh water tanks are used as ballast.
DESIGN SPECS
Designer:
Year of Design:
Displacement:
Materials:
Propulsion:
Skill Level to Build:
Available as:
Contact Information:

La Touche FOUSSAIS-PAYRE 85240
Phone: +33 (0)2 51 51 46 45
<< VIEW ALL BOAT PLANS & KITS