Open House Weekend!
WoodenBoat magazine celebrates 40 years of publishing!
---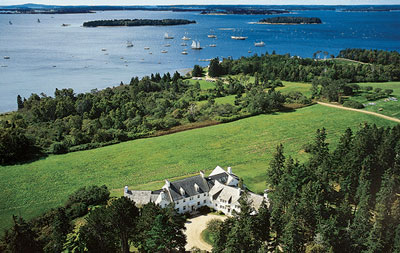 Please join the staff of WoodenBoat magazine for a very special open-house weekend August 14-16, 2014. We're throwing open the doors to our campus—and to our town of Brooklin, Maine—for three days of food, fun, and boats. The weekend's highlights will include tours of the WoodenBoat campus, a display of reader-built boats, tours of local boat yards, and a celebration of our town's remarkable history curated by the Brooklin Keeping Society. We're also inviting readers to bring boats they've built, for an informal display of craftsmanship derived from the magazine's pages. The scheduled events are few, but the opportunities to experience WoodenBoat firsthand, to meet the staff, to connect with fellow readers, and to experience the region and boats that gave rise to the magazine are many.
Meals
Please join the WoodenBoat staff at two benefit dinners during the open house weekend.
On Friday, August 15 at 5 pm, the Brooklin Fire Department and Brooklin Keeping Society will host a barbecue and silent auction at the Brooklin Fire Department. Proceeds benefit The Brooklin Volunteer Fire Department and The Brooklin Keeping Society. Tickets are $15 each.
On Saturday, August 16 at 4 pm, there will be an oyster and beer reception (oysters provided by The Brooklin Inn and beer provided by Strong Brewing Co.) at the WoodenBoat waterfront, followed by a 5 pm lobster dinner hosted by the First Baptist Church of Brooklin. Proceeds from the lobster dinner benefit The First Baptist Church of Brooklin Deacon's Fund. Dinner tickets are $25.
Boat Yard Tours
Brooklin, a town of 800 year-round residents, is home to no fewer than six boat shops and yards that store, maintain, and build some of the world's finest wooden boats. These include Brooklin Boat Yard, Eric Dow Boat Shop, Brion Rieff Boats, D.N. Hylan & Associates, Brooks Boats, and North Brooklin Boats. WoodenBoat staff will lead tours on Thursday and Friday at 10am.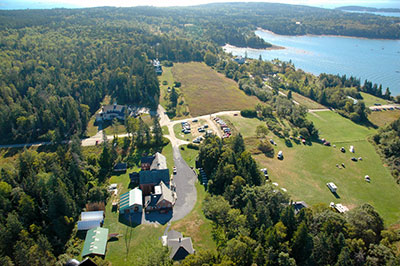 Visit the WoodenBoat Campus
We'll conduct guided tours of the WoodenBoat campus throughout the weekend. To complement these tours, the Brooklin Keeping Society is preparing an exhibition of Brooklin's maritime past, and the WoodenBoat staff is preparing an exhibition of photographs illustrating highlights of the company's history.Tours are scheduled at 10am and 2pm Thursday, Friday, and Saturday.
Reader-Built Boats
Bring your boat! We're preparing a two-acre field on our campus to host a land-based exhibition of reader-built boats. Plan to park your boat in the field for any or all of the weekend, for an informal gathering of like-minded people. Exchange ideas with fellow readers. Experience new boats. Get inspired. (We'll also hand out a guide to area launching ramps if you'd like to do some exploring during your visit.)
If you're arriving by water, we have a limited number of guest moorings. But we also have ample space in which to anchor, and good holding ground.
The open-house and Reader-Built Boats portions of the weekend are free. If you'd like to join us for dinner on Friday and Saturday nights, tickets are available from the WoodenBoat Store or phone 800-273-7447.
For information on Lodging and other Brooklin-area attractions, please contact the Blue Hill Peninsula Chamber of Commerce, 16 South Street, Suite B, Blue Hill, ME 04614; (207) 374-3242; chamber@bluehillpeninsula.org.