Small Boats Back Issues
Browse highlights and table of contents of past Issues:
Small Boats 2013
Explore the World of Small Boats
Sail, Power, Paddle, and Oar for Rivers, Lakes, and Saltwater
---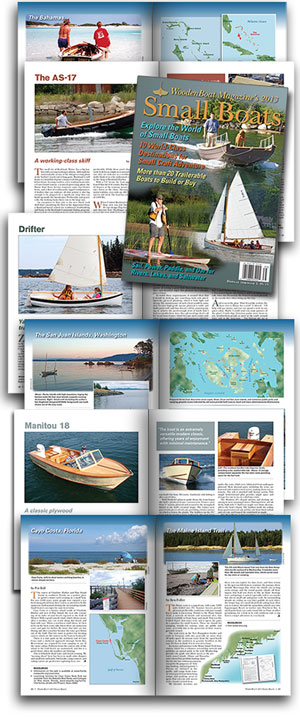 Small Boats 2013 features 21 small boats, including: A classic plywood runabout • A sail-and-oar beach cruiser • Sea Flea Hydroplane • A working-class skiff • A Gil Smith catboat, in miniature • ZEE K designed and built for Alaskan waters • The Lyman Runabout • A sailing canoe • A kit boat inspired by the Great Lakes Mackinaw • A svelte and versatile new kayak • A camp utility garvey
Also featured are 10 World-Class Destinations for Small Craft Adventure.
View table of contents
112 pgs., $6.95 US, $7.95 Canada.
ON-SALE November 27, 2012
ONLY available for a limited time at your favorite bookstore or newsstand!
Please note: This publication is not sent as part of a subscription and must be purchased separately.
Order Small Boats Now from The WoodenBoat Store
Tel: 1-800-273-SHIP (7447)
E-mail: wbstore@woodenboat.com