Past Issues of WoodenBoat Magazine
WoodenBoat 229, November/December 2012
---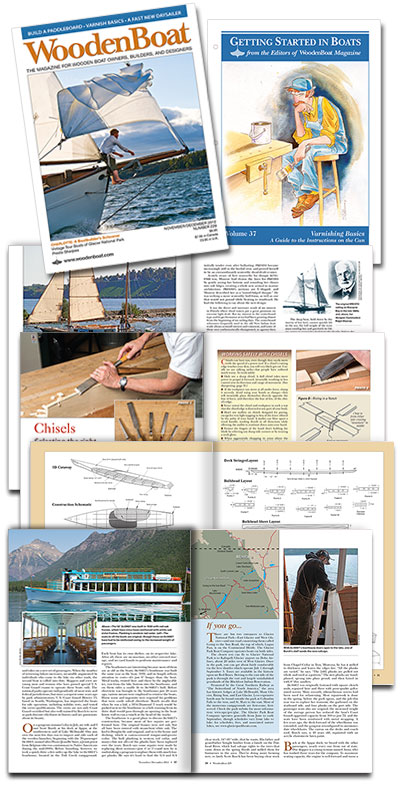 Highlights
Table of Contents
Building CHARLOTTE [On the cover] — Gannon & Benjamin co-founder Nat Benjamin designed and built a boat for himself after twenty years of building them for others. In the November issue, he describes his requirements for the 50′ schooner, the process of designing it, and how he built it while still maintaining G & B's business.
The Tour Boats of Glacier National Park — There's a fleet of wooden tour boats still operating in Montana's Glacier National Park. Commissioned by the Great Northern Railway, they were built starting in the late 1800s until 1930. In the November issue, Dan Spurr looks at the history of this fleet, the spectacular setting in which they operate, and the challenges of maintaining them.
Build a Standup Paddleboard — "Why are Stand-Up Paddleboards all the rage?" ask the folks at Chesapeake Light Craft. "Because they're ridiculously fun, like walking on water." In the November issue's first installment of a two-part how-to-build piece, Geoff Kerr walks us through the initial steps of scratch-building CLC's plywood Kaholo design.
Alternatives to the Inboard — Harry Bryan presents both a sculling oar and a shop-made outboard motor bracket for a small cruising sailboat.
Fred W. Martin — Weston Farmer called Fred W. Martin "a naval architect in the tradition of Charles L. Seabury, Edward Burgess, and Nathanael Herreshoff." Over his short career, the Wisconsin-based designer created an impressive number of designs spanning the range of pleasure boat types in use in the late 1800s and early 1900s. Steve Wheeler profiles Martin's career and presents a fleet of scale models built to his designs.
Tools of the Trade: Chisels — Jim Tolpin describes the variety of types of this fundamental boatbuilding tool—and how to use them.
The Marblehead 22 — Matt Murphy goes for a sail in this simple, high-performance, wishbone-rig daysailer from the board of Doug Zurn and built by Maine's Samoset Boatworks.
Supplement Insert to WoodenBoat Magazine.
Bonus Content for this issue includes:
PURCHASE THIS ISSUE
Subscribe today!
Looking for a particular article you saw?