WoodenBoat 230, January/February 2013
---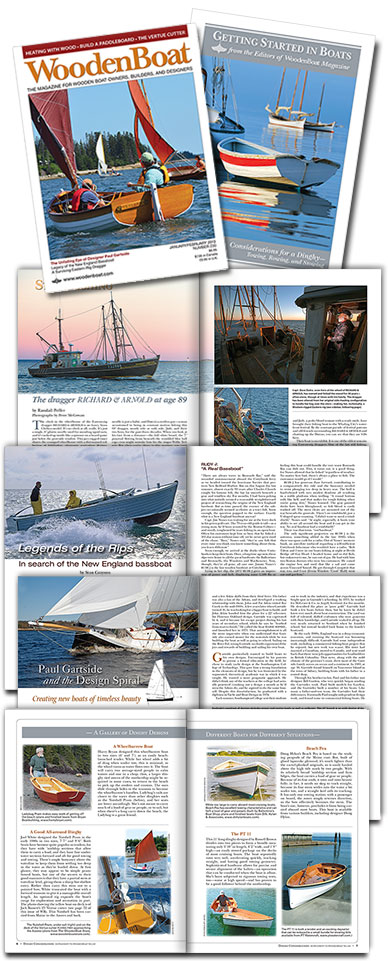 Highlights
Table of Contents
The Ohio Pound-Net Boat — A rugged tool for Lake Erie's fishermen by William John Kohler.
Revisiting the Classics — The Sea Bright skiffs by Reuel B. Parker.
Some time in the second quarter of the 19th century, a unique form of small boat appeared on the beaches of the New Jersey shore. While small in size—around 15′—the type was remarkably seaworthy and could be launched and retrieved through breaking surf. After these early boats proved their worth, they rapidly evolved into different models adapted to different purposes, including pound-net fishing, lifesaving, and recreation. In the January/February issue, we look at the early type and its descendants.
Build a Standup Paddleboard, Part 2 — "Why are Stand-Up Paddleboards all the rage?" ask the folks at Chesapeake Light Craft. "Because they're ridiculously fun, like walking on water." In the November issue's first installment of a two-part how-to-build piece, Geoff Kerr walks us through the initial steps of scratch-building CLC's plywood Kaholo design.
Still Fishing — The dragger RICHARD & ARNOLD at age 89 by Randall Peffer.
RICHARD & ARNOLD is one of the oldest remaining Eastern-rig draggers still fishing—and one of the last still in existence outside a museum. She's also one of the last of the family-owned-and-operated fishing boats that once dominated the New England fisheries during much of the 20th century. In the January/February issue, we tell this boat's story—and tell of the economic and ecological challenges of the New England fisheries.
Paul Gartside and the Design Spiral — Creating new boats of timeless beauty by Michael Higgins.
Legends of the Rips — In search of the New England bassboat by Stan Grayson.
Like a Maine lobsterboat, a Florida flats boat, a Jersey sea skiff, or others intended to pursue specific fish in specific waters, the real New England bassboat was developed to meet the specialized needs of the professional striped-bass fishing guide working the shallow, seaweed-covered rocks around Cuttyhunk Island. While a variety of powerboats were initially used for bass fishing, quite specialized versions began emerging during the late 1940s—boats born of their unique environment and the habits of their quarry. Despite their specialized nature, thee boats have also proven to be ideal family runabouts and no-frills cruisers. Read about them in the January/February issue of WoodenBoat.
Building a Vertue Cutter — FLYING FISH is a small cruiser with a long reach by Jack Bassett.
Woodstoves for Wooden Boats — Comfortable heat for cold-weather cruising by Brendan Riordan.
Supplement Insert to WoodenBoat Magazine.
Bonus Content for this issue includes:
PURCHASE THIS ISSUE
Subscribe today!
Looking for a particular article you saw?