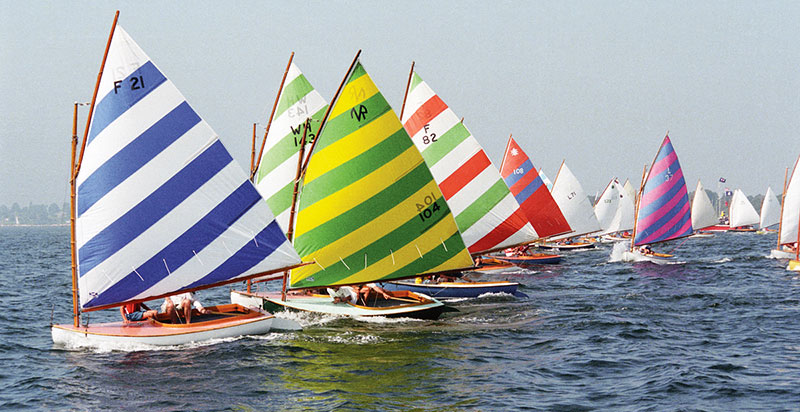 Like a down-turned thumb, the Massachusetts peninsula known as Clarks Point projects south from New Bedford into Buzzards Bay. On the point's western side, bordering Clarks Cove, British forces came ashore in September 1778 and burned what was then known as Bedford Village. Hard times followed. But by 1787, when the village was renamed New Bedford, Clarks Point was home to salt works, woods, farms, and in 1797, the first of several lighthouses. By then it was clear that whaling would power the growth of what became, for a time, the country's richest city.
The whaling fleet created a market for all sorts of equipment and supplies: barrels, blocks, pumps, sails, tools, rope, spars, and of course whaleboats. Among the sparmakers were William Beetle (1787–1872)—a New Bedford street still bears the family name—and his son Rodolphus, one of the city's wealthy men. Another Beetle, James (1812–86), established a boatshop and developed a method for the rapid, volume production of whaleboats.
"Every year since 1963, my mom went sailing in Quonochontaug Pond. At ninety-seven, she is happy we are still sailing a Beetle."
Sometime after 1877, James moved the shop from downtown Eddy's Wharf to Clarks Point, where he and his wife, Ann Amelia Hathaway, had a little house on what is now East Rodney French Boulevard. Here, James worked with his sons John Henry, Charles Darwin, and James C. Beetle.
The sailor and author Llewellyn Howland, who knew Clarks Point well and got his first job at Beetle's putting bungs in whaleboats, witnessed the production system. In Sou'West and By West of Cape Cod, published in 1947, Howland—whose family of whaleship owners had a long connection with the Beetles—described the system.
"There were molds, battens, clamps, and special tools…. There were knees, applewood crotches, loggerheads, rubbing strakes, tholepins, rudders, tillers, maststeps—all segregated [for ease] of access." Howland recalled orderly stacks of cedar, pine, and oak, much of it pre-shaped into boat parts. A whaleboat could be produced and delivered in 48 hours.
The Beetle boatshop prospered with the rise of New Bedford whaling, but the Civil War, dwindling demand, and competition resulted in steady decline. James Beetle's response was to focus on the growth of yachting. He and his sons James C. and John H. joined the New Bedford Yacht Club in 1878, a year after it was formed. On April 15, 1878, the Boston Globe reported: "The three best cat-rigged boats in the fleet…are those owned by James Beetle and his sons John H. and James C. all of whom are widely known as skillful boat builders…"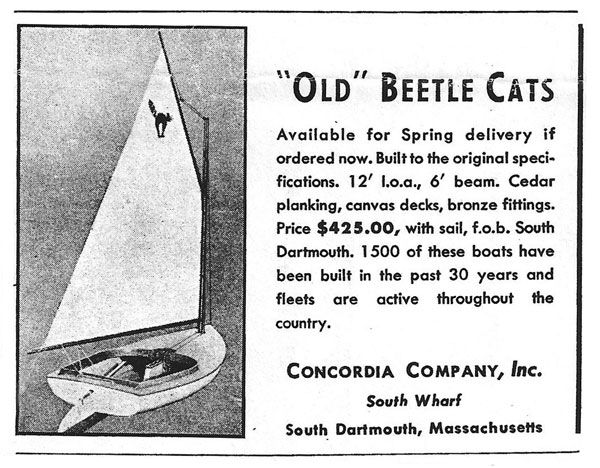 Although John H. Beetle took a day job as a lumber surveyor in 1883, he maintained a close connection to the shop. A forward-thinking, adaptable man, he was installing gasoline engines in catboats by 1905. His son Carl was advertising a line of standardized 22′ and 30′ flush-decked power cruisers by 1922.
The powerboats were not profitable, but the shop also built a small cat-rigged daysailer whose design remains popular today, 100 years later. It came to be called the Beetle Cat, and Waldo Howland recalled its conception this way: "In 1920, as a fill-in project for the yard, John Beetle and his son Carl modeled a 12-foot Cape Cod-style catboat…a safe, useful, and pleasurable boat for young members of the Beetle family and, they hoped, for other youngsters as well."
In May 1921, The Rudder published a brief feature about what was then called the "Twelve Foot Club Catboat," saying, "She is a typical Cape cat form with slightly overhanging bow. The mast is far enough abaft the stem to get a good lead for the headstay. The construction is fairly heavy…. This boat is being built in quantities by Carl N. Beetle…" The $225 price was raised to $250 in the 1930s. The Rudder article included profile and plan view drawings—presumably done by the magazine, because there were no Beetle Cat lines or construction drawings until after World War II. The whereabouts of a half model, if one ever existed, are unknown.

The "Club Catboat" didn't attract a single order in 1921 from the New Bedford Yacht Club. However, the Duxbury Yacht Club promptly added the "catboat class" to its racing fleet, which included 15-Foot one-designs and Baybird-class sloops. A 1923 pictorial in The Rudder showed a fleet of Beetles in "Downeast water" together with photos of seven other one-designs, all now long-forgotten.
At Nantucket, where 13′ and 16′ catboats had been raced since 1916, the Beetle Cat was adopted in 1926. A Nantucket Yacht Club tradition of different-colored sails was continued. Around 1930, a staged photo by the pioneering Nantucket photographer H. Marshall Gardiner showed the so-called "Rainbow Fleet" sailing single-file past Nantucket's iconic Brant Point Light. By 1938, the fleet numbered 80 boats.
The New Bedford Yacht Club adopted the Beetle Cat in 1927. In August 1934, when 26 of the boats raced, the Globe reported they represented "the largest number to race in a single class in the [Club's] history." On Cape Cod, the first Beetle Cats appeared at the Bass River Yacht Club and at Barnstable in 1927, and at Narragansett Bay in 1930.

As time passed, Clarks Point became a fully developed part of New Bedford. The Roosevelt Junior High School had been built on Frederick Street a couple of blocks from the Beetle boatshop, and Leo Telesmanick never forgot how, as a student, he daydreamed about boats. "John Beetle used to let us go down there to make models after school," Telesmanick remembered in a 1999 interview. "We'd go down there and watch them build boats and stuff like that."
In 1928, when John C. Beetle died at age 73, his brother Charles took over the shop and Charles's son-in-law, John Baumann, became the master builder. John Beetle's daughter Ruth, a New Bedford elementary school teacher, served as treasurer and bookkeeper assisted at times by her sister, Clara, who later became a librarian at the Library of Congress. In 1930, with 15-year-old Telesmanick still regularly hanging out at the shop, Baumann offered him a job as an apprentice.
"I was damn lucky," Telesmanick remembered of that time during the Great Depression. Telesmanick's father, who had seven kids and worked in one of the big cotton mills that became New Bedford's primary industry after whaling's decline, suggested his son accept. The pay was six dollars for a 48-hour week.
"For three years all I did was clean the shop or straighten nails…. Then I took care of the steam boiler, which was nothing but a pot-bellied stove with a copper kettle on top."
The Beetle Cat of that period was built, as were the whaleboats, upright over molds, starting with the placement of keel and skeg. "You planked before you framed," said Telesmanick. Holes were drilled in the pre-positioned planks and galvanized clench nails were inserted so the boat, as Telesmanick said, "looked like a porcupine." After the boat was turned over, Telesmanick's job was to get underneath and hold a weight against the newly installed steam-bent frames while the clench nails were set.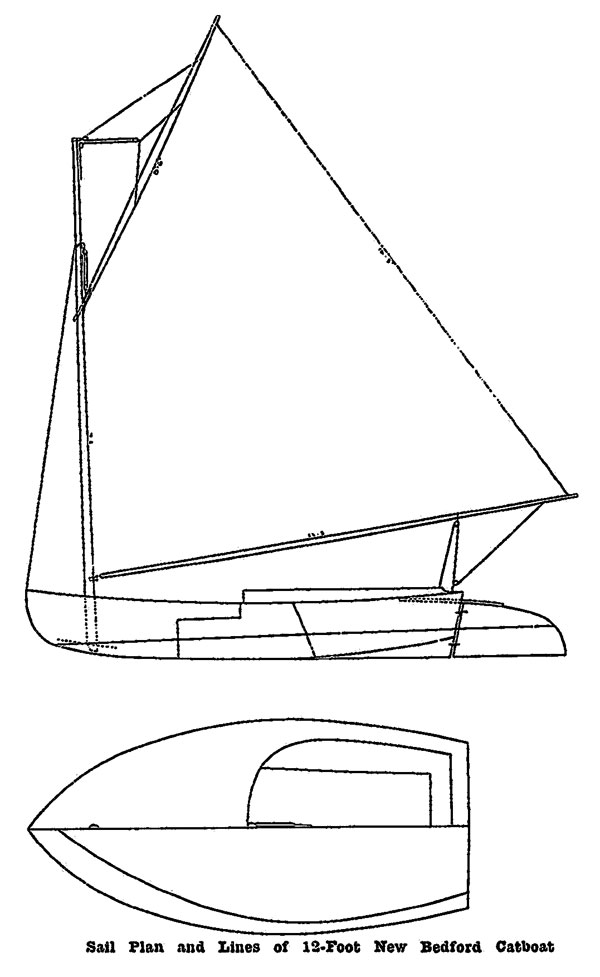 Gradually, the young apprentice's education expanded. "We'll teach you all about wood our way," Charles Beetle told him. But, for four years, he was sent to night classes in machine shop skills, math, reading blueprints, and other subjects. "They guided me," Telesmanick said, "to everything I did."
Charles Beetle died in March 1936 and, recognizing the need to plan ahead as his own health quickly declined that year, Baumann tutored the 21-year-old Telesmanick. "John taught me…" Telesmanick remembered, "where to get the best oak, when the pine you buy should have been cut…. I watched every move he made."
After Baumann's death, the New Bedford boatbuilder Palmer Scott made Ruth Beetle an offer for the business. "I've got my man," Ruth replied. She kept the business and made Telesmanick the foreman.
"The real story of the Beetle Cat," said the late Llewellyn "Louie" Howland III, Waldo's nephew, "is it's the little engine that could. There were several times when the story could have taken a wrong turn."
Each morning before she drove to school, Ruth Beetle went to the shop discuss goals for the day. During the late 1930s, Telesmanick recalled building 40 to 48 boats per year with two assistants. But it wasn't all work. Telesmanick was given the use of Ruth's Beetle Cat and went camp-cruising with friends.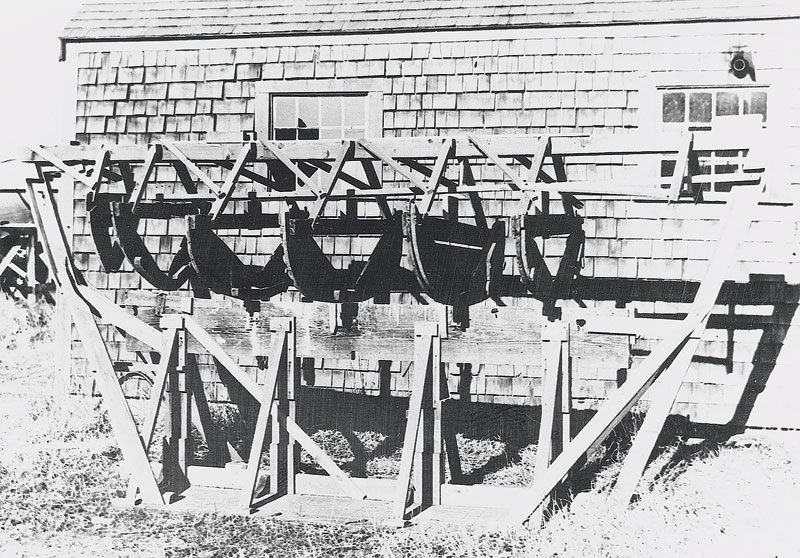 "We would leave the Acushnet River Friday afternoon and sail to the Elizabeth Islands," Telesmanick wrote in a Catboat Association Bulletin article. "We did all our cooking on shore. We put a piece of canvas over the boom for shelter. After sundown we…put a little church candle right on the centerboard trunk, and that candle would dry out the blankets and the dampness in the boat…. We always brought a gallon water jug."
Telesmanick and his friends never ventured beyond Edgartown and were careful about weather. In September 1938, however, having sailed to Cuttyhunk Island, they were confronted on the trip back by 20- to 25-knot winds, more in the puffs. But Telesmanick had told his wife, Alma, that he'd be home that day. Against the advice of islanders and the Coast Guard, he set off on the 12-mile trip across rough Buzzards Bay.
"We made it in an hour-and-a-half. That was one of my last cruises. The 1938 hurricane was the next day."
A Wind to Shake the World was the title that the New Bedford Standard Times writer Everett S. Allen gave his book about the 1938 hurricane. Everything the storm touched was destroyed or damaged. Photographs of the Beetle shop show it engulfed by water, the walls coming apart. In the aftermath, remembered John H. Beetle's great-granddaughter Betsy Adams, "the business was moved to the Beetle house's backyard, and the shop was rebuilt as two buildings, a barn and a tumbledown-workshop."
"What we needed was a small boat, since we maintain them ourselves, one with plenty of room, since we all have families, but a boat fast enough to buck a four-knot tide and rugged enough to sail in the open ocean. There is only one boat that has these qualifications, the Beetle Cat."
The Beetle Cat's building jig survived, and new Beetles were built until the December 1941 attack on Pearl Harbor. "That was it," Telesmanick recalled. "We had to close the shop. Couldn't get material. I had everything put in a big safe—turnbuckles, stays, castings, all that stuff, for after the war."
Telesmanick spent the early years of World War II in the New Bedford shipyard established by Carl Beetle, and, after Beetle's government contracts ran out, at Palmer Scott's yard. In August 1945, vandals set fire to the Beetle shop at Clarks Point. But, although the Beetle's building jig once again survived a disaster, there would be no need for Telesmanick to return. The Beetle Cat had no place in Carl Beetle's vision of the future.
"Carl was 20 years before his time," remembered Telesmanick. At war's end, with financial backing from prominent New Bedford businessmen, Carl Beetle formed the Beetle Boat Co. and began producing a pioneering line of "rot-proof, leak-proof" fiberglass small boats, including the 12 ½′ B.B. Swan (Beetle Boat Swan) catboat.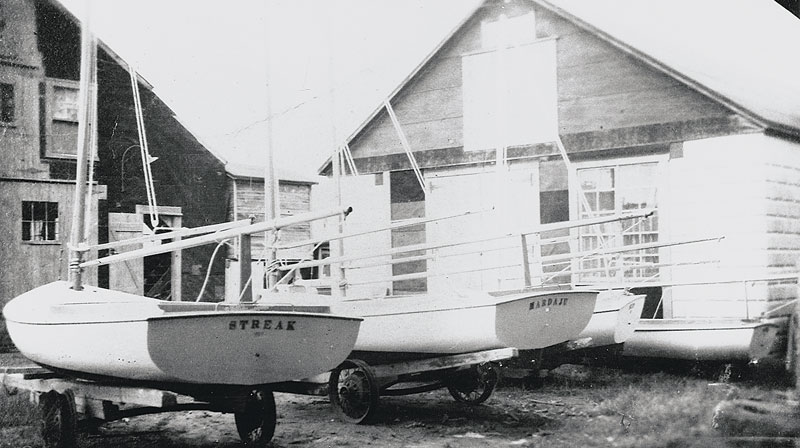 When he returned home from Navy service, Waldo Howland immediately began searching for a small wooden boat that his Concordia Company could produce. He vainly pursued several possibilities. In A Life in Boats, The Concordia Years, Howland recalled that he was preparing to move ahead with production of the Buzzard's Bay 14, a sloop-rigged daysailer designed for Concordia by L. Francis Herreshoff, when he made a surprising discovery.
"[There was] a growing demand for new Beetle Cat Boats. This unanticipated development prompted me to visit Carl Beetle." Beetle, however, was not interested in either building new catboats for Concordia or in selling Howland the business. After more discussion, however, Beetle relented.
"In essence," Waldo Howland wrote, "Concordia acquired the original Beetle Cat Boat business for nothing, and Carl had his shop cleaned up for free." The deal included several half-finished hulls, parts and patterns, lumber, and the construction jig. Louie Howland remembered that "everyone laughed at Uncle Wally [and called him] an old fart. But he said 'you can go to the New York Boat Show [with your fiberglass boats]. I'll build Concordias and Beetles.'"
Carl Beetle's "plastic" boats were unveiled to much enthusiasm at the 1948 New York Boat Show. Compared to the Beetle Cat, the B.B. Swan had a shorter foredeck, longer cockpit, and was lighter (300 lbs vs 450 lbs) with the weight distributed differently. It was a sturdy boat with an aluminum mast and Bermudan sail, but, as Waldo Howland noted, all the differences "upset the sailing qualities."
At the same time, rather to his own surprise, Howland learned that instead of the anticipated annual demand for eight or ten boats, he was receiving orders for many more. Such volume was far greater than Concordia could fulfill at its facility in Padanaram. In response, Howland turned to his longtime acquaintance Palmer Scott.
Like Carl Beetle, Scott, too, was building fiberglass boats and the key employee he had hired as plant superintendent happened to be Leo Telesmanick. Now Telesmanick would oversee Beetle Cat production in addition to his other responsibilities. It was also decided to improve the boats' uniformity and eliminate the occasional complaint that a particular Beetle possessed an unfair advantage.
"Leo built one boat with special care," Howland wrote, "checking out every measurement against a number of older boats." The New Bedford naval architect Ben Dobson took the lines of this special hull and drew up plans. Telesmanick then built a precise new jig on which the hull would be constructed upside down with the pre-shaped planks screwed onto white-oak frames. But there was no change to the specifications, contributing both to fair competition on the race course and to maintaining the value of the older boats. The original upright mold was taken to the dump.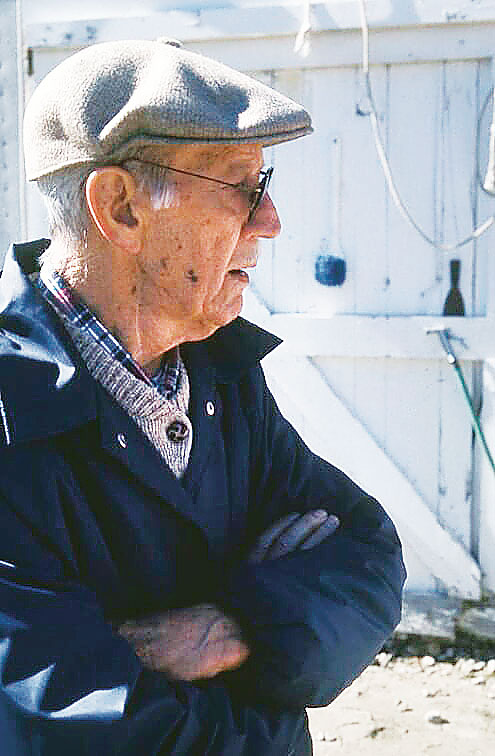 By the time Concordia had its drawings and mold in 1947, new regulations were under development by the New England Beetle Cat Boat Association (NEBCBA). The association traced its history to 1937, when the Barrington Yacht Club had initiated championship races for crews of two boys or girls under 16 years of age. Postwar, the Beetle's real potential would be recognized with racing in seven classes: Juniors, Seniors, Men, Girls, Women, Mitey Mites, and Tired Fathers. Although it would take some time before sail dimensions were finalized, all other dimensions and equipment were specified. By 1964, the association had 34 member clubs and today remains the class's governing body.
The Concordia–Palmer Scott arrangement saw production of about 30 boats yearly and continued until Scott's retirement. In 1960, the operation was moved from Clarks Point to Smith Neck in South Dartmouth, where a new shop was built on land owned by Waldo Howland's accomplished partner, Martin Jackson. Telesmanick moved close by and, as time passed, became as much a New England legend as the boat. A New Yorker writer who visited the Smith Neck shop in 1981 described Telesmanick as "a spare, reserved man of medium height, with forceful eyes, fine white hair [who] looks like the senior partner in an old Yankee law firm."
Telesmanick was still presiding over the Beetle Cat in 1969 when Concordia was sold to businessman William W. Pinney Jr., who'd been born the same year the Beetle was launched. In 1971, celebrating the boat's 50th anniversary, Pinney—an avid sailor and conservationist—noted that "over 3,000 Beetles" had been built. A decade later, when Pinney sold Concordia to the yachtsman and businessman Robert A. "Brodie" MacGregor, who was then working for the company, Beetle Cat production continued. But with Telesmanick's retirement impending in 1983, MacGregor knew a succession plan was needed.
"Mr. Brodie hired Charlie York and told me Charlie was coming into the business," Telesmanick remembered. "But Charlie knew what he was doing...I [just] wanted to show him some of the tricks."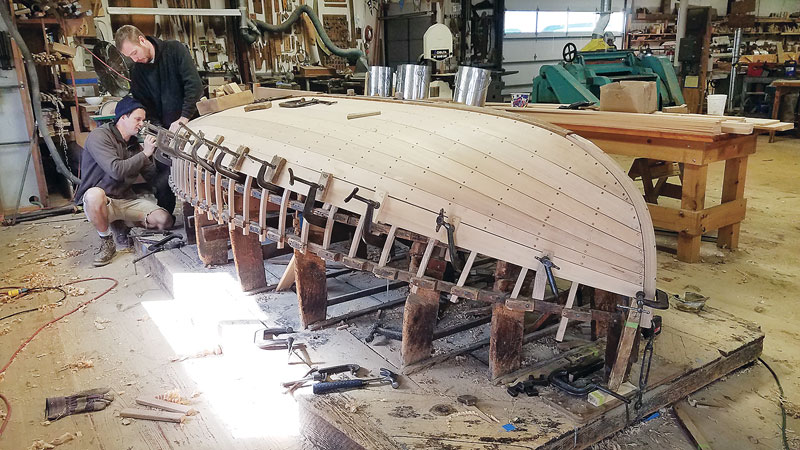 York, a young boatbuilder who had grown up sailing Beetles, understood the challenge. "I told Brodie there's no way I can build those boats unless Leo shows me how." What Telesmanick showed him was that "the genius the Beetles had for doing this work…is really astonishing, even for an accomplished boatbuilder." Looking back on that time, York called it "the best six months of my life." The student and his teacher built 20 Beetle Cats in 1983.
A decade later, the Beetle Cat faced a new day of reckoning. MacGregor recalled: "Charlie York was working full-time for Concordia, managing the Beetle Cat operation which included storage, maintenance, repair and new-boat construction. In addition, he spent many evenings and weekends marketing and selling Beetles. There came a time when the Beetle operation could no longer afford to pay Charlie what he earned. This led to the idea of Charlie buying the Beetle operation, so he would be able to directly control his own future and that of the Beetle Cat business."
After the sale, from October to March, the "retired" Telesmanick spent four hours each morning at the shop. He made centerboard boxes, stems, and other components, thus creating a parts supply while York built the boats.
As years passed, Telesmanick and York became recognized, even by non-sailors, as representing an ethos that had largely disappeared from American life. Yet while an understandable romanticism attached itself to the Beetle shop, with its neatly arranged old hand tools and sweet aroma of cedar, the business reality was sobering. When folklorist Steven Matchak visited Smith Neck, he found the hardworking York struggling "to keep the business viable…since the value of his seaside land has become more valuable for building lots: causing his rent to rise and his lease to become tenuous."
That was the situation when Telesmanick died in January 2001. By then, he had been involved with building every Beetle Cat. He had won dozens of trophies, and had served as secretary of NEBCBA. The class's championship regatta is named in his honor. Engraved on the back of Leo and Alma Telesmanick's tombstone is a fine rendering of a Beetle Cat.
In the winter of 2002, a civil engineering consultant and Vietnam veteran with multiple tours in the Seabees named Bill Womack ordered a new Beetle to replace his 41-year-old boat. During visits to the shop, Womack recognized the challenges that York faced in terms of both building boats and managing the business. An offer to help get the shop organized led quite unexpectedly to a brief negotiation.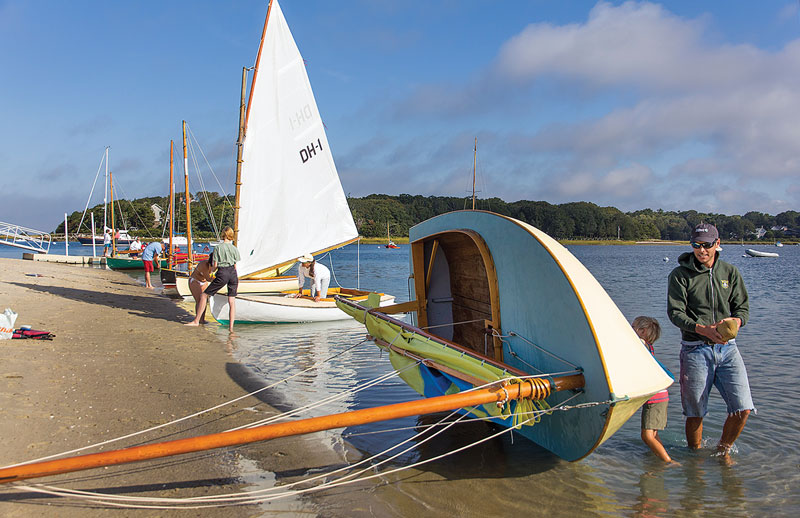 "Well," Womack said, "I bought the franchise." The agreement stipulated that York would remain for five years as the master builder, relaying to a new apprentice what Telesmanick had taught him.
To manage the business on a daily basis, in 2004 Womack hired Michelle Buoniconto, a civil engineering colleague who initially knew little about boats but a lot about management, number crunching, and planning. "The biggest challenge when Bill first bought the company," she remembered, "was the logistics of then having three locations and having no designated office/accounting person to hand off to me."  
Those initial challenges were met by moving the business to a Wareham industrial park, where Womack and Buoniconto worked together setting up an accounting system and getting a handle on inventory and production costs. There was also the need, as Womack put it, "to find the next Charlie York." The new apprentice, who signed on in 2004, was Jonathan Richards, a small-boat sailor who had been brought up in the construction trades.
"We lost money the first two or three years getting out of debt, but then turned it around," Womack remembered. Orders for new boats numbered some 12 to 15 per year, but the service aspect soon revealed its potential. "The Beetle community was starving for some place to take care of the boats that had the expertise at a fair market price," Womack said. From initially caring for some 25 boats, Beetle now stores and maintains around 250 (see WB No. 216).
Shortly after the move to Wareham, it became apparent that opportunities existed in the realm of custom wooden boat building. When Tim Fallon, a longtime Beetle owner and racer, mentioned he was looking for a shop to build a 28′ catboat, Womack bid on the project. He then hired Bill Sauerbrey as the lead builder. Born into a family of Beetle Cat owners, Sauerbrey had, among other achievements, won the Mitey Mite championship at the Wild Harbor Yacht Club at age 12. His genius for traditional building methods and materials resulted in the shop's extraordinary C.C. Hanley–designed KATHLEEN (see WB No. 193).
"My goal became always to have a side project," Womack said. KATHLEEN was followed by an Alerion, faithful to Nathanael Herreshoff's design, and an authentic whaleboat for Mystic Seaport Museum's whaleship, the CHARLES W. MORGAN. Sauerbrey also designed three new production boats for the shop: the Beetle 14 and two attractive and practical skiffs.
As for the Beetle Cat, Womack tells customers it's "a 40-year boat." He has never compromised on the quality of Atlantic white cedar used for planking, Douglas-fir used for the solid spars, or any other material even as costs increased as much as tenfold. Galvanized screws had been replaced in 1973 by silicon bronze, but only high-quality domestic fastenings are used, although they cost about 12 cents each more than imported fastenings, whose alloys tend to degrade more quickly in salt water. There are more than a thousand screws in a Beetle Cat.
The jig built so long ago by Telesmanick is still in use, but planks are now full-length, a nice feature that eliminates the previous need for butt blocks. The proprietary hardware is still cast to Beetle's specifications in a domestic foundry. "The boat is handmade in the U.S.A.," said Womack, "and people know they are getting quality. That is something people still recognize and appreciate."
Many Beetle Cat owners also appreciate that the boats have a tradition linking generations. "My grandparents had one in West Falmouth," said the writer Nathaniel Philbrick. "One of my first memories was being under the foredeck with mildewed kapok life jackets. My father raced one at the Barrington Yacht Club."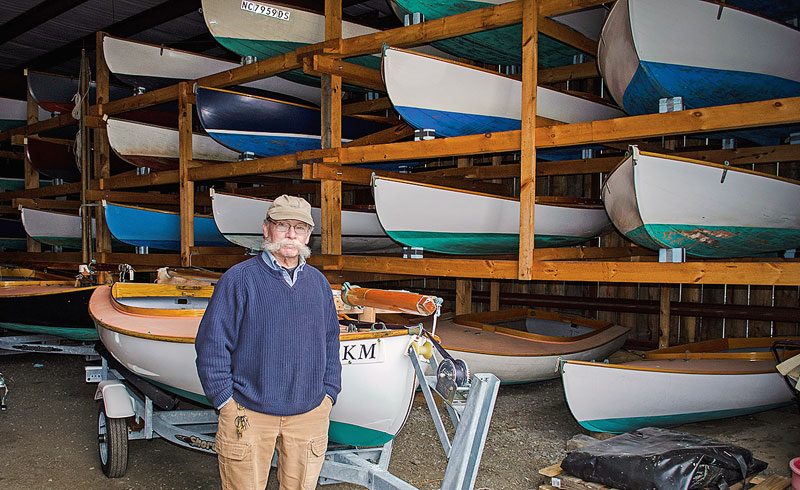 When Philbrick and his wife, Melissa, moved to Nantucket, they bought a Beetle Cat that Melissa raced with their kids. Eventually, they bought a new Beetle Cat from Charlie York. "Our kids are now 35 and 38," Philbrick said, "and the Beetles are part of family lore."
The Beetle is part of yachting lore, too. In 1953, the Globe's Leonard M. Fowle reported: "For the yachtsman south and west of Cape Cod, [the Beetle] is THE class…"
Over the decades, the Beetle Cat survived the coming and going of many small one-designs, including some intended to replace it. After failing to acquire Beetle, Palmer Scott turned to Philip Rhodes for the cat-rigged 13½′ Wood Pussy, a boat with a narrow rather than full bow and a tall marconi mast. Those features, Waldo Howland wrote, made "the boat somewhat prone to capsize when her anchorage became rough [and] made conventional reefing underway difficult."
Carl Beetle's belief in fiberglass boats and the Beetle Swan was not rewarded with financial success. After Beetle's death in 1952, the Carl N. Beetle Plastics Corporation, producer of fiberglass components for industry, was acquired by others. Carl Beetle was inducted into the Plastics Hall of Fame in 1977; a rare and beautifully restored example of the Beetle Swan resides at Mystic Seaport.
But a century after John and Carl Beetle built the first "Club Catboat" at Clark's Point, the wooden Beetle Cat sails on, giving adults pleasure and lucky youngsters lessons for a lifetime in how to hand, reef, and steer. Trained in a Beetle, they acquire skills and an appreciation for craft and responsibility well beyond those accessible to young Optimist pram skippers. Then too, the inter-generational nature of a post-Beetle race get-together remains something very special to all involved.
After a century, the Beetle Cat is the only one-design of its era still in production as a wooden boat.

Stan Grayson is a regular contributor to WoodenBoat.