Brought to you by WoodenBoat!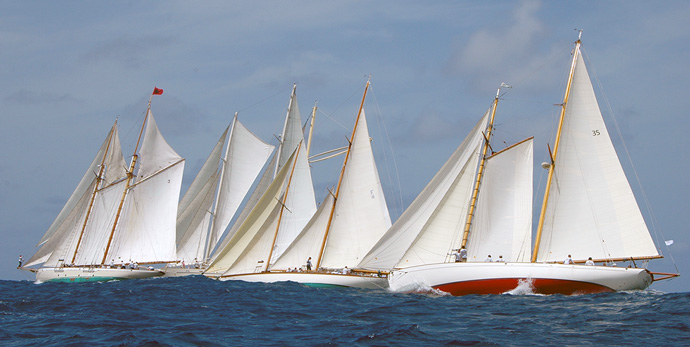 Welcome to the Maritime Tour of the Antigua Classic Yacht Regatta. On this tour, you'll join the crew of the 65′ John Alden-designed schooner HERON for six incredible days of tropical sailing in company with some of the finest classic yachts from Europe and North America.
You'll also enjoy:
Access to the legendary Nelson's Dockyard, which was home to Admiral Horatio Nelson from 1784 to 1787 and once the heart of the British Navy in the Caribbean.
Lunch and after sailing hors d'oeuvres/drinks
A deck-level view of some of the world's finest classic yachts
...and the sailing experience of a lifetime!
HERON: Your Boat for the Week
HERON, built, owned, and operated by the Bower family of Camden, Maine, was built in 18 months to the 1928 plans of John G. Alden. The May/June 2004 issue of WoodenBoat includes an article about her construction, which you can read here (PDF).
Nigel (Twig) Bower and his wife Bonnie are 100-ton USCG licensed captains, having sailed extensively in the Gulf of Maine, trans-Atlantic, and the Caribbean in skiffs, schooners, and square riggers. They have been sailing tours from Rockport (Maine) Harbor for more than 20 years, and charters in the Caribbean the past 10 years. Daughters Elissa and Rachel have been sailing in HERON since they were born. Together, the family has sailed HERON more than 60,000 sea miles since her launching in 2003.
HERON is featured as "Sanderson's Yacht" in the Johnny Depp film The Rum Diary, based on the book by Hunter S. Thompson.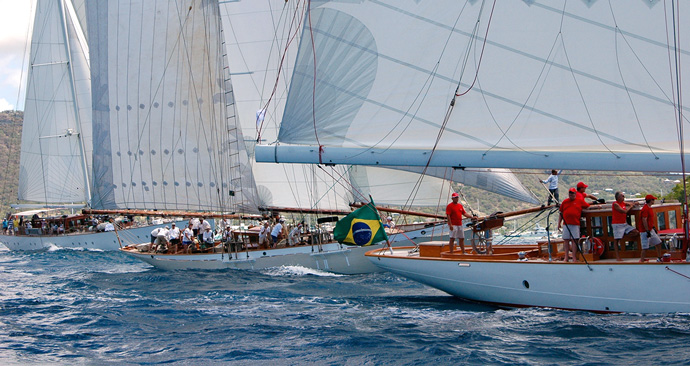 The Antigua Classic Yacht Regatta
The Antigua Classic Yacht Regatta is one of the world's premier classic yachting events. It brings together a fantastic collection of boats and people in the ideal conditions of the Caribbean. Our tour of the 29th annual running of this event will take place April 13-19, the 12th and 20th being travel days.
Here is the schedule of events for our tour of the regatta:
Tuesday April 12: Arrive in Antigua
Wednesday April 13: Orientation, brief practice sail, party
Thursday April 14: Practice Sail
Friday, April 15 Regatta, Day 1
Saturday, April 16 Regatta, Day 2
Sunday, April 17 Regatta, Day 3
Monday, April 18 Regatta, Day 4
Tuesday, April 19 Gig racing, cream tea party, awards (optional depart day)
Wednesday, April 20 Depart Antigua
The Regatta hosts between 50 and 60 yachts each year and enjoys a wonderful variety of competitors, including traditional craft from the islands, classic ketches, sloops, schooners, and yawls, and a fleet of stunningly beautiful Spirit of Tradition yachts, J-class yachts, and Tall Ships. The fleet makes a wonderful spectacle of sail in the ideal trade-wind sailing conditions of the Caribbean. The sailing, combined with Antiguan hospitality, plenty of rum, sunshine, and great camaraderie in a friendly relaxed atmosphere, places the Antigua Classic Yacht Regatta in a class of its own.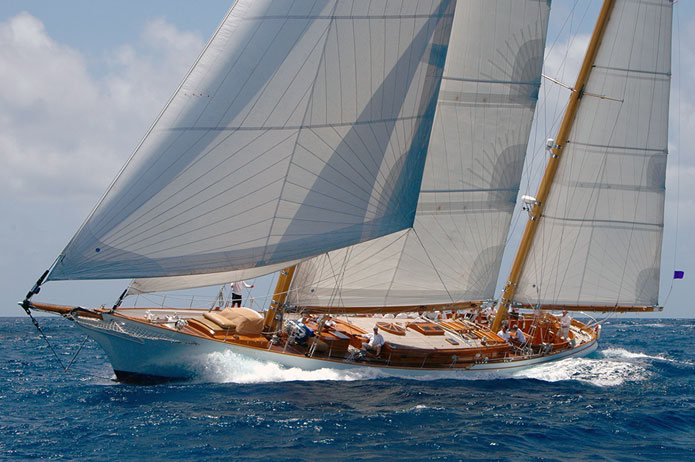 Pricing and Booking
In order to give you the best travel options, we ask that guests please book airfare on their own. Plan to arrive in Antigua on the afternoon of April 13th, and to depart on April 20th.
The charter fee for HERON is $2,500, payable to WoodenBoat Publications. This includes six days of sailing, as well as lunch and after sailing drinks/hors d'oeuvres all days.
For further details call: 207-359-4651
Cancellation fees and travel insurance
Because of the costs associated with operating this charter, we offer a full charter fee refund (less a $150 cancellation fee) if cancelled before January 29, 2016. After January 29th, we cannot offer refunds on charter fees, therefore we strongly recommend that guests purchase travel insurance, and be sure that it covers charter fees.