Family BoatBuilding Links
Please contact us with any questions about participating in, or producing a Family BoatBuilding event.
WoodenBoat Magazine
P.O. Box 78
Brooklin, ME 04616
T: 207-359-4651
F: 207-359-8920
Email: jim@woodenboat.com
The Boatbuilding Process
---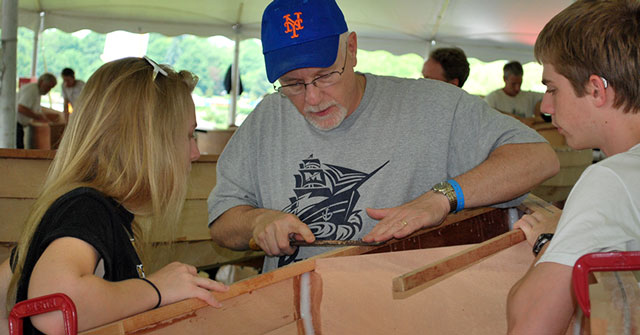 Anyone Can Build a Boat!
Every kind of family grouping or organization is invited to be part of Family BoatBuilding : Grandparents, parents, and children; boy and girl scout troops; friends and neighbors; associations and church groups. All you need to build a boat with your family or group is dedication—to the project and to each other.
Different Family BoatBuilding events will have participants building different kinds of small craft; the design selections are left up to the individual organizations producing events. However, we can guarantee that no matter what kind of boat you'll be constructing, you'll need no previous carpentry experience. Almost all of the event producers will provide kit boats or pre-cut parts that you can assemble in two to three days' time. Instructors will be present to guide you through the entire process.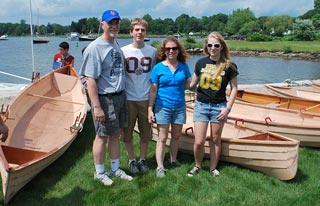 Prior to starting construction, the event producer will specify a small variety of tools to bring with you. Expect your time at Family BoatBuilding to be spent sanding, hammering nails, and/or applying epoxy or other adhesives. Boatbuilding is a team effort! There will be special tasks for each member of your family or group.
Family members develop a strong sense of pride in each other as they see the value of each person's contribution to the construction of a boat. From school-age children to grandparents, everyone can help in the building process. At the conclusion of the event, participants launch their new boats for their first adventure on the water!