Current Issue of WoodenBoat Magazine
---
WoodenBoat 246, September/October 2015
Table of Contents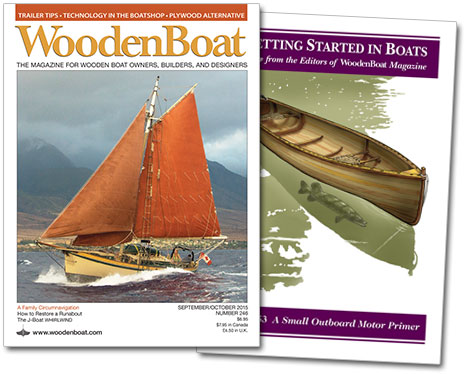 FEATURES
How I Build a Boat — Finding beauty in simplicity by Willits Ansel

The Rebirth of Skuutje WR60 — The rescue of an 1840 Dutch herring boat by Tjeerdo Wieberdink and Kees Hos

Seamarks: Three Pivotal Designs by L. Francis Herreshoff — Part Three: The WHIRLWIND Debacle by Roger C. Taylor

The Case for the Gaff Vang — An important line missing on most gaff rigs by David Soule

Runabout Restoration — New life for a varnished classic: Part 1 by Paul Brackley

A Sound Boat and Simple Living — Reflections on 10 years of voyaging on a traditional wooden boat by Bruce Halabisky

Technology in the Boatshop — The state of the art by Brendan Riordan

Getting Started in Boats — A Small Outboard Motor Primer — Tear-out supplement by Jan Adkins
Cover: VIXEN reached Hawaii in 2015 to "close the circle" on a 10-year circumnavigation by author Bruce Halabisky and Tiffany Loney, who had two daughters en route. The 34′ gaff cutter designed by William and John Atkin, he writes, was ideally suited to the voyage.
Photograph by Jay Johnson.

PURCHASE THIS ISSUE in PRINT or DIGITAL format
Looking for a particular article you saw?