Reflections on a high-latitude cruiser

"There's something about north…something that sets it apart from all other directions. A person who is heading north is not making any mistake, in my opinion." —From Stuart Little, by E.B. White *
* Callout Courtesy of White Literary LLC
What is it in our human makeup that enables us to take a leap into the great unknown? All sorts of little fears seem to control our day-to-day lives, but often we're able to leap fearlessly into something we perhaps ought to be really afraid of. We research and inquire, but no degree of preparation can resolve the risk. So we go regardless, but driven by what? Aspiration? Challenge? Adventure? Fame? Or is it simply curiosity…and an itch that must be scratched?
For me, I suppose, it was all of those wrapped in the innocence of inexperience. I was certainly no Christopher Columbus sailing over the edge of a flat 15th-century Earth, but after many years of coastal cruising in New England, many nights in pretty Maine island anchorages, many long drives to catch up to my boat on one mooring or another, I was bored.
Inspiration was close at hand. Francis Stokes, who completed the first BOC 'round-the-world singlehanded race in 1983, and Lloyd Bergeson, who famously sailed his 70-year-old New York 30 across the Atlantic, were uncles of mine. Newbold Smith, whom I never met, wrote of an epic cruise from Maryland to Spitsbergen, an island in the Norwegian polar protectorate of Svalbard, and back in his book Down Denmark Strait. I read it three times. A generation ahead and now all departed from this Earth, these guys were smart, daring, and wonderful storytellers. I could never match what they did, but I did want to taste the flavor of it. I made that happen: I left my familiar and safe cruising grounds and explored the remote and wild Arctic over several seasons, and it still amazes me.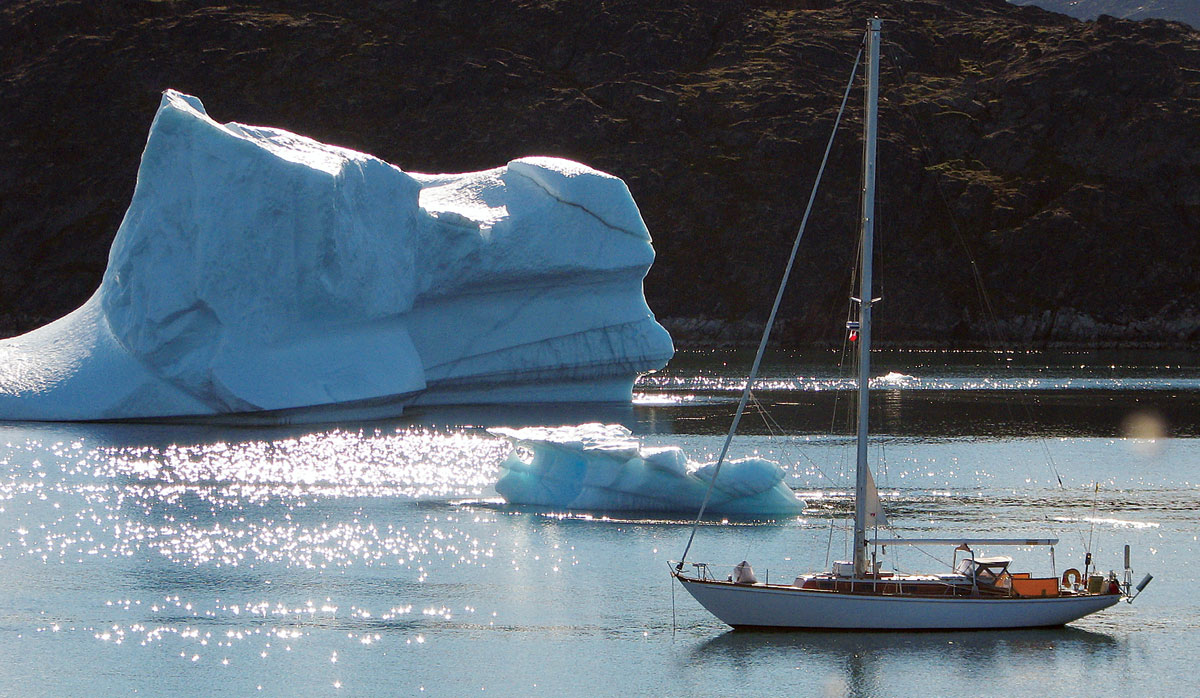 Once I'd resolved to go north, I needed a boat. To me, the shape of any boat—whatever it is made of—is derived from what can be put together in wood. I had had an old leaky wooden sloop that I had sailed around for years—even all the way around Newfoundland one summer—testing the aforementioned risk of the unknown. But to really go to sea, I needed a more robust boat. I'd been introduced to the work of the great Danish-American yacht designer K. Aage Nielsen when sailing on my longtime friend Paul Bushueff's 41′ yawl, HUSSAR. This led to discussions with Taylor Allen at Rockport Marine in Maine about building a boat along the lines of his own NORTHERN CROWN, a lithe but robust double-ended Nielsen cutter. But it was clear I didn't have the resources for that happy kind of project. Then one day in July 1998, Tom Kiley, owner of another double-ended Nielsen sloop, SNOW STAR, called to tell me of a boat that had just come on the market. She was called ELSKOV, and was my idea of an excellent sea boat.
She had a no-nonsense layout both on deck and below. Her steering wheel was at the forward end of the cockpit, which is unusual in a sailboat, but better sheltered by a dodger. A single primary jibsheet winch was mounted amidships aft of the cockpit—a feature common to many Nielsen designs—plus there were two more pairs of sheet winches on the cockpit coamings, along with numerous well-secured bronze cleats. Her decks were fiberglass-sheathed plywood—a low-maintenance and durable solution. Three Lewmar skylights provided lots of daylight below, where there were seven proper sea berths—all singles—with built-in folding leeboards. There was a magnificent galley with double stainless-steel sinks in a counter set fore-and-aft over the engine amidships, and with copious storage and a gimbaled Luke range outboard. A full "sit-at" chart desk incorporated deep storage for multiple folded charts and plotting sheets (some of us still use them). The interior finish was "Danish modern" honey-colored wal­nut joinery, and, as one crew member put it, "wherever one would have a need for a handhold, there it is!"
Along the topsides, just beneath the sheer, former owners had added a 2¼″ mahogany rubrail trimmed in stainless-steel half-oval. It doesn't quite look right on a racing sailboat, which was ELSKOV's original purpose, but I always thought it had a solid form-suits-function quality. Aesthetics aside, it also had a practical function: when in among the prop-wash of other craft in a concrete-walled Dutch lock two years after I bought the boat, it saved the topside finish.
ELSKOV was the fourth Nielsen-designed keel-centerboard yacht named TIOGA to be commissioned by Bradley Noyes of Marblehead, Massa­chusetts. Built in 1969 by Nielsen's favorite builder, Aage Walsted, in Thurø, Denmark, she is 46′ long, 32′6″ on the waterline, and draws 5′3″ with her centerboard up. Her beam is 12′6″, and she displaces 17 tons. She's a big and robust boat, with an underbody that was innovative for its time: she has a skeg-mounted rudder that's separate from the keel (see construction plan below).
For students of boatbuilding, the structure of this skeg is worthy of study: how can it be built of wood? The answer lies in a doubled horn timber, the lap joint of which resists the tremendous loads on the skeg. It's a marvel of engineering and workmanship that is still like new, after all these years.
Her frames are of laminated oak varying from 1¾″ × 1¾″ to 2″ × 2¼″, and spaced 10″ on center. She is double-planked in mahogany for a total thickness of 1¼″, and copper-rivet fastened. Deckbeams are 1¼″ × 2½″; the deck shelf is 6″ wide and 1⅝″ thick; the 'glass-sheathed deck is 1″ plywood. The maststep is a stainless-steel grid consisting of a longitudinal I-beam with six athwartship metal floors, while the mast partner is 2¼″ hardwood tied together with a metal plate. This is further braced athwartship by a hallmark Nielsen structural element: a fabricated stainless-steel arch spanning from one bilge stringer, up a bulkhead to the underside of the cabintop, across the cabintop, and down again to the opposite stringer. She has four-part bronze strapping reinforcing the hull amidships, and 1″-diameter bolts hold the 8,600-lb ballast keel in place.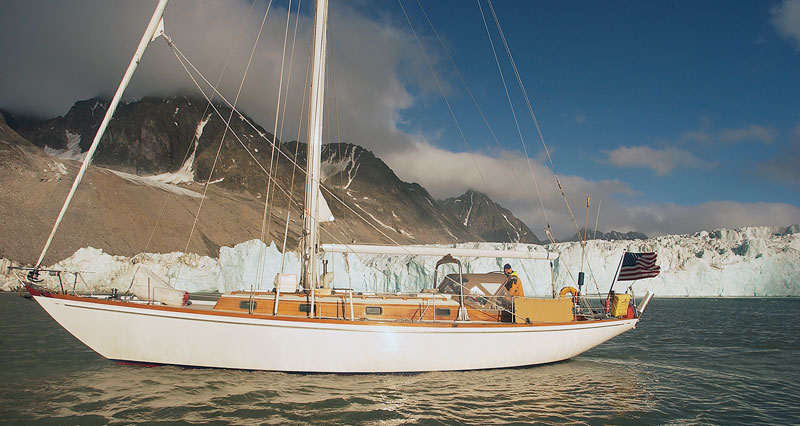 Noyes sold TIOGA to his sister and brother-in-law, Hope and Walter Smith, in 1971. They re-christened her ELSKOV, a Danish word most politely translated as "passionate lovemaking," which is a not altogether inappropriate name for a boat, but one that raised a few eyebrows in Scandinavia when we were there. The Smiths took her on a cruise to Maine almost every July, followed by August in Nantucket. They stored her with Ted Hood at his Little Harbor Boat Yard in Marblehead until that yard moved to Rhode Island. Thereafter, she wintered at Dion Yacht Yard in Salem, Massachusetts. She received such careful stewardship for all those first 30 years of her existence that she was, for all I could tell, a new boat when I first laid eyes on her in 1998. In fact, Al Fuller, something of a Nielsen "collector" from Connecticut whom I had invited to have a look at ELSKOV with me during negotiations, brought with him a moisture meter which he happily waved around the usual problem areas on the cabintop exclaiming, "Wow, these boats are almost always restoration jobs." This one, he said, was like new. And then he said: "If you don't buy her, I will."
The boat came to me with a Hood Stoway in-mast furling system, which the Smiths ordered for a winter trip to the Bahamas in 1983. I wasn't sure I wanted to trust this setup, but I had other priorities, so I left it in place. I have been told that Nielsen blessed this alteration, but I can't imagine him having done so without serious grumbling. I have no actual data, but imagine that the new aluminum mast extrusion, with its extra fittings and furling foil, weighs quite a bit more than the original spar. I have always felt the boat is more tender in a breeze than she should be; illustrative of this point, we'll typically start to reef at 15 to 17 knots. On the other hand, she sits just right on her lines; if anything, she is down by the stern when all loaded up for cruising.
While my racing friends wrinkle their noses and make impolite comments about it, this Stoway system has turned out to be ideal for high-latitude ocean sailing. I installed a Monitor self-steerer wind vane in preparation for an Atlantic crossing in 2000, and quickly learned two things: the first was how easy the wind vane was to use. The second was how much I liked the Stoway system. The sailing rig had to be properly balanced for the vane to do its job, and I discovered that the reefing, un-reefing, and deep reefing necessary for balancing the main against the headsails could be done simply, and by a single person, from the cockpit, under the dodger, day or night. The vane told us what to do and when to do it. It has made me a better sailor in the process.
Initially I fretted that the big main would jam partway out with no way to get it down, but after about 30,000 miles this has yet to happen. The sail, however, has been sometimes balky when coming out of the mast initially (for overcoming this, one learns various tricks), but once started out it has been fine, and rolling it back in, in all conditions, has been a smooth operation.
Although I now had the perfect boat, there were still some enhancements, corrections, and more modern systems needed for going to sea.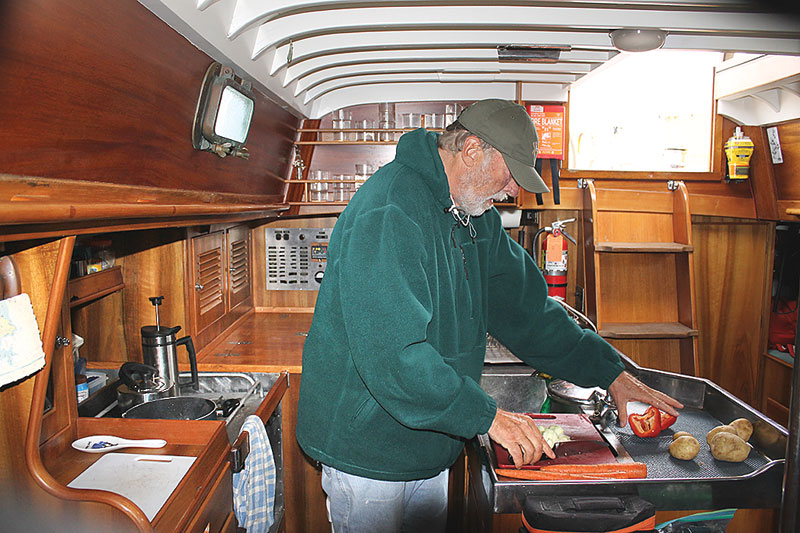 My first upgrade was a new engine. ELSKOV's original Westerbeke 4-107 was a holdover from the days when sailboats had "auxiliary" power. A new Westerbeke of similar dimensions but with 50 percent more horsepower went in the first winter, along with a rugged new canvas dodger. This was followed by a shakedown cruise to Newfoundland in the summer of 1999. The next year we would take the transatlantic leap, and for that, more serious enhancements were needed.
I wanted more versatility in the rig. A double-headsail configuration would provide multiple sail combinations to move the center of effort forward or aft as appropriate. Running backstays would add redundancy to the rig's support. Sandy Van Zandt, a sailmaker in Connecticut, and Bob Stephens, a yacht designer in Maine, helped to specify an inner-forestay arrangement. I then ordered a new mainsail, a yankee jib, and a staysail from Bohndell Sailmakers in Rockport, Maine. In addition, the existing, rather-too-large, trysail was cut down, and a separate mast track and halyard were added for it. But I've never used that trysail, in part because the mainsail can be reefed down as small as one wants with the Hood system.
Next came a gallows frame. Donald Street, in his book The Ocean Sailing Yacht, notes that he will not go offshore in a boat without one, a point on which I agree. ELSKOV's skinny topping lift was not to be trusted offshore. Modern sailboats often have hydraulic boom vangs that control sail twist and, to some degree, support their booms. I was more concerned about support than twist, so I again called on Stephens to design a robust gallows to perform this function. It has provided superb boom control when the sail is down, and at least once saved those in the cockpit from a real headache when the topping lift failed in a squall.
The Monitor servo-pendulum self-steering system involved a design process guided by the manufacturer and based on simple measurements we provided. The installation required a neat spiderweb of control lines leading from the transom-mounted wind vane to the steering wheel. I was horrified at this at first, but ELSKOV is a sailboat, after all, and there are lines everywhere; one soon gets used to stepping around a few more of them. This system was highly reliable and easy to use once we were offshore, essentially providing an extra 24-hour watch mate.
Two of the secondary sheet winches, and the one large primary winch aft, were replaced with self-tailers. Nowadays, most owners of a 46-footer are thinking of electric winches, but I have never wanted one. Cost is an obvious deterrent, but so is the matter of strain. Strain is hard to detect when the muscle is provided by electricity. And, of course, a power winch is one more thing to break.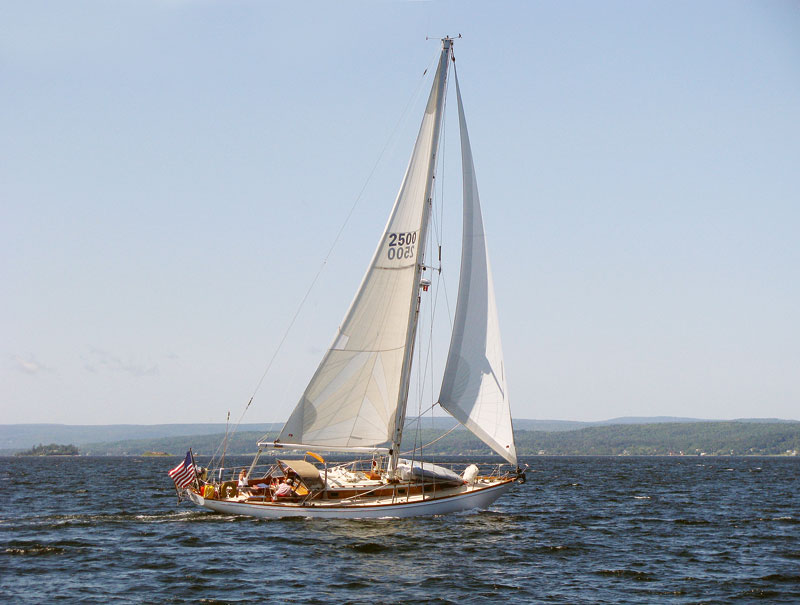 There was one electric "winch," though, a rather yachty Ideal anchor windlass. ELSKOV came to me with a 45-lb Bruce anchor on the end of 200′ of ⁵⁄₁₆″ chain rode. I added a 75-lb Luke fisherman anchor to the inventory, storing it below, and I carry a 45-lb Danforth-type anchor with rope rode on deck for kedging, or other quick needs. Henry Fuller at Cape Breton Boat Yard swapped a slightly heavier 25kg Bruce type for mine before we went to Greenland in 2006. I've found these anchors hugely reliable and apparently well able to penetrate the lavish kelp beds of northern anchorages. The windlass has performed flawlessly so far, but it has no manual component. I've worried about this enough to think up a system of chain hooks and docklines with which, should the windlass fail, I could bring up the chain in 40′ tranches by running a line to one of the big sheet winches aft.
I also installed a single-sideband (SSB) radio, but have never learned to use it well. A GPS receiver augmented the existing Loran, which is now obsolete. I replaced the radar, as well. Things have changed dramatically in the 20 years since my initial upgrades: plotters, autopilot, a second radar, and an Iridium satellite phone have all come later. The satellite phone has been much easier and more versatile (though more expensive) than the SSB radio for e-mail communications and weather-file retrieval. But ELSKOV is still much more "analog" than most of today's yachts.
One final nicety was the addition of a Sigmarine diesel-fueled, bulkhead-mounted cabin heater. This has proven to be a very safe, economical, and pleasant amenity.
With all more or less in order on a boat in which we had complete confidence, four of us—a cadet from Maine Maritime Academy, a recently graduated collegiate sailor, my oldest friend, and I—set off across the Atlantic Ocean in July 2000. We arrived three weeks later in Falmouth, England, after an uneventful and mostly pleasant broad reach, completing the first leg of what would become a counterclockwise circle of the North Atlantic. This was followed by three separate trips north to Greenland, Labrador, and western Baffin Island. On each of these voyages, I departed with my heart in my throat and returned safely to port (see sidebar below for routes, locales, and descriptions). What follows are some reflections on 15 years of going to sea in ELSKOV.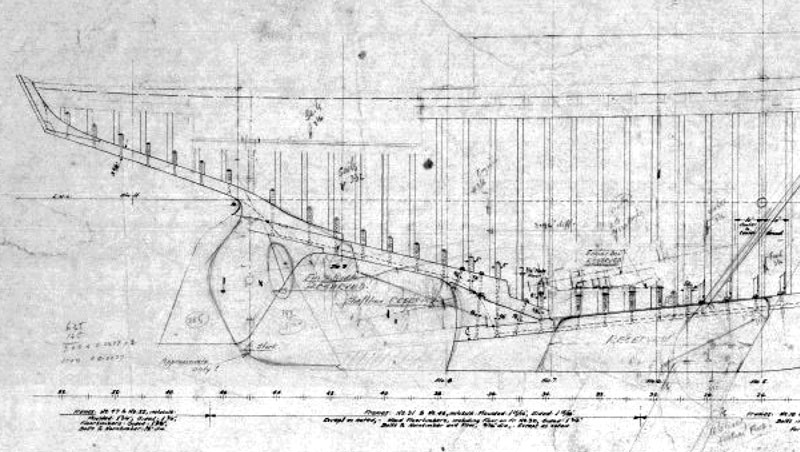 The boat provided strong hints about how she should be handled, if we paid attention to sail trim and balance, windage in close maneuvering, and motion in a seaway. In many cases, she'd take care of herself. Heaving-to, for example, when the rig is balanced, is a simple matter of putting the bow through the wind to back the foresail, then locking the helm hard to windward.
I've always felt that boats are not inanimate. They have a certain karma, a capacity for good or evil, a naughtiness or tractability—all of which are almost animal-like. ELSKOV has the quality of a well-synchronized dressage horse. She serves you; she works with you; you reach out and she is there for you.
A yacht with all sorts of varnished woodwork makes sense in the civilized marinas of western Europe, but she feels more and more like an exotic visitor as she makes her way north and into the Arctic. Something a little more trawler-ish might be a better fit in the Arctic than ELSKOV. On the other hand, as detailed above, ELSKOV is certainly a robust seagoing vessel, and colliding with a berg or getting beset in sea ice is not desirable in any yacht regardless of hull material. While a well-found motorsailer with a protective pilothouse might be a future consideration, we have always felt safe and comfortable in our boat's protective cockpit and warm cabin.
We motored about half the time we were cruising. Whether trying to keep on schedule or to avoid oncoming weather, the wind is not always enough. It is, therefore, desirable to have a good strong power plant and perhaps something slightly larger than ELSKOV's 18″ Maxprop (the biggest that can fit under her hull). I had initially worried about finding fuel in remote areas until I realized that the world runs on diesel, so anywhere one finds civilization, refueling is possible. The challenge comes when one is completely away from civilization—for example, in eastern Baffin Island coming south from Greenland. We went 1,200 often-windless miles and two weeks from Uummannaq to Nain between fill-ups. It's important to pay attention to consumption and to plan for fuel needs.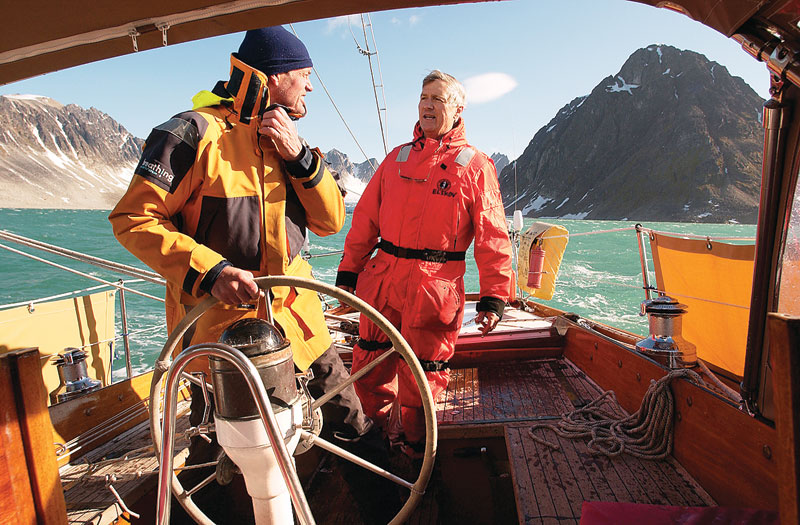 The Arctic, for some reason, doesn't seem to be quite the tourist attraction that the Antarctic is. Yet the scenery is certainly just as exotic. There is the same midnight sun in summer, and there is ice in the water. Instead of penguins there are polar bears. But perhaps of greatest interest are the art, culture, language, and lifestyle of native Inuit and Greenlandic populations. It is hard to imagine this harsh environment supporting human life, yet here it is, having survived and, to a certain extent, thrived for thousands of years—a civilization arguably older than our own. The interface between aboriginal cultures and the Western world has often been fraught. Stark differences in cultural norms and imperatives from our more temperate civilization are in ready evidence—notably, for example, in "shopping" for food in which the preference is to hunt for it in the wild. The Inuit and Green­landic people make no hard distinction between land, water, and ice, traveling over the surface of each according to need and season and purpose—whether for food, commun­i­cation, travel, or access to resources. There, the Earth and water and ice are all one highway and one larder.
It is a big deal to go into the Arctic by yacht. It feels somehow "heroic," which I suppose is compensation for the fact that it is slow and expensive travel, but, still, it all feels like a bit of a stunt. To go there is risky. Managing a small yacht in a remote wilderness is not something I do all the time. It's only been a few days at a time in a few seasons. It could be that naiveté is all that allowed me to go there and get back safely, but I didn't do it alone. There were 35 different souls who trusted me enough to come along, a few several times. Boatyards, as well, contributed significantly. With the exception of those two winters in Tromsø, ELSKOV spent her off-seasons in the hands of very good yards: Dion's as mentioned; Rockport Marine before she crossed the Atlantic; Walsted's, her builder, in Denmark; and Henry Fuller's yard in Baddeck, Nova Scotia, for ten years. She is now home again at Dion's. Each of these yards acted the role of a concerned parent worriedly sending us off, and much relieved welcoming us home. We did try to plan for the conditions we would encounter. We did try to keep the boat's equipment simple. We made sure it all worked. We sailed conservatively. We ate well. We paid attention to morale. And we were intensely interested in where we were. Often accounts of voyages to exotic realms involve hair-raising adventures caused by bad luck or mistakes. We were lucky enough that we got away with the mistakes we made.
2000–2001
Transatlantic, English Channel, North Sea, Kiel Canal, Denmark, Western Baltic
On this initial voyage, we crossed the North Atlantic and then entered a world of marinas best suited to smaller yachts of 32′ to 38′ long. During this time, ELSKOV returned to Walsted's Baadeværft in Thurø, Denmark, for two winters, where it was wonderful to have her in the care of her original builders. The yard's founder, Aage Walsted (pictured here with the author's wife, Trish Perry), who has since died, was then still at work every day. —FP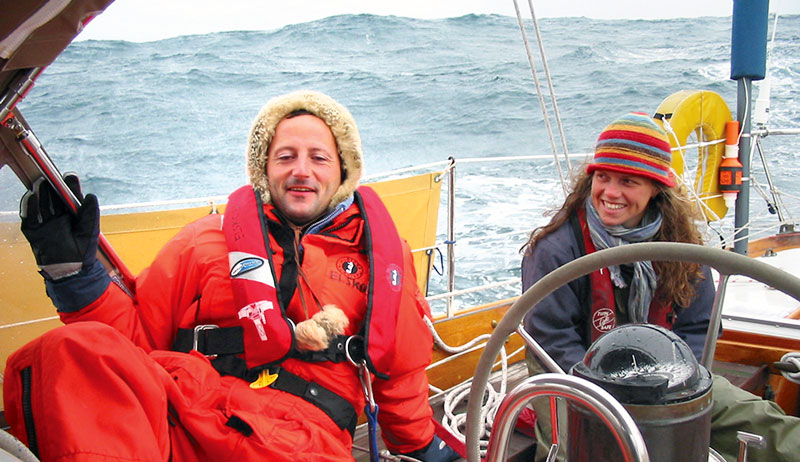 2002–2003
Norway
Norway is a country of striking natural beauty, lovely intelligent people, and equally incredible infrastructure: bridges, tunnels, overhead power lines, and many marinas. ELSKOV wintered in the water for two seasons tied to a marina pontoon near Tromsø, 200 miles north of the Arctic Circle. This arrangement was more hope than plan, but it did work out. The water doesn't freeze there, but the varnish took a terrible beating. Here, with John Jones and Mette Strengehagen on watch off the Norwegian coast, she is en-route to Svalbard. —FP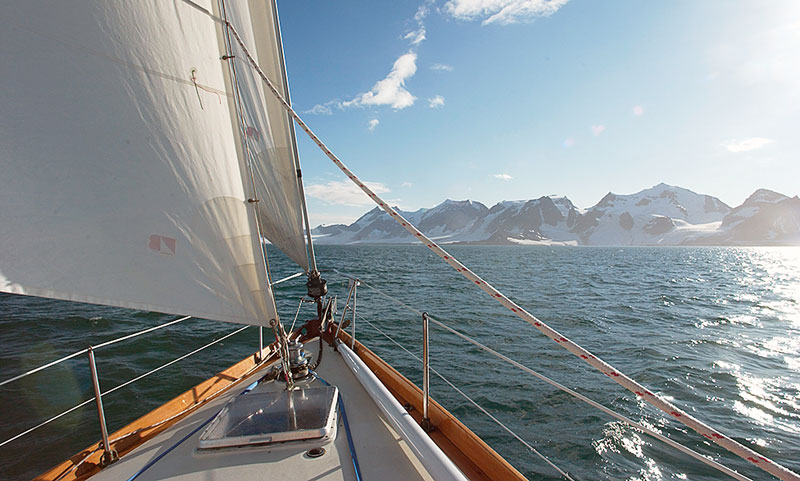 2003
Svalbard
This Norwegian archipelago sits at the highest latitude one can travel to in a yacht and still be afloat. Unlike the rest of the Arctic, it has no native population. Whaling and trapping brought its original "settlers," and coal mining brought permanent settlement at Longyearbyen in early 1900s. The year-round population in Longyearbyen is about 2,000; annual tourist visits number over 80,000. To visit Svalbard by private yacht, one must get permission from the local authority. This involves establishing credentials, having a plan for one's cruise, and paying in advance for search-and-rescue. Because of the threat posed by polar bears, one is required to be armed when ashore away from Longyearbyen.
We found the polar ice at just north of 80°, at a point where all land on Earth was south of us. (That's not quite true—Greenland, Ellesmere, and some of the Siberian islands are a few degrees higher—but it's fun to consider, nonetheless.) —FP
2004
Return Transatlantic–Lofoten, Iceland, East Greenland, Labrador, to Nova Scotia
The idea of this route was to sail "on top of the weather"—that is, to stay north of the lows that track, one after another, across the 50th parallel. The Mid-Atlantic Ridge, an underwater mountain range extending the length of the Atlantic Ocean, constitutes a fault line right through Iceland, with the European tectonic plate to the east, and the North American plate to the west. Iceland, in fact, is an above-water expression of these mountains, and thus contains some of the newest dry land on Earth. Greenland, on the other hand, represents some of the oldest land.
We saw whales—blue, fin, humpback, orca, bowhead—everywhere on this leg.
Our approach to east Greenland was wonderfully dramatic—a Grand Teton kind of landscape that only a comparatively few humans have ever seen. A solid barrier of sea ice extended 40 miles offshore all down the east coast. Finally, after heaving-to off Kap Farvel to await daylight, we were able to pick our way into Nanortalik around on the southwest coast, where we made friends with the crew pictured above. —FP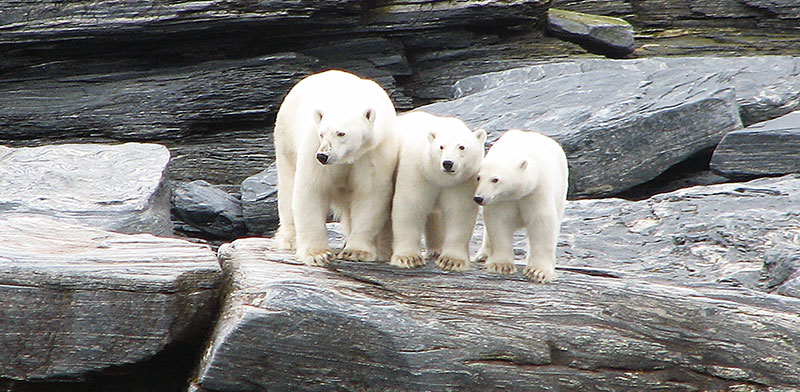 2006, 2008, 2013
Greenland, Baffin, Labrador, Hudson's Strait
West Greenland is suburban countryside compared to the country's east coast: it truly is a green landscape, but there are no trees. This is where most of the population of 55,000 live.
From Disko Bay north, one's overwhelming sense is of dogs—the smell and the barking. Here the prime means of winter travel is dogsled over the sea ice. South of Disko this is not so, because the sea does not freeze.
Danish and Greenlandic, with a little English, are spoken here. Language is not a problem for taking care of food and fuel, but one wishes for a better linguistic command to experience the culture.
The Baffin Island charts are really rudimentary; they are essentially small-scale tracings of aerial photographs. Their only soundings are for entry into harbors serving the old Distant Early Warning (DEW) line radar stations. These don't offer much help to a yacht; one is pretty much on one's own in this country.
The big Baffin Island view is rock on rock, gray on black, with the occasional white rock, some of which turn out to be polar bears. But it seems hard to even be a rock in this country. Scree and talus are everywhere. Close up, though, the lushness and rich coloration of carpets of rugged vegetation clinging to crevices and leeward slopes is astonishing.
There are huge tides and currents at the top of Labrador and throughout Hudson Strait. Yachts tend to stay away from here. Communities are few and far between in Hudson Strait. Perhaps because of this, the people there keep an eye out; they seemed to know we were coming before we arrived. There are lots of polar bears in Torngat National Park in northern Labrador, but unlike in Svalbard, firearms in non-native hands are forbidden. —FP
The exotic becomes the everyday when you are there. The mindfulness advocate Jon Kabat-Zinn's observation, "Wherever you go, there you are!" seems to sum it up. All these places are, indeed, just places, albeit, remote and hard to get to ones. Visiting them in one's own well-found boat, traveling no faster than 5 or 6 knots, teaches us some of the aboriginals' oneness of land and water, brings us closer to their sense of the Earth's surface as provider, and ultimately, sublimely, blurs the boundary between heaven and earth.

Finley Perry is a retired residential building contractor and an amateur yachtsman with memberships in the Cruising Club of America and the Ocean Cruising Club. He lives in Hopkinton, Massachusetts.