Connecting continents with a vintage pilot cutter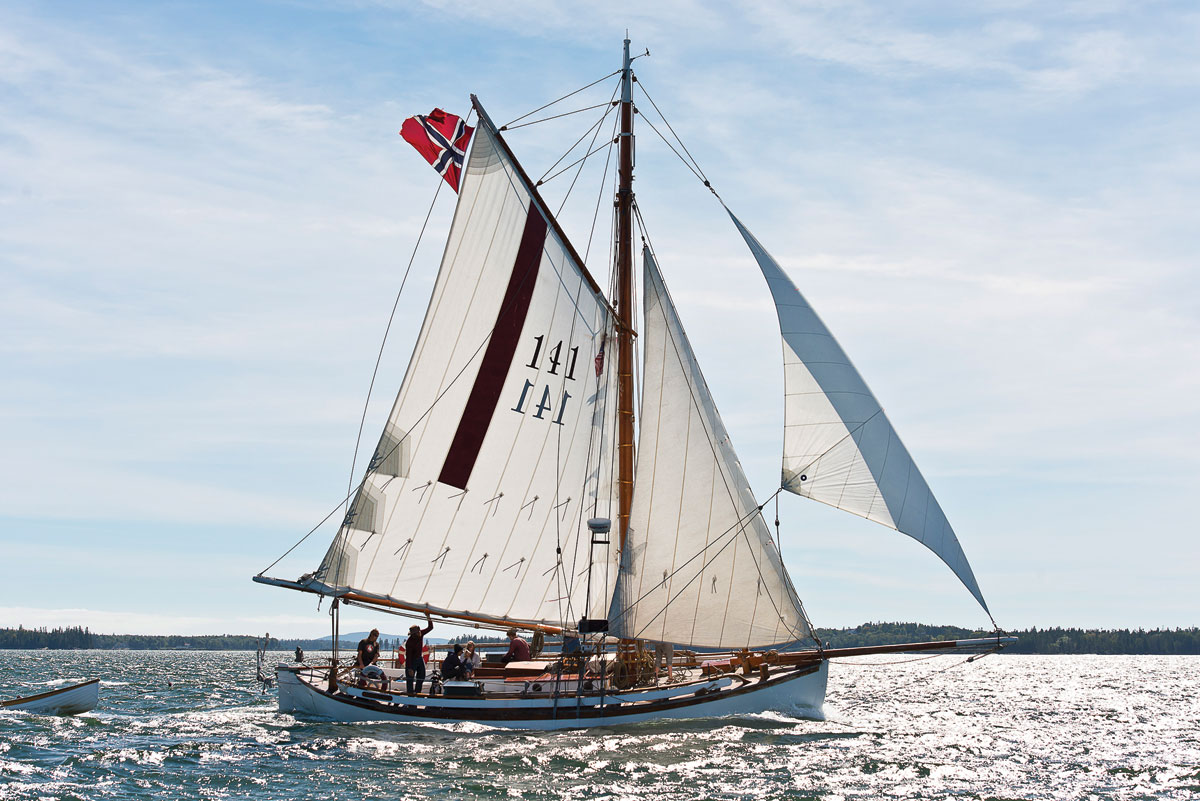 When I purchased the Norwegian gaff-rigged pilot cutter FLEKKERØY in 2005, she was a little worn out and lonesome. Named for the island from which she originally worked, and built in Norway in 1936, she had been lying for sale for a year or so. Despite her appearance, she seemed sound. Back then, I did not have extended cruising in mind, but I did see in her the potential of getting a good, rugged, and seaworthy boat. Planning to cruise her around Scandinavia, I decided to buy and refit her.
I got a slip at the museum harbor at Isegran, Fredrikstad, in Norway, and set to work. I spent the first few winters under a cover recaulking the deck, making a new rudder and boom, adapting the interior to my taste, and accomplishing a thousand and one small, necessary jobs. In the summers I sailed her in Norwegian, Swedish, and Danish waters.
During those early years with FLEKKERØY I worked as a mechanic at Maritime Center Fredrikstad A/S, the boatyard next to the museum harbor, where in 2008 I met my future partner and shipmate, Klara Emmerfors. She was there for a week's practical work as part of the program of the boatbuilding school she was then attending near Stockholm. She sailed with me in FLEKKERØY for the first time in the fall of 2008 in the last race of the season, and she seemed to like it. Later, I invited Klara on a cruise spanning the days between Christmas and New Year's Day. She accepted the invitation, and we haven't been apart since.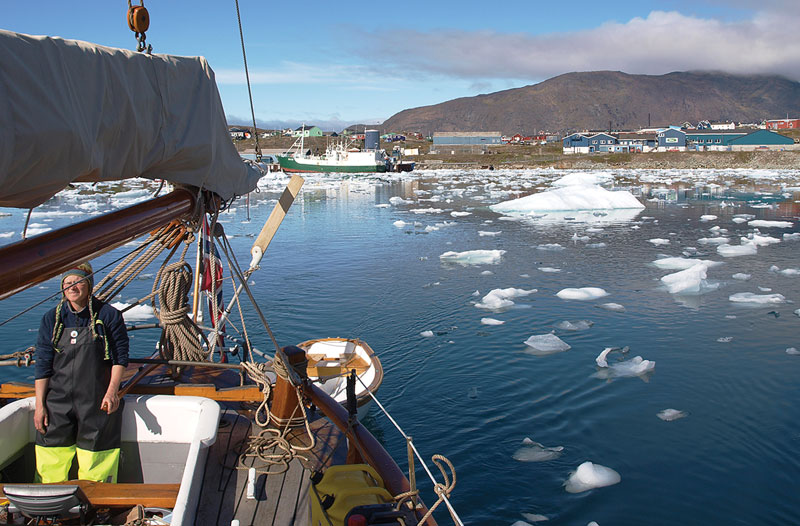 Klara finished school in the spring of 2009. We moved into a house outside of Fredrikstad, and she began working full time at the Maritime Center. For our summer cruise that year we went to the Shetland Islands—a wonderful trip that left us wanting more. Together, we continued upgrading the boat during the winters and cruising Scandinavian waters in the summers; in 2010, we cruised the western fjords of Norway to Bergen and back.
The following summer, we made a seven-week trip to Scotland, through the Caledonian Canal, visiting the Hebrides and the Orkneys before returning home. Still, we wanted more, and after that summer we decided to make a longer cruise. We had been reading about sailing in high latitudes, and Greenland emerged high on our wish list. That's how we decided to follow the tracks of the Vikings to North America.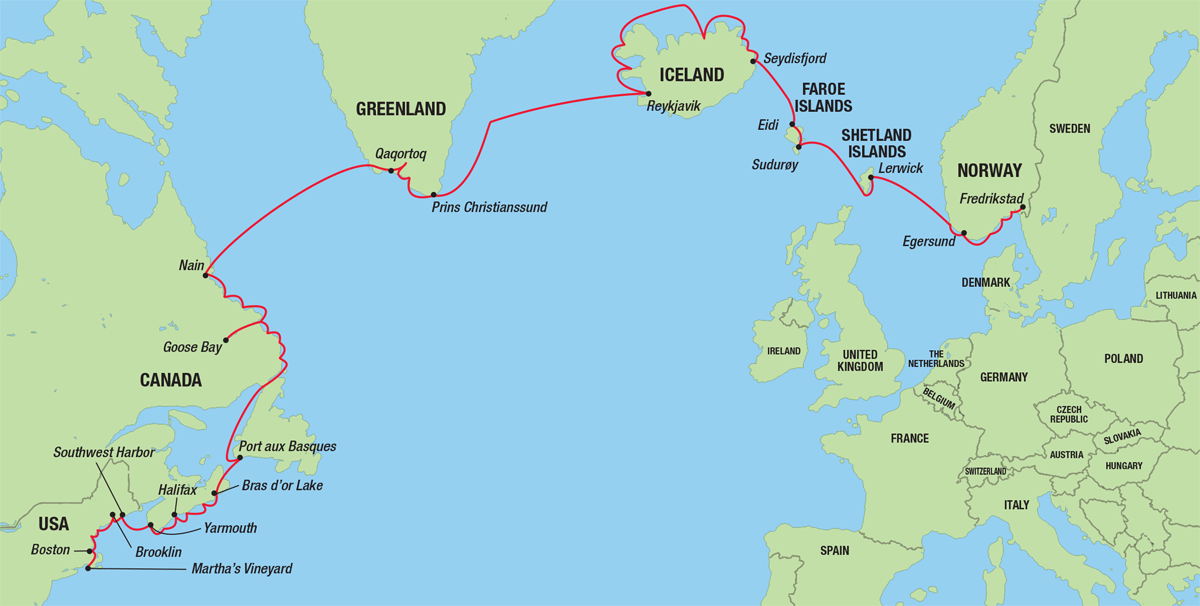 We set a departure date for the spring of 2012, and in the autumn of 2011 we hauled FLEKKERØY to recaulk her hull and replace a few planks and frames. It was heavy work: she has 5″ double-sawn frames and 2″ oak planking fastened with trunnels. After the planking was done, Klara did most of the caulking. This structural refit was more time-consuming than we had planned—even with hired help from the Maritime Center—but we sleep well at night knowing every inch of FLEKKERØY's hull.
On the day before Christmas, we relaunched her and set off on our annual Christmas sail. We realized there was still a lot of work to do, and 2012 was coming too fast. So we decided to postpone our voyage until 2013. In the meantime, we sold our house and moved aboard to save money. During our summer holiday in 2012, we gunkholed in Norway and Sweden and sailed in the Limfjorden Rundt regatta in Denmark in September. One of the days of the regatta saw perfect weather for FLEKKERØY: 25 knots of wind, and all sails flying. It was a great race…up to a point.

After a controlled jibe, we accidentally jibed back. The accidental jibe went well enough: The mainsheet ran freely through its blocks, cushioning the impact on the rig. I don't know exactly what happened. I might have been standing on the mainsheet, and it might have tumbled me into the cockpit. What I do know is that after we'd settled onto the new tack, I looked up and said to Klara, "Can you take the tiller? I think I broke my leg." She didn't believe me until she saw the angle of my thigh. We got the sails down and called for help.
The Danish navy had a service vessel observing the race, and they launched a RIB with two trained medics aboard. They boarded FLEKKERØY and gave us really good and professional help. At the dock, the ambulance was waiting, and away I went to the hospital. A spring 2013 departure was now out of the question.

Klara sailed FLEKKERØY home from Denmark together with some friends, and a month passed before I was able to move back onto the boat. Because of my condition we didn't get much work done that winter, and this set us even further behind schedule. We did make a short Christmas trip that year, and we continued cruising into 2013. In September, we returned to the Limfjorden Rundt regatta—and this time won.
We were now aiming for a spring 2014 departure date. But my complete recovery depended upon the removal of the bolts and nuts that had held my femur together as it healed. That surgery was set for May 2014, and the subsequent recovery would place us too late for a departure to Greenland. So we had another year to plan the trip, and set a firm departure date for May 17, 2015, which is Norway's National Day.
The spring of 2015 saw a lot of activity aboard FLEKKERØY. The hectic pace was tempered by the joyous feeling that we were finally going. Visas, vaccines, spare parts, selling the car, new sails, repairing our dinghy, provisioning…it all came into order.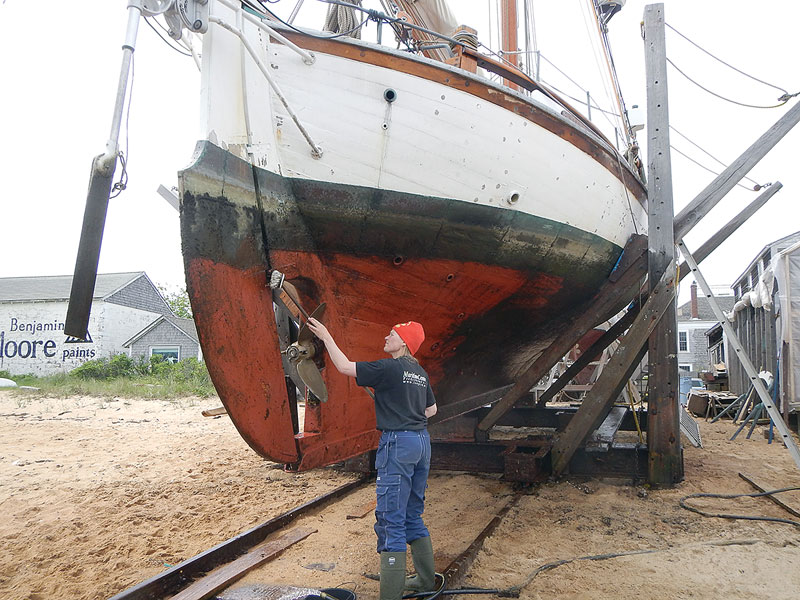 We managed to get things fairly well squared away on deck, and figured we would sort and tidy the boat as we proceeded along our initially gentle coastwise track. On the departure day, we were tired but happy as we started the engine and pulled away from a dock filled with friends and relatives. The city was dressed in Norwegian flags in observation of the holiday.
We spent the first days poking along the Norwegian coast, and had put things in order below deck by the time we arrived in the southwestern Norwegian town of Egersund in late May. From there, we crossed the North Sea to the Shetland Islands, arriving in Lerwick before a diminishing gale. After checking in with customs, we poured ourselves the mandatory "ankerdram." For the first time in our nascent voyage, we felt truly underway.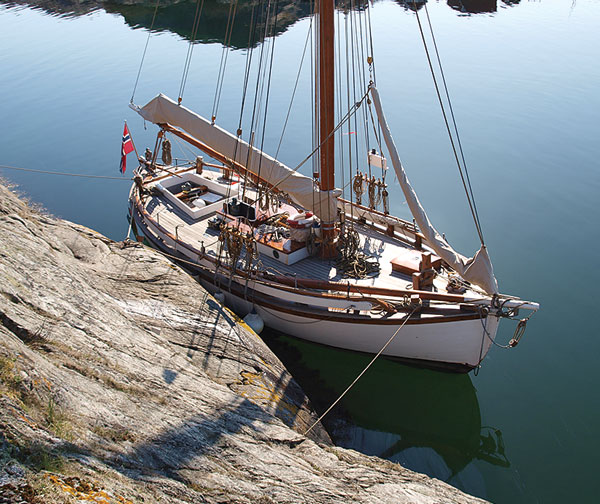 We left the Shetland Islands before a south-southeasterly breeze with all sails set and the wind vane steering mechanism holding course beautifully. This device is of the servo pendulum type, which works by setting a wind vane to the relative wind angle; when that angle changes as the boat's course is altered, the rotating wind vane turns a small auxiliary rudder in the water. This small rudder is connected to the tiller via lines and blocks, and it moves the tiller accordingly, so the main rudder steers the boat to maintain the pre-set wind angle. It is a simple but effective system, and it gives us free hands on watch.
FLEKKERØY sailed the whole way as if she were on rails. One of the reasons for this, we think, is the long keel combined with a balanced rig. This combination gives her good directional stability and the wind vane has an easy job of correcting the course. In fact, when closehauled with proper sail trim, FLEKKERØY's helm is so balanced that she can hold a course without the aid of the steering mechanism.
After a perfect crossing of 36 hours, we anchored in Tvøroyri, Sudurøy, the southernmost island of the Faeroes, and then continued north to cruise among the islands for almost two weeks. Steep cliffs covered with lush green grass and sheep enthralled us as birds turned circles overhead. Eidi, on the north end of Eysturøy, was our last port before we proceeded to Iceland.
One of the big advantages of the gaff-cutter rig is the variety of sail combinations it allows. Under reefed main and staysail, in a 25-knot southeasterly breeze, we departed the Faeroes. After our departure, the wind veered southwest and increased to 30–35 knots, while a thick fog settled in. We put another reef in the main, connected the wind vane, and made 7 knots toward Iceland. A few hours later the wind abated; we raised a mid-sized jib and shook one reef out of the main. The next day we shook out the first reef and raised the working jib, giving FLEKKERØY a sail area of about 1,150 sq ft. We also have a topsail that sets on a yard, which gives an extra 150 sq ft, but we rarely use this on crossings.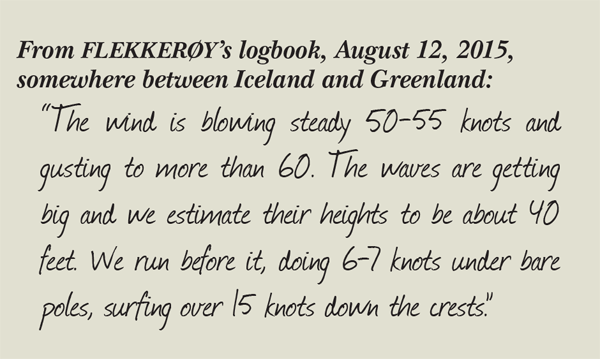 After two-and-a-half days of heavy fog, we distinguished land through the fog—the region of Seydis­fjord on the east coast of Iceland. It was just 300 yards away. Thank heavens for GPS. We motored the final 20 miles to the town of Seydisfjördur.
As FLEKKERØY proceeded northward along the east coast of Iceland against a fresh northerly breeze and rain, we were glad we had our 113-hp diesel spinning its 32″ feathering propeller. North of the Arctic circle, under the midnight sun, the sailing was so beautiful that we just kept on going to Isafjördur on the northwest coast, and then south down the west coast, enjoying the wonderful landscape of deep fjords slicing into high, steep, snow-capped mountains. At last we arrived in Reykjavik, the capital, and for the next week prepared ourselves and the boat for the longest and most demanding part of the voyage. Little did we know of how bad it would be.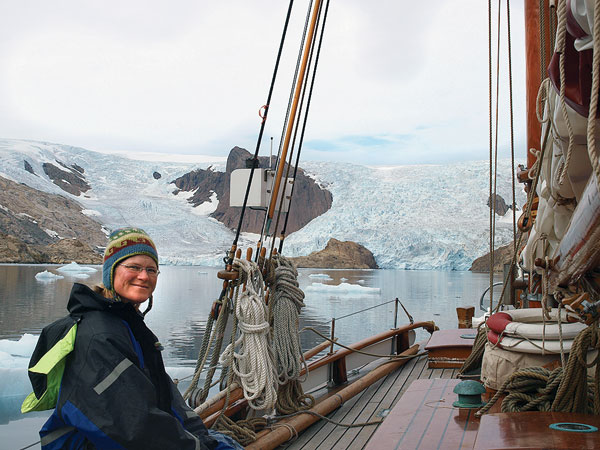 Our initial plan, after our month in Iceland, was to sail for Amassalik on the east coast of Greenland, a crossing of about 350 nautical miles. But the ice reports showed this part of Greenland to be thick with pack ice, so we decided to sail for Prins Christians-Sund on the southern tip, instead. This would add about 300 miles to the crossing.
It was August 6, and we had a weather window. With the last of the stores onboard and the fuel and water topped off, we departed. The first few days were wonderful, with winds from the north and northeast between 15 and 25 knots. The northern lights dazzled us at night. We were making good headway for Greenland when, about four days out, we received a dire weather forecast in the form of a GRIB file downloaded via a Pactor modem on the HF radio.
As the wind increased to a steady 40 knots, with gusts to 50, we shortened sail and hove-to. When the boat began falling off every now and then and fore-reaching out of her slick, we deployed a sea anchor from the bow and took down the sails. This immediately pulled the bow into the wind, so we rigged a bridle with a snatch block to keep her on one tack. In this orientation, she settled down, and we went below for dry clothes. About 15 minutes later, when we were back on deck checking for chafe, we found that the sheave in the snatch block was gone and two of the three strands in the anchor rode had chafed through.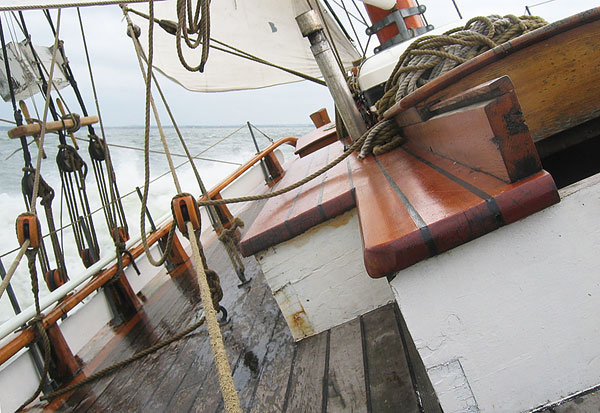 We managed to move the sea anchor rode from the bollard to the drum of the anchor windlass and began pulling, but the line snapped before we could haul the damaged portion of it aboard. With wind and waves still building, we realized we had no chance of retrieving the sea anchor, and no other choice but to release the tiller and run downwind under bare poles on a course clear of land and ice. It was a wild ride, and when a big wave broke over our stern, it filled the cockpit, threw open the hatch, and forced the life raft out of its cradle.
When that giant wave had passed, we stood soaking wet in our inflated life vests and were a little disoriented. We found the binoculars on deck, but our beautiful brass binnacle, which had been screw-fastened to a deckbeam, was gone. As the cockpit drained, Klara realized she was in great pain, and had likely broken a couple of ribs after being washed against the cockpit coaming.
We tidied up the cockpit, and one at a time went below for dry clothes. The wild ride continued through the night and into the morning, but the boat behaved beautifully the whole time; she responded easily to the rudder and had no tendency to broach or be pushed off course. We took one-hour watches at the tiller, and after a long night the wind began subsiding. We could then set a reefed staysail to keep the speed up.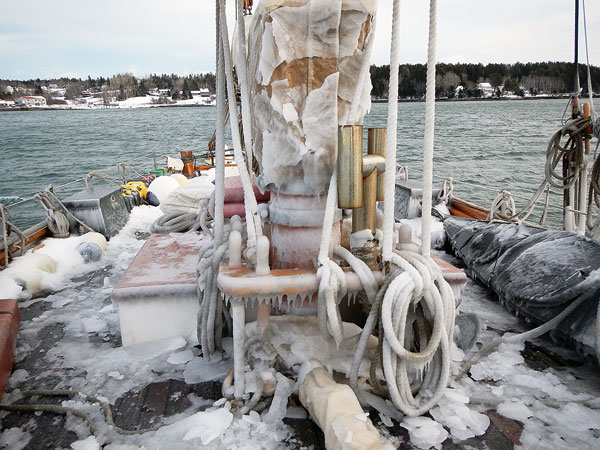 On the following day the wind died off quickly but the big waves remained. We started the engine to keep pace with the seas, and made landfall early the next morning in sunshine and flat calm. As we motored among chunks of ice—"growlers" and "bergy bits," as they're called—our Webasto heater stopped working and we came to a chilling realization: When the cockpit had filled with water, some of it had found its way into the fuel tank's air vent. The heater sucks from the bottom of the tank from a point that's lower than the engine's pickup tube, and so is affected first by any water in the tank. We immediately stopped the engine, and found the fuel filter almost full of water. A few more minutes of running would have spelled trouble for the engine. After draining the filter we restarted the engine again and kept constant vigil for water in the fuel as we slowly worked our way to the dock at the weather station at the eastern entrance to Prins Christians-Sund.
The friendly Danes working there offered us showers and a washing machine. We spent a week there tidying up and repairing the boat—including fixing a big crack in the companionway hatch. Missing bits and pieces emerged in the strangest places.
After visiting the small villages of Appillatoq and Nanortalik, and the island of Unartoq, we arrived in Qaqortoq, a bigger town, to get Klara's ribs checked and to resupply. The hospital confirmed that she had broken at least three ribs, and that the bones would heal themselves in time—though it would be painful. Due to Klara's condition, we would motor rather than sail as we visited several small settlements having traces of the Vikings who had sailed here hundreds of years before us.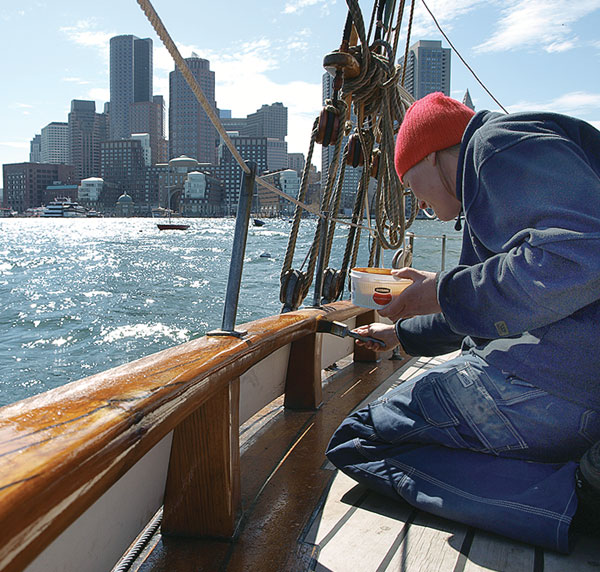 Our time in Greenland ended in Narsarsuaq, where there is an airport. Ole Torbergsen, a friend from Norway, flew in to join us here for the trip across the Davis Strait to Labrador. Klara's ribs still hurt, so it would be good to have help on this leg.
At the end of September, we motored out into a flat calm hoping to cross the strait before the autumn gales. The following morning we made sail in a southeasterly breeze and stopped the engine. Later in the day, the band holding the mainsheet block to the boom broke and we had to rig a temporary one. Other than that, the crossing was uneventful, with lots of stars and northern lights, no ice other than close to the Greenland coast, and no more than 25 knots of wind that died off as we approached Labrador.
We made landfall in Labrador in the morning, and as the wind went calm we started the engine and made our way to a bay north of Nain, where we saw our first trees since leaving Norway. The next morning, the sight of several black bears walking on the beach made us realize we should arm ourselves when we went ashore. We spent a couple of nights here enjoying the luxury of whole night's sleep in a level bunk before continuing to Nain.
Nain is a small town with no road connection, but it does have an airport. Ole would depart from here for his return to Norway. We had also hoped to officially check in to Canada here, but after a few phone calls we learned that we had to go to Goose Bay, about 200 miles south and 150 miles deep into a fjord, in order to clear customs.
The Labrador coast is stunning, with barren islands to seaward and big forests on the mainland. It has more black bears and eagles than people. The landscape reminded us of home. As we worked our way south and inshore mostly under power, the wind, incredibly, shifted with our course changes to stay on our nose the whole way. This was anxiety-provoking, as we had a two-week deadline to check in with the customs officials. We visited a few small towns along the way, but these stops were necessarily short. When we finally arrived in Goose Bay, the customs proceedings lasted less than 10 minutes: we paid a small fee for the import of our firearms, received stamps in our passports, and were welcomed to Canada. Although we were disheartened that, after making us come all this way, the customs officials didn't even come aboard, we could now lower our shoulders a little and keep our own pace.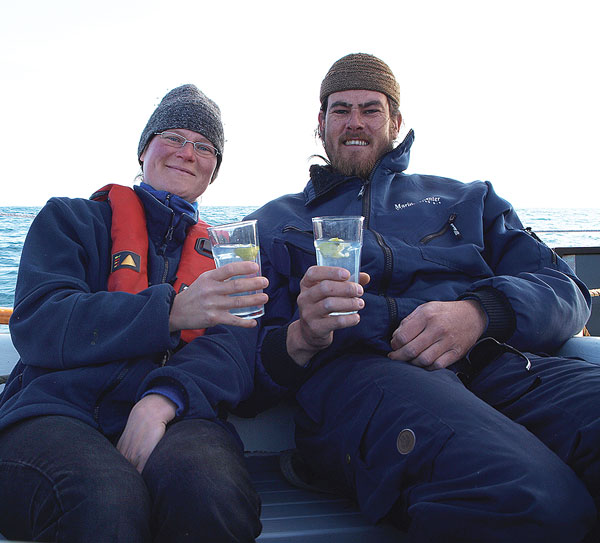 On our way back out to the coast, anchored in a small landlocked cove, we saw the first snowfall of our voyage. It was October 9, the trees were losing their leaves, and the days were getting shorter. We threaded our way south between gales and on November 3 left the Labrador coast. Although we'd wanted to stop at L'Anse aux Meadows on the northern coast of Newfoundland to view the Viking-settlement remains there, the weather forecast promised a week of strong northerlies. The bay at L'Anse aux Meadows is exposed to the north, so we instead sailed on for Port aux Basques on the extreme southwest coast of Newfoundland, a favorite provisioning stop for Basque whalers in the early 16th century. We spent a few days there, shrouded in fog for part of the time, before setting sail for Sydney, Nova Scotia.
The 80-or-so-nautical-mile crossing to Nova Scotia was beautiful, with about 15 knots of wind and a calm sea; we departed at 1100 hours on November 11, and 15½ hours later were anchored outside of Sydney. The following day we went ashore to find our first real supermarket since Reykjavik. Our mouths watered as we saw rows and rows of fresh fruit and vegetables, meats, and all kinds of delicacies. It was a huge contrast to the stores on the Labrador coast, which mostly offered canned and frozen food—and not much of it. We bought a big load of food and headed off into the Bras d'Or Lakes. Anchored there outside the village of Baddeck one morning, we woke to a thin layer of ice around the boat. Winter was on its way.
Our diesel-burning stove heats the cabin nicely, and this, combined with the insulation of our 2″ hull planking, makes the boat nice and toasty below. Ashore at Baddeck, we visited the Alexander Graham Bell Museum, where, curiously enough, we had our first cell-phone service since Greenland. We learned there that our exit route, the St. Peters Canal lock that connects the lakes with the Canso Strait, would be closing next week. It was time to plan our departure.
On November 24, in a heavy snowfall, we passed through the locks—the last boat of the season to do so. Once again we were free, out in the open ocean. We made short daysails down the Nova Scotia coast and arrived in Halifax to spend a week there visiting museums and shops. By December 5 we were further south, in Lunenburg, where we spent another splendid week before moving along to Yarmouth—our jumping off point for Maine.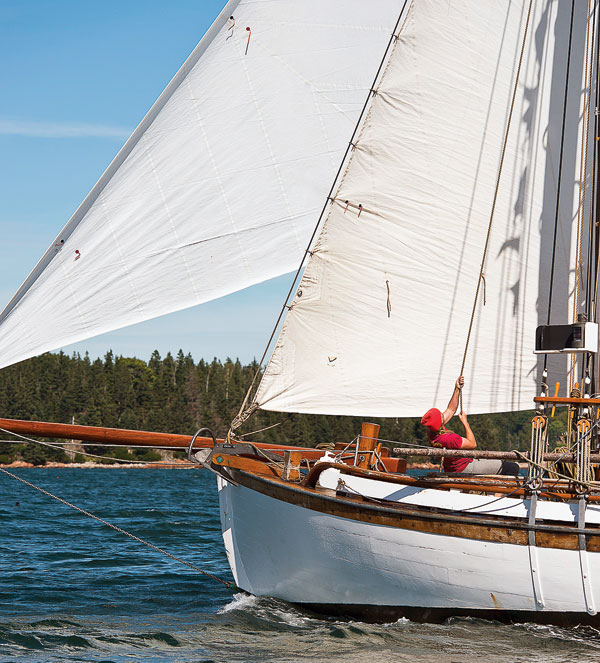 It was December 18, and our goal was to be in the United States by the Christmas holiday. But first we had to wait for another gale to pass. We had visas at the ready, and placed a call to the U.S. Customs and Border Patrol to determine whether there was a specific procedure regarding our bringing firearms into the United States. We were told to just declare them upon arrival.
On December 22 we embarked in a nice fresh breeze and favorable current for Southwest Harbor, Maine, which was then listed on the website of the U.S. Customs and Border Patrol as a port of entry. Soon, the wind increased and veered, the tide turned, and it got bumpy. To get a break for a few hours, we hove-to and continued when the conditions improved. Upon our arrival in Southwest Harbor the next afternoon, we called customs on a borrowed phone because our cell phone didn't work there and there was no pay phone. The Customs agent told us that an agent would arrive within an hour, but nobody showed up until the next morning. When they came aboard and checked our passports and visas, they informed us that we would have to go to Bangor, 50 miles away over the road, to officially check in. They also had to seize our firearms, as we did not have a previously approved ATF form. It was a vexing process, as our previous phone call had led us to believe that we were following the correct procedure. And it was made all the more inconvenient by the fact that the border patrol officer was not allowed to take civilians in his car, so we had to take a taxi to Ellsworth—20 miles away—where we could rent a car and go the rest of the way to the airport in Bangor for the official check-in.
We had to be there the very same day. It was December 24—the day we celebrate Christmas in Scandinavia. We spent it at the customs office in Bangor giving fingerprints and getting our pictures taken. So we followed the American tradition and had a fine celebration at the dock in Southwest Harbor on the 25th instead. We got a six-month resident permit and a one-year cruising permit with orders to call customs every time we moved from one port to the next.
After Christmas we sailed to Brooklin, Maine, where we anchored off the headquarters of WoodenBoat magazine. On December 27 came a most unexpected text message on our cell phone, from a number we did not recognize: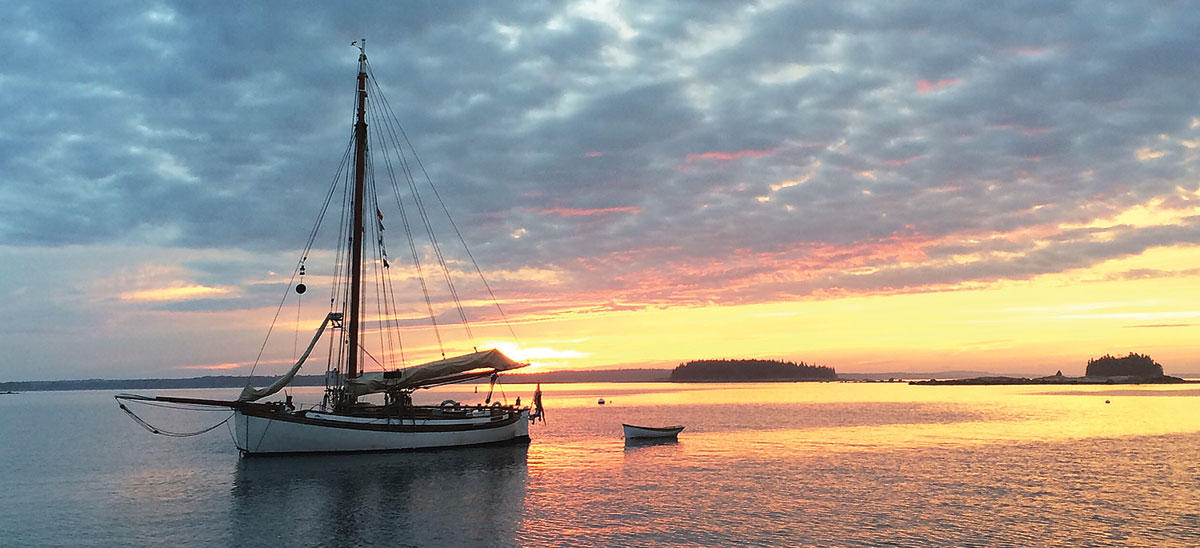 "Hello Klara and Bjørnar—
This is Jon Wilson from WoodenBoat magazine. Are you cold? You are welcome to come ashore and visit."
We were baffled. We had crossed an ocean to arrive at a place exotic to us, only to find someone we didn't know calling us by name—just by the sight of our boat arriving at dusk and anchoring. It was a mystery.
Jon is the founder of WoodenBoat. He had seen our Norwegian flag, and our style of boat is unusual in these waters—as is the fact that someone would be sailing here in late December. We later learned that, upon our arrival, he had immediately contacted the Colin Archer Association in Norway, of which we are members. He asked if they knew of a double-ended cutter sailing in Maine in the middle of winter. They could think of only one, they said, and they sent him our contact information.
Eager to connect with him, we agreed to return to Brooklin after making a quick trip to nearby Rockland to pick up Klara's sister, who would stay with us for a week. Upon our return to Brooklin, we enjoyed a warm reception and a wonderful waterfront before continuing our winter cruise around Penobscot Bay.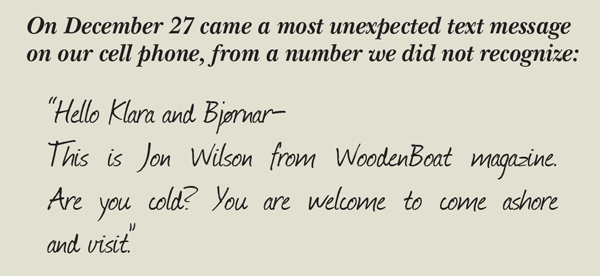 A good thing about winter cruising on an open schedule is that one can sail when the weather is nice and stay in port when it's not. Anchorages are mostly empty and there is a lot of available dock space. Diesel is relatively easy to obtain where the fishermen get it—which is good, because we need it for heat as well as for propulsion. Fresh water is more difficult; when there was no hose available at the docks, we hauled jugs of water from land.
Cruising in Maine in winter brings out nice and helpful people. It seemed that, wherever we went, we were the talk of the town. The questions were often the same: Are you cold? Cruising in the middle of winter…are you crazy? Are you heading south? And so it went. The fact is that we are used to sailing in the winter in Norway, which is around 60 degrees north latitude. Although Penobscot Bay is around 44 degrees, the climates are similar.
One feature of winter sailing is that the days are short and the nights are long—an advantage, because it affords lots of time in the evenings below decks reading, playing cards and games, and cooking fancy meals. On the other hand, all this time below can trigger bouts of cabin fever, so we usually spend the daylight hours sailing or walking ashore. It also helps a lot that we care much for each other.
We encountered our first other sailboat in early March. As spring approached, we cruised south to Portland and then to Boston, where we anchored off the New England Aquarium in late winter, bought two weeklong subway passes, and explored the city. We then returned to Maine, where we spent the summer on Penobscot Bay. It is early autumn 2016 as I write this, and we have no specific plans except to keep on cruising while letting wind, weather, and want decide where we go.

Bjørnar Berg is a marine mechanic who was employed by the Maritime Center at Fredrikstad, Norway, before embarking on his journey to North America with his partner, Klara Emmerfors—a boatbuilder also previously employed by the Maritime Center.
FLEKKERØY Facts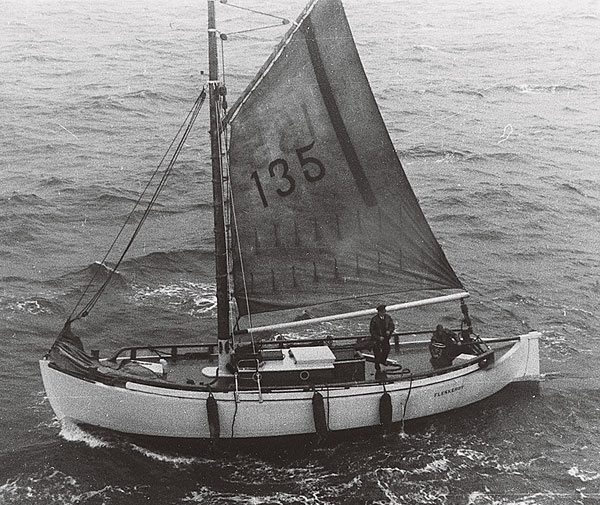 FLEKKERØY is a double-ended pilot cutter built in 1936 in Høllen, Norway. Her keel, stem, and sternpost are of white oak. Her 5″ (sided) frame futtocks are of Norwegian pine, which makes each double-sawn frame 10″ wide; they are spaced about 20″ on center. The planking is 2″ white oak fastened with trunnels measuring 1¼" in diameter. The trunnels have conical heads, go all the way through the frames, and are split and wedged on the inside. The deckbeams are of roughly 6″ × 6″ pine and rest on 3″ × 8″ sheer clamps, also of pine. The deck planking is 2″ pine. The deckhouse, stanchions, covering boards, and caprail are of white oak.
The boat measures 40′8″ on deck, and is about 57' overall if you count the spars. Her beam is 15′2″ and draft is 6'. Her volume is 17.04 GRT, and she displaces 55,000 lbs. She is rigged as a gaff cutter with a mast measuring 53′ from the waterline, and a retractable bowsprit. Her sail area of 1,345 sq ft is divided into four sails: a mainsail of 610 sq ft, a staysail of 245 sq ft, a jib of 335 sq ft, and a topsail 155 sq ft. We also have two smaller jibs and one bigger one.
For no-wind conditions, she is equipped with a British Leyland 113-hp six-cylinder diesel engine, with a 4:1 PRM gearbox and a 32″ Variprop feathering propeller. She has no outside ballast, so ballast consists of 9,000 lbs of lead ingots placed in the bilges. The rudder is of white oak and is hung outside on the sternpost and steered with a tiller. She has a Windpilot servo-pendulum windvane selfsteering system. The anchor windlass is a manual two-speed double-action Simpson-Lawrence with 300′ of ½″ chain and an 88-lb Rocna anchor as the main bower. There are no other winches onboard.
For heat we have a Kabola diesel pot burner of 4.6W, and a Webasto diesel cabin heater of 5kW.
Lighting consists of a mix of kerosene and electric lamps. Cooking is done on an Eno propane stove with two burners and an oven. The Kabola also has a cooking top. We have a cooler with electric refrigeration, but when the water is cold, the bilges work just as well. The tankage is 135 gallons of fuel and the same amount of fresh water. Communications are made via mail (the one with stamps), VHF radio, HF radio, and the occasional WiFi connection. —BB