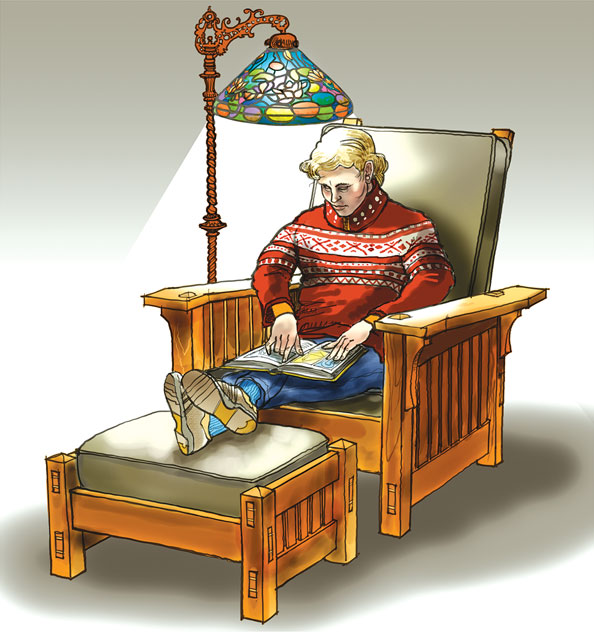 from the Editors of WoodenBoat Magazine
Text by Anne Bryant · Illustrations by Jan Adkins
Discussions about wooden boats sometimes assume a familiarity that a curious newcomer might not yet have. WoodenBoat magazine itself presents a wide swath of subjects, a Matryoshka doll of niches within niches, and so the builder might not know much about class racing, and the racer might not know a darn thing about futtocks, and neither might know anything about impellers.
There are reference materials—books, websites, forums, and well-thought-out tools on www.woodenboat.com—that can help you dig deeper into terms and concepts presented in WoodenBoat. This edition of Getting Started in Boats will be a list of resources, and I'll show some instances where readers might have found those resources useful over the past couple of years.
Not all good sources are necessarily in print, of course, nor would you want to carry a full nautical library aboard your boat. This is also not exhaustive, and we look forward to getting your thoughts on your favorite books.
WoodenBoat as the Resource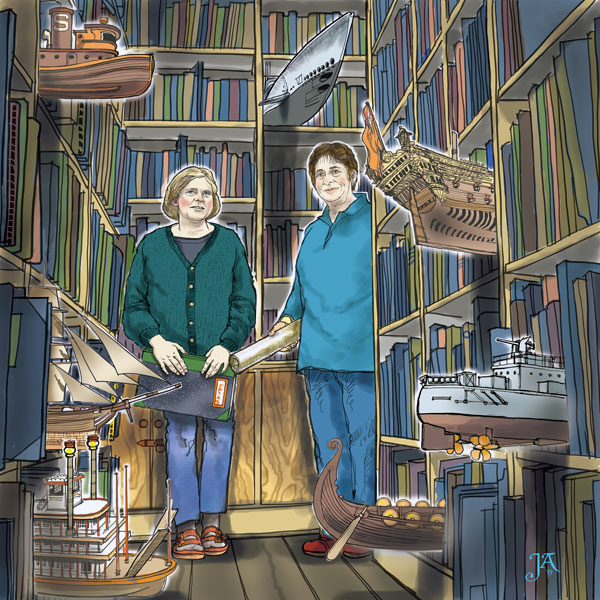 The WoodenBoat Index
Without a searchable index, the back issues of WoodenBoat, even in PDF format, would have to be opened one-by-one in the hope of finding the useful tidbit you're seeking. At bit.ly/WBIndex, one can search for authors, designers, and subject matter. The more specific the search, the better the results. This is a keyword search, and therefore is focused in what it fetches; it's not searching all of the text for all the instances of the utterance of a term. It grabs cornerstone content. The robots behind the screen will fetch up the issue numbers and beginning page numbers of articles in which those terms appeared.
Our research director, Pat Lown, expertly and lovingly combs every issue of WoodenBoat to update the Index. A search can pull up designers, boats, designs, how-to articles, and more. The complete collection of back issues in PDF format, along with the index, is a very user-friendly resource.
The best way to learn is to dive in and stay with it, building an understanding by reading text and examining adjoining drawings and photographs. Recurring columns in the magazine such as "Wood Technology" have covered a wide range of subjects especially useful to those starting off.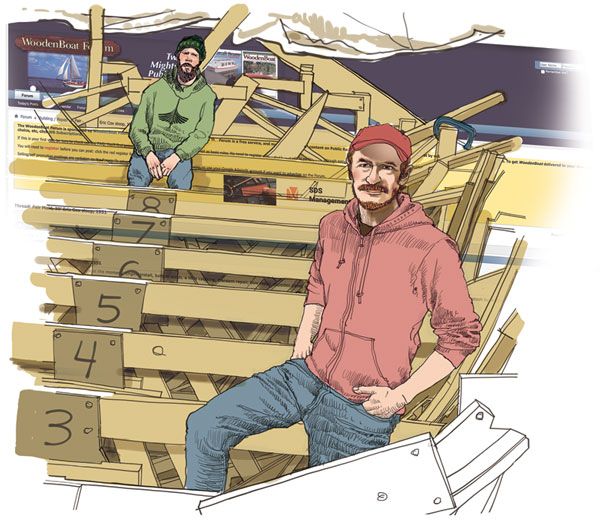 The WoodenBoat Forum, and Other Forums
Here's a short ode to those who post about the boats they've built or the trips they've taken simply to share the experience and to encourage others to get involved: I know of more than one building project and a handful of cruises that went easier because a kind and thoughtful person on a forum spent a few minutes guiding a beginner.
A combination of anonymity and armchair sailing can make for a sometimes-judgmental place, but I think most users strive to be helpful and that most are doing good for others. When combing for tips, I weigh the different opinions (hard or ablative bottom paint? Rocna or Fortress anchors?) and ask why someone has their opinion so I can see where they're coming from.
Check out forum.woodenboat.com, www.sailfar.net, and www.reddit.com/r/boatbuilding—and explore others, as there are plenty out there. There's also a forum for old marine engines (www.oldmarineengine.com) and another for outboard motors (www.marineengine.com).
The Register of Wooden Boats and Launchings
I do find from time to time that I'd like to look up the owner or the last-known hailing port of a particular boat. The Register, which is great for that, used to be a printed book by WoodenBoat Publications but is now exclusively online, which means that it is continually up-to-date. I was also excited to add my own boat to the 7,811 currently searchable and listed at www.woodenboat.com/rwb.
The Launchings section of www.woodenboat.com is a catalog of boats that were newly launched at the time of listing. It isn't so much for reference, but it is very inspiring, and the designer and boat type are always noted, if known.
Small Boats Magazine Techniques and Product Reviews
I'm excited about the growing collection of searchable information available through www.smallboatsmagazine.com, our membership website dedicated to boats that can be built, stored, and maintained at home. The truth is that much of it is useful to anyone interested in boats, not just the trailerable variety. One can look up particular terms, boats by a particular designer, or information about time-saving solutions to various problems one might encounter while caring for, building, or adventuring in a small boat.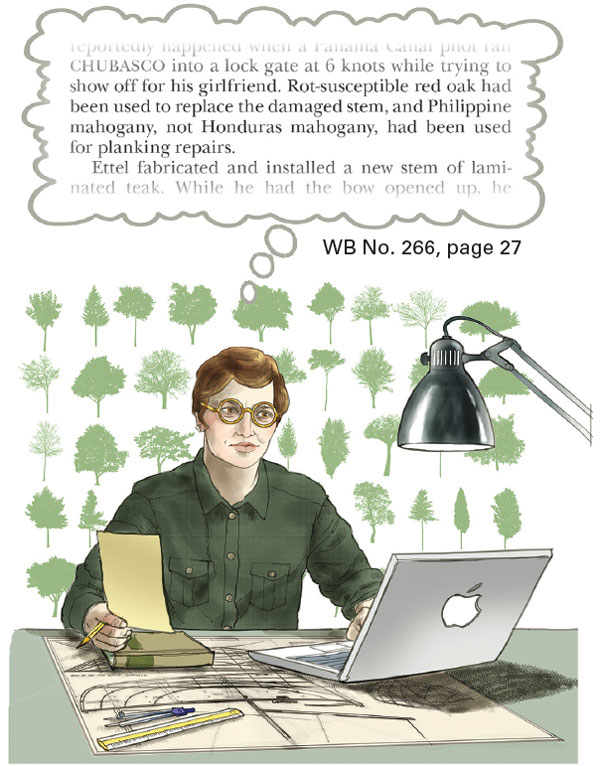 Further Reading: A Bibliography
It must have been the third or fourth time I had ever been on a boat, and I remember the skipper saying, "Oh, well, it's a whole different language on a boat." No, it's not. Sure, there's a parlance that creates efficiency, but the terminology and the concepts behind them are accessible. Here are some cornerstone resources for you that I and WoodenBoat's editors recommend and use frequently, along with some places in WoodenBoat where, recently, they would have come in handy.
Wood Selection
What wood is good for what purpose? Some boatbuilding books go straight from lofting to laying a keel, but there's wood to procure before then and a lot to know about it. Greg Rössel's Building Small Boats covers "Wood for Boatbuilding" and "Planking Stock" deeply and well.
The Wood Technology department in Wooden­Boat has also touched on this subject in so many ways over the years that it's probably one of the best resources for what woods work where and why they do. In Fifty Wooden Boats, a Catalog of Building Plans, Volume 1, a one-page set of tables titled "Guidance on the Selection of Timbers for Constructional Members" (originally in WB No. 37) does the job to answer questions about availability, usage, and other qualities of wood. Utilizing the WoodenBoat Index to find what you need is step No. 1.
Also, in a later volume of boat plans called Forty Wooden Boats, a Third Catalog of Building Plans, designer Joel White devotes three helpful pages to "Before you Begin: A guide to compiling a boatbuilding lumber list." Good and authoritative online resources are the Wood Database (www.wood-database.com) and the U.S. Forest Service's Wood Handbook (bit.ly/USDAWoodHandbook). Wood: A manual for its use as a shipbuilding material is available in its entirety at bit.ly/NavyWoodManual.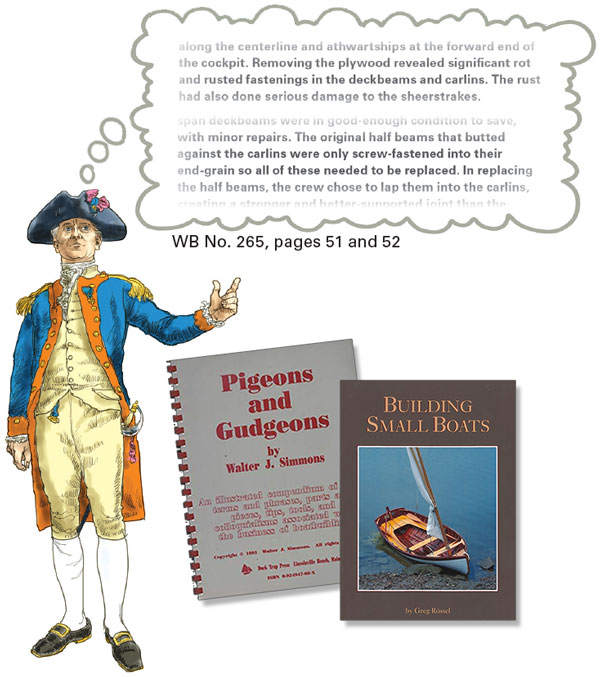 Restoration, Boatbuilding Parts, Pieces, and Methods
Over the years, various authors have attempted to explain in print the concept of lofting, or drawing out boat plans full-sized. Greg Rössel wrote a very good article, "Lofting Demystified" (see WB No. 110), which outlines the technique he uses in teaching his lofting class at WoodenBoat School. Another really good publication is the Adlard-Coles illustrated book Lofting a Boat: A Step-by-Step Manual by Roger Kopanycia.
In this article, one can infer from context that lapping these pieces makes for a stronger structure, and the way to see that as a visual learner is to have a close look at detailed, labeled drawings or photographs of boat parts and construction processes.
We recommend Walter J. Simmons's Pigeons and Gudgeons, Bud McIntosh's How to Build a Wooden Boat (with drawings by Sam Manning), Larry Pardey's Details of Classic Yacht Construction, and again, Greg Rossel's Building Small Boats.
There are also books for specific boat types, such as John Gardner's The Dory Book with drawings by Sam Manning, and Building Classic Small Craft, Vols. 1 and 2.
In recent decades, wood-epoxy boatbuilding has gained favor for large and small craft: The Gougeon Brothers on Boat Construction is a classic technical manual on the subject, but other books address the how-to aspects: one good example is John Brooks's How to Build Glued-Lapstrake Wooden Boats and Iain Oughtred's Clinker Plywood Boatbuilding Manual. Russell Brown's trio of books on scarfing, epoxy use, and finishing are incredibly detailed.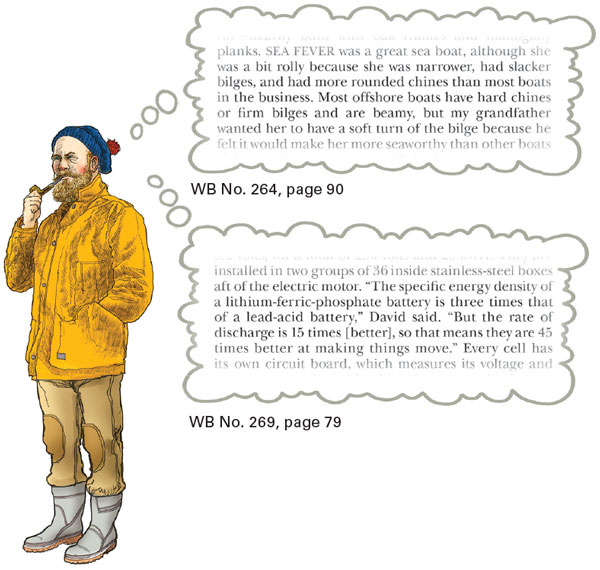 Design Theory and Terms
We've covered some design qualities here in Getting Started in Boats, but we also recommend Understanding Boat Design, by Ted Brewer. For a more technical approach, try Skene's Elements of Yacht Design revised and updated by Francis S. Kinney, or Howard I. Chapelle's Yacht Designing and Planning and American Small Sailing Craft. My fellow editors also recommend Principles of Yacht Design, by Lars Larsson and Rolf E. Eliasson.
Electrical Systems and Electric Engines
For new technologies, product manufacturers' websites can have very useful information. When we look back at old technology in magazines such as The Rudder, the advertisements can be just as important as the articles.
Nigel Calder's Boatowner's Mechanical and Electrical Manual is a choice reference for electrical (and other) systems, as is The 12-Volt Bible for Boats by Edwin R. Sherman and Miner Brotherton. These are the sort of illustrated gems that you'll have open on the workbench, or perhaps right next to you for a bit of comfort as you're crammed into tight spaces while fearlessly doing repairs.
Boat Types
For boat types, the entire editorial team recommends Aak to Zumbra: a dictionary of the world's watercraft, by M.H. Parry. For old-world terminology, much of which is still applicable, Dean King's A Sea of Words is a good language guide—for example, as an accompaniment while reading words one finds in Patrick O'Brian's wildly popular Aubrey/Maturin series. For a modern reference, Royce's Sailing Illustrated has good and very compact information.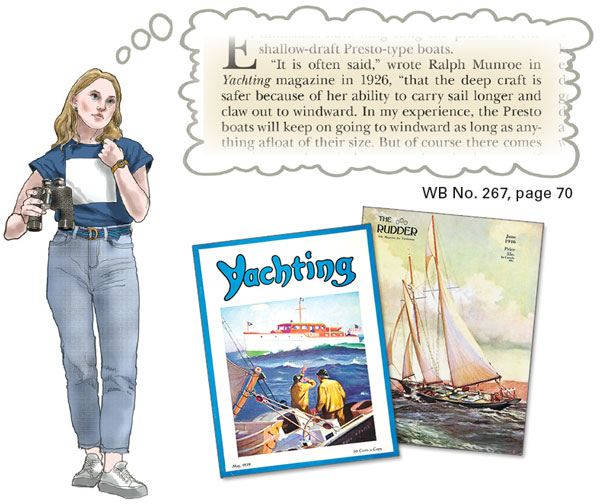 Books about Designers
Many fantastic books have been written about individual designers—biographical details give insight to why and how they designed what they designed. For a quicker reference, The Encyclopedia of Yacht Designers has entries with good overviews of both important designers and their boats of note. WoodenBoat also has published a great many profiles of designers and their designs over the years, and searching the index by "design profile" returns a slew of them; searching by an individual designer's name returns a profile if there is one plus articles about any specific boats.
How to Access Treasured Magazines
The Rudder (1891–1977) and Yachting (since 1907) magazines are often mentioned in WoodenBoat. Many maritime libraries—or those in maritime museums or public libraries in coastal cities—have bound editions of many or most editions of these and other magazines. Various indexes available online help in searching subjects, for example by boat name, class, and previous owner. Mystic Seaport Museum has an online index for these magazines, and MotorBoating as well. Visit bit.ly/MysticSeaportIndex; searching on the name of a designer returns a list of articles published in all of the indexed magazines, and the list of indexed publications continues to grow over time.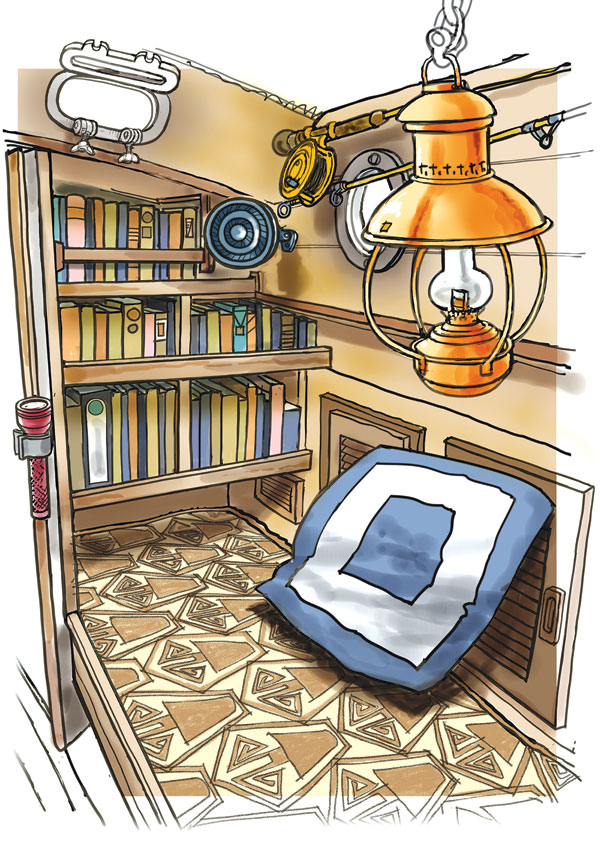 THE Sources and Book Storage
There are some reference materials that I simply can't do without while under way—works that are so well presented that they are the most commonly recommended by experienced sailors. Here are a few:
The Sailmaker's Apprentice, by Emiliano Marino. Sail repair and design guidance in a clear, almost-exhaustive presentation.
Eric Sloane's Weather Book. Weather prediction and meterological science you'll refer to regularly.
The Complete Rigger's Apprentice and Chapman's Nautical Guides: Knots, by Brion Toss. Empowering and wonderfully illustrated guides to rigging.
www.animatedknots.com I have this one bookmarked in all my browsers. Easy to understand for all learners, especially visual ones.
The Complete Canvasworker's Guide: How to Outfit Your Boat With Cloth, by Jim Grant. Sailrite's founder wrote this incredibly complete manual that will have you feeling confident to mend or make your own covers, harnesses, sea anchors, and more.
Boater's Bowditch by Richard K. Hubbard. American Practical Navigator ("Bowditch" for short) worked down to a navigation manual for the recreational boater.
U.S. Chart No. 1 (available as a PDF at bit.ly/GSIBChartNo1 or at marine stores). Every boat with charts needs the book about how to read charts.
Annapolis Book of Seamanship, by John Rousmaniere. This classic on boat handling and navigation is quite large in book format, an eReader or PDF version is probably best.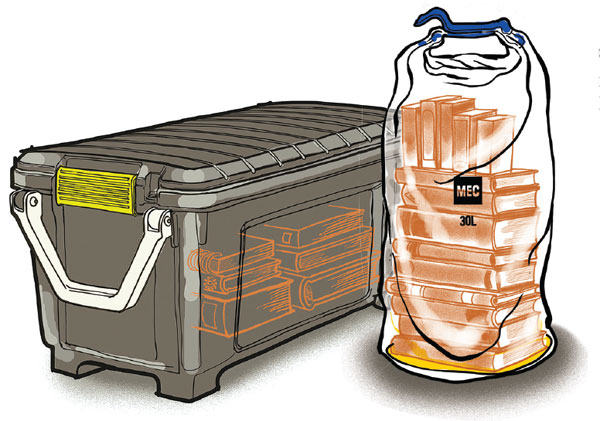 Caring for Books If They're Aboard
The atmospheric conditions aboard are not just humid; they're constantly changing, which can be damaging to books and eReaders alike. For the quick-reference library aboard, protecting books involves just a few important details:
Clean the book-storage shelves annually. I like to use tea tree oil in an emulsion (specifically, Tea Tree Power, see WB No. 252) for dusting and protecting surfaces that are prone to mold.
Carry the books ashore if the boat is buttoned up for the off-season. If you must store them aboard, a dry bag or plastic rolling bin serves very well and makes it possible to easily shift the load away from project areas during seasonal fit-out.
Is a particular book important or in large format? Leave that at home if you can; many books are now available online or on an eReader. For example, The Ashley Book of Knots is yours, for free, on anything with a browser, right now at bit.ly/SBMAshleyBook.