Careful collaboration yields a sublimely stunning boat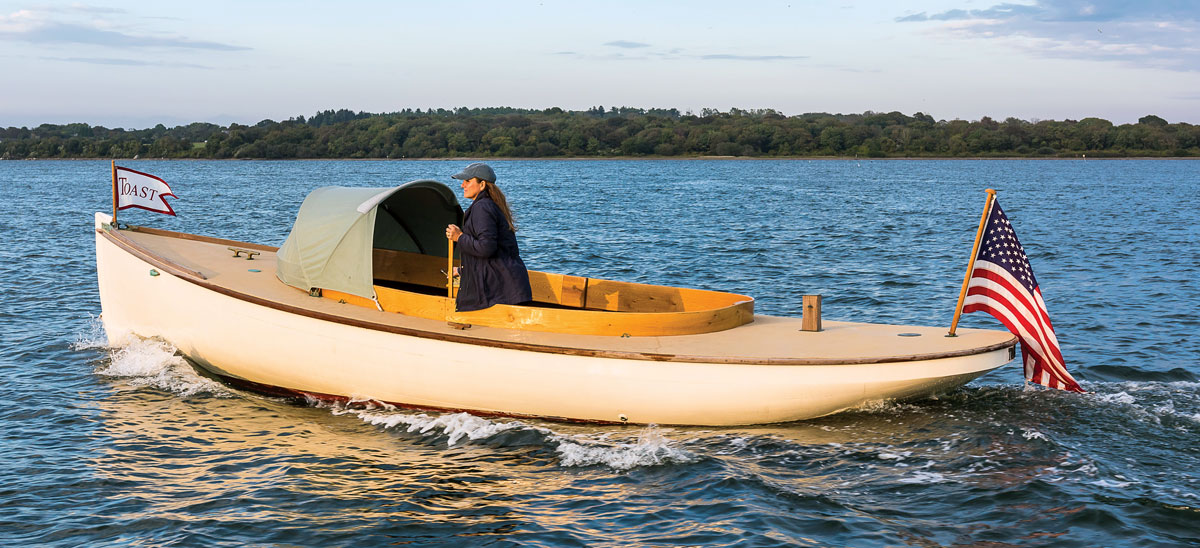 In the magical village of Noank, Connecticut, nestled on the western shore of the Mystic River, in the shop of wooden boat builder Jack Wilbur, a beautiful little motor launch took shape in the late 1980s. A 1989 New York Times article about Noank observed that "Mr. Wilbur said that his projects are about all that remain of wooden-boat building in Noank. 'I'm the last stand,' he said, as he applied sealer to the hull of his latest craft, a 22-foot open launch....'I like old boats, so I build old-fashioned types.'"
Jack Wilbur built a variety of boats, including schooners, sloops, fishing boats, launches, workboats, and numerous skiffs and small craft. Paul Bates, Noank's resident historian, recalls stopping by the shop while Jack was building the launch referenced in the Times article. He said Jack told him, "I don't know why I'm building this. I don't need another boat. Just wanted to see if I could build a round-sterned one."
In 2002, Jack's widow, Pat, asked the Martha's Vineyard wooden boat maven Ginny Jones if she thought the boys at the Gannon & Benjamin yard on the Vineyard might have a use for that fantail launch Jack had built. "We said yes," recalls one of the yard's co-proprietors, Nat Benjamin, and "picked the launch up, put her here in the shed, totally rebuilt her, and have been using her ever since. One of the folks on the crew rebuilding her was French, and when we were thinking of a name for her he suggested BAGUETTE because she was round at both ends."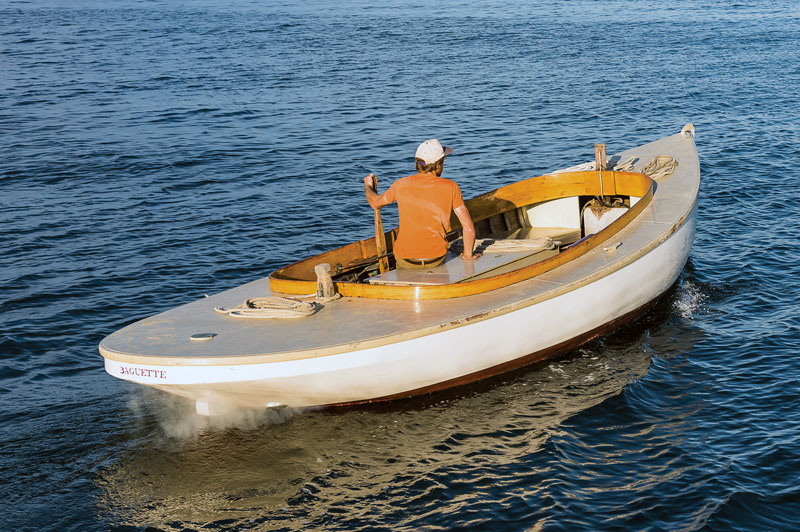 BAGUETTE has been an integral part of the G&B operation ever since. "She's been a great versatile little workboat for us," said Nat. "We use her to bring boats without engines into the wharf, for pushing or towing things around, bringing people out to boats, or just going out to visit boats in the harbor."
Jeff and Abby Boal met Nat during a stop in Vineyard Haven while on a yacht-club cruise in their Concordia yawl, FEATHER. Nat came by in BAGUETTE while dropping off muffins from the Vineyard's well-known café, the Black Dog, for the visiting club vessels. At that moment, perhaps, a seed was planted. Vineyard Haven and G&B became an annual summer cruising stop for Jeff and Abby, and BAGUETTE haunted their dreams.
During their visits to the Vineyard, the couple often rode in BAGUETTE, which they very much enjoyed. In the summer of 2016 Jeff and Abby, and their friends Wayne and Kim George, were aboard Jeff's motorsailer, BURMA, tied stern-to at the G&B dock. The two couples asked Nat if they could take BAGUETTE for a picnic and swim in the Lagoon, a body of water adjacent to the harbor. He said sure, and off they went. On that day, Jeff later said, "We fell in love with BAGUETTE."
Indeed, on that very day, Abby and Jeff decided to commission G&B to build a near-replica of the launch. And during their outing, Jeff asked Abby, Wayne, and Kim what they should call the new boat. Kim immediately answered, "TOAST"—a nod to BAGUETTE. It stuck immediately.
"It was such an easy project," said Jeff, "because we knew G&B were absolutely the right people to do this, as their construction integrity and aesthetic style are spot-on for what essentially is a glorified working launch. We wanted it to have all the charm and integrity and a touch of the grit that her sister BAGUETTE has, which of course they knew intimately."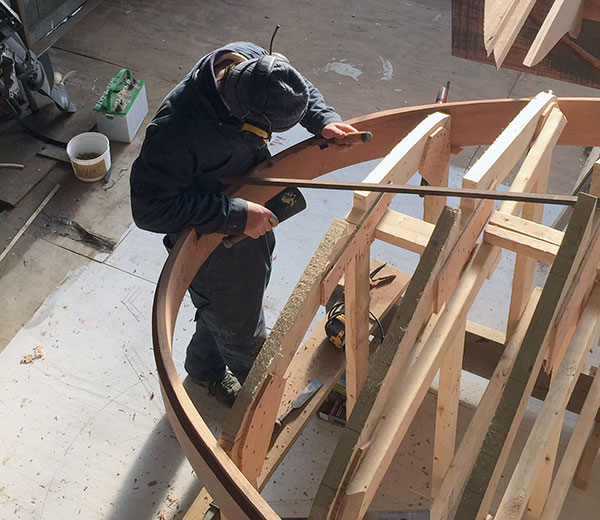 There were no plans, so Nat drew a set. "She has a distinctive look," Nat said. He is especially taken with her fantail stern, which he says is "quite dramatic and not easy to draw or build." He said the new boat is very similar to the original in its dimensions, but slightly different in the stem and stern profiles. The new hull is also fuller below the waterline.
The new launch is Nat's design No. 88, but only his sixth powerboat. When asked the difference between designing a motorboat and sailboat, he said, "Different forces are at play in the same liquid. Trying to increase tenths of knots under sail is engaging and sometimes a bit frustrating." Some powerboats, he said, simply require a bigger engine to go faster. "TOAST," he said, "is more of a sailboat shape, and extra power wouldn't do her justice; it would just make her dig a hole in the water."
At one point in the design process, Nat, the two couples, and Brad Abbott—the third partner at G&B— sat in BURMA's wheelhouse and talked about the plans. Nat made notes. "That's part of what made this such a wonderful experience," he said. "They're smart, knowledgeable, interesting people who don't ask dumb questions, but lots of good ones. Throughout the process these comments were most helpful."
The results of the wheelhouse conversation included the addition of a well-insulated stainless-steel cooler, a beefed-up towing fitting in the stem, keeping BAGUETTE's towing bitt, and changing to a smaller engine—a 35-hp Beta diesel, as opposed to BAGUETTE's 75-hp Yanmar. The discussion also yielded a hot-water shower that runs off the engine or shore power with water stored in a small tank and dispensed through a custom G&B-modified acetylene torch for a shower­head (see WB No. 241). Other details that emerged from this meeting included: keeping the side steering; adding a little more balance to the rudder to make her easier to steer; keeping the hull structure forward of the seats visible so one can see the stem and other elements—and have a place to stow gear; adding a couple of USB plugs for device charging; and making a custom-built swimming ladder with bronze rail hooks and steps that lie against the hull.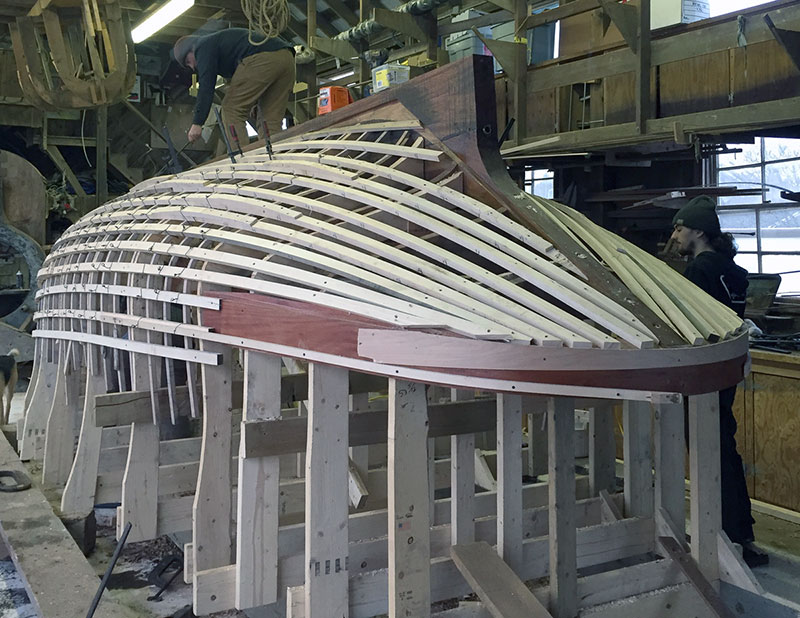 Jeff and Abby's trust in G&B was critical to the project. In fact, after the initial meeting, they excused themselves from most of the decision making. "We were confident," said Jeff, "that G&B would solve the mechanical and aesthetic problems and add design touches to arrive at a pleasing and 'correct' result." The owners and builders set aesthetic "rules" in the beginning and then simply let the work unfold.
"When you have alignment at the beginning of a project like this," said Jeff, "and you give talented craftsmen the freedom to make independent interpretations and build without constant oversight, it results in a better outcome. If owners can resist the temptation to put their thumb on the scale and are willing to shift the decision-making back to the builder, it places responsibility back to the creative side to solve the design and mechanical problems." This, he said, yields a better result. But his faith in the yard was critical to this approach.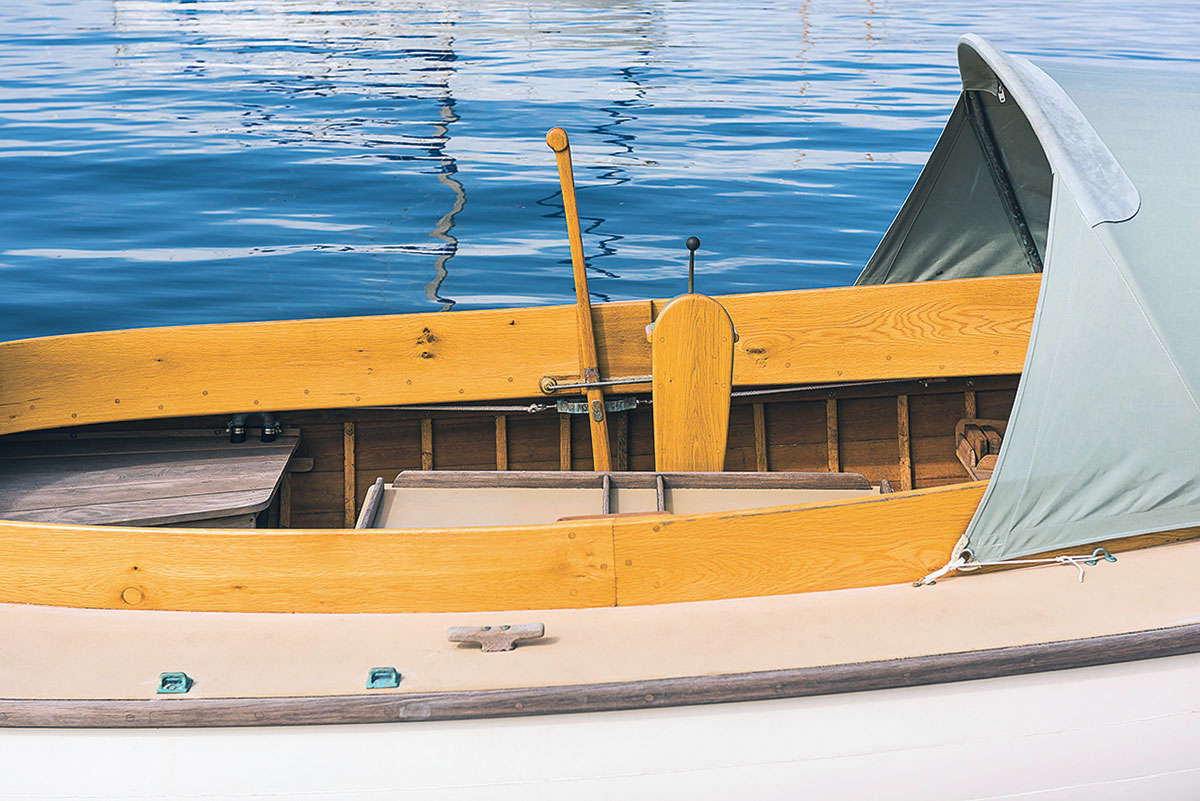 Matt Hobart, Lyle Zell, and Duncan Macfarlane were the building crew. TOAST is the third boat in a row they have worked on together, following SHELDRAKE, a 19′ centerboard sloop, and ARTEMIS, a 31′ canoe-sterned sloop. Matt explained that while BAGUETTE has a sprung keel of angelique, with a skeg bolted onto it, TOAST is "built down," which means that she is planked nearly to the bottom of her keel profile. This results in lots more volume down low. It also makes planking more difficult because there is a reverse sectional curve where the planking transitions from nearly vertical to nearly horizontal on the bottom—rather than being essentially horizontal.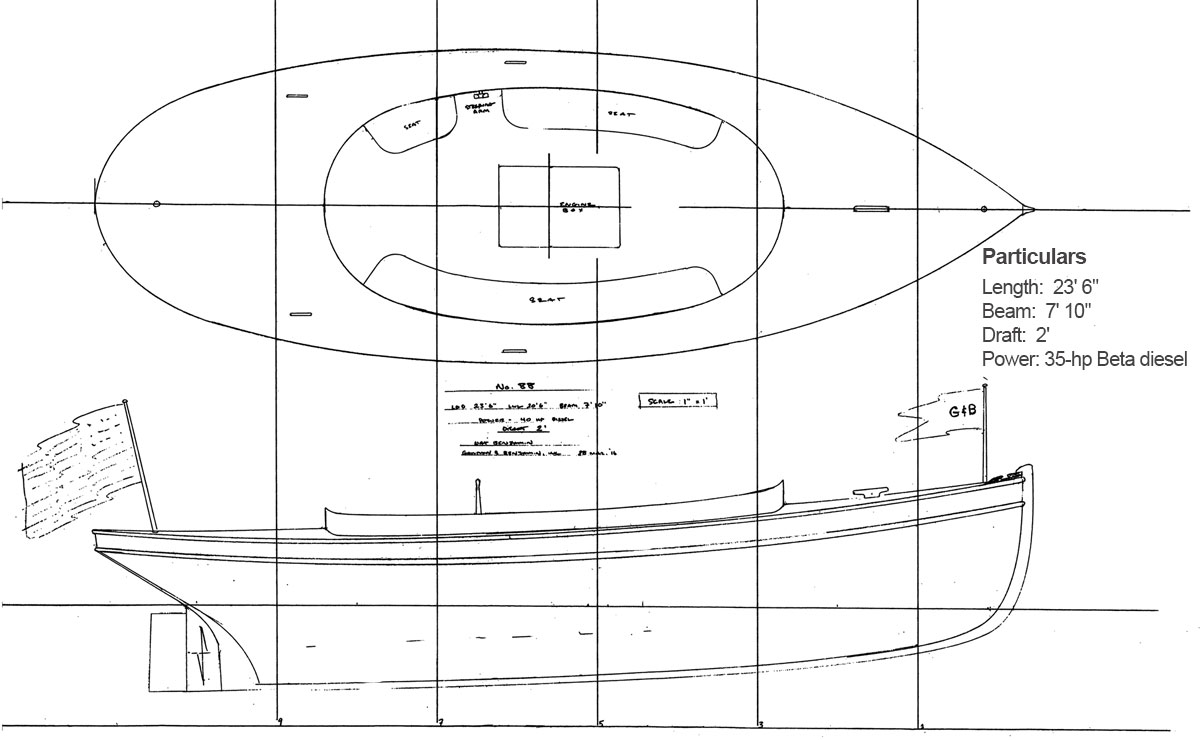 Other traditional touches include a hackmatack stem knee, coamings of steam-bent white oak, a cedar sole, interior benches of wana, and a cypress bulkhead forward. There is also a cypress-encased champagne cooler aft.
I asked each of the builders what was the most challenging part of the build. Matt singled out the fantail, and "just trying to visualize it." This portion of the boat is made up of six layers of ¼" wana, a tropical hardwood from Suriname that is something of a staple in G&B constructions. These layers are laminated together, glued with epoxy, and then shaped. The topside planks land on this fantail framework in the same way they do on a mitered transom. The geometry was something of a mind-bender, even for these experienced builders. "Off the lofting," said Matt, "I could pick up the deck camber and the sheer, and then we could pick up the line where the planking met the fantail, but it was hard for me to visualize how that angle was going to roll together. So we made it [the fantail framing] nice and big, fit it to the mold, and shaped it."
Lyle agreed: "The fantail was definitely the most interesting part of the project, as we'd never built one before, or even seen one built, and we couldn't get back there in BAGUETTE to see how she was done."
Duncan's opinion made it unanimous: "Figuring that out was fun; we'd put our heads together and collectively decide what to do. We're all boat nerds, so you wonder 'How did they do that?' We built it upside down, and there were times when it really looked like a space ship, and then you flip it over…it completely changed."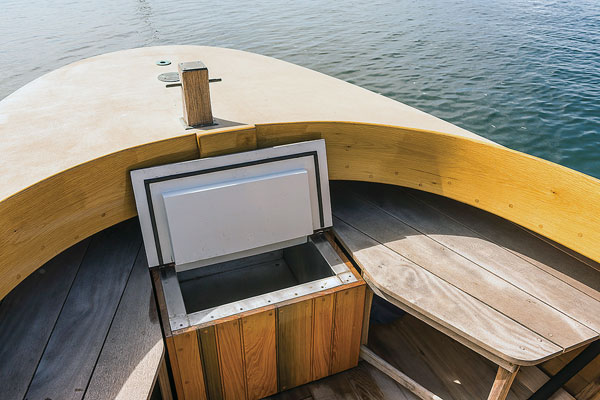 The sheer clamps, made of solid pieces of angelique, are glued and bolted to where they come into the laminated rail that makes up the fantail. There are three sets of sawn frames bolted through the fantail rail.
Lyle and Duncan planked her up, as Matt was home with his wife Jessica and their new daughter, Alianna, during that process. The bottom and topside planking is wana, and there are two cedar planks at the turn of the bilge. The deck is made of 3/8" marine plywood, sheathed with canvas set in and sealed by residential roofing materials that G&B has found to be well suited to this purpose (see sidebar).
On June 21, 2017, a crowd of family, friends, and Gannon & Benjamin followers gathered for the launching. Jack Wilbur was there in spirit too, from another place that "likes to build old-fashioned-type boats." Abby did the ceremonial christening, breaking a bottle on the stem to cheers from the crowd.
TOAST is a throwback to the classic launches of the late 19th and early 20th centuries, but with modern amenities and capabilities. But the earlier launches, meant specifically for passenger-carrying, tended to be quite narrow. TOAST, being intended for multiple uses, is rather beamy. "She has plenty of displacement," said Nat, "about 4,700 lbs, so you can load her right up, and she's efficient going through the water with very little wake. With the towing bitt ahead of the rudder and the towing eye built into the stem, she's quite versatile."
Jeff and Abby gave Nat an opportunity to live every boat owner's dream: to start with a vessel he knows well, and make experience-inspired changes to improve her. The changes in TOAST are not dramatic, which is no surprise because all involved love the original boat, but they resulted from decades of experience with BAGUETTE. There were subtle tweaks to the hull profile, but the most significant functional alterations were to make the new boat fuller below the waterline, and to give her a much smaller engine. BAGUETTE tends to squat as she goes faster; TOAST's fuller aft sections prevent that, and the greater fullness along her entire length adds carrying capacity. She has a smaller engine because she can: her hull is more efficient than BAGUETTE's.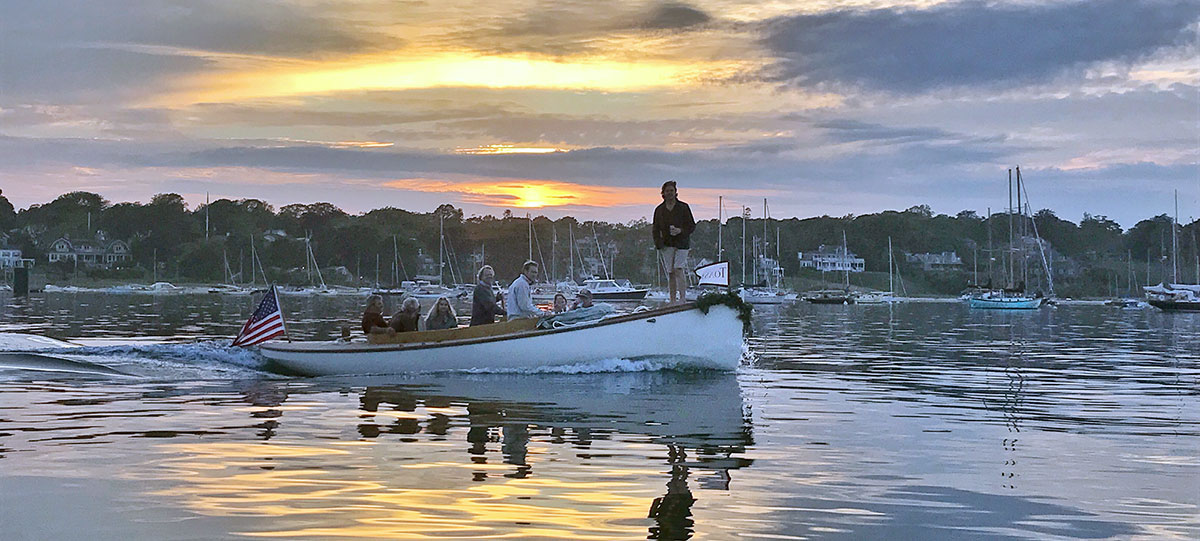 Still, TOAST is able to tow, she is also able to be towed, and she carries passengers with ease. She also looks good while doing these things. A photo taken the day she was launched tells the story best: It's near twilight, and she is loaded up with a group of smiling friends taking an end-of-the-day harbor tour. The passengers are enjoying the ride. Any viewer is surely enjoying the scene.
TOAST now hails from Newport, Rhode Island, where Jeff says "she gets lots of smiles; wooden boats have that effect on people. She doesn't have a lot of brightwork, and her nearly plumb bow, fantail stern, and stick steering really speak to an older and more traditional launch. She is a throwback, and we really don't get to see boats like this that often."
Abby agrees: "She's such a great boat. It makes me smile just saying her name."

Matthew Stackpole lives on Martha's Vineyard. He is the former executive director of the Martha's Vineyard Museum and was the ship's historian and a major gifts officer for Mystic Seaport's CHARLES W. MORGAN "Restoration and 38th Voyage." He's currently working on the reconstruction of the schooner ERNESTINA-MORRISSEY.
Canvas Decks—The Gannon & Benjamin Way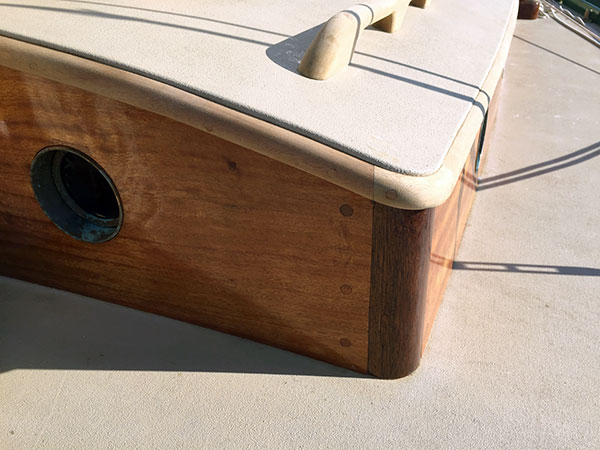 There are various ways of building a sheathed deck—that is, a wooden deck overlaid with some sort of waterproofed fabric. Traditionally, such decks have been covered in canvas that is bedded to a planked wooden substrate and sealed with paint. In more recent decades, plywood decks have been covered in fiberglass and painted with nonskid—or sheathed in some other synthetic cloth such as Dynel that mimics the weave of canvas. Dynel, however, loses its texture with multiple paintings, and its "stipple" can be harsh and abrasive compared with the relative softness of canvas. Indeed, there is nothing better than the feel and texture of a canvas deck. Its weave provides a nonskid surface, it is waterproof, and it requires minimal maintenance. And, done properly, it won't rot.
Unfortunately, oil-based products rot canvas. This is why, for centuries, artists painting with oil paints have first coated their canvases with gesso, to seal them. Had they not done so, the works of the great masters would have crumbled away like so many cabintops. Regrettably, this ancient wisdom has slipped past many traditional boatbuilders. I have read many articles recommending mixing leftover oil-based paint to bed down deck canvas. That's not a good idea.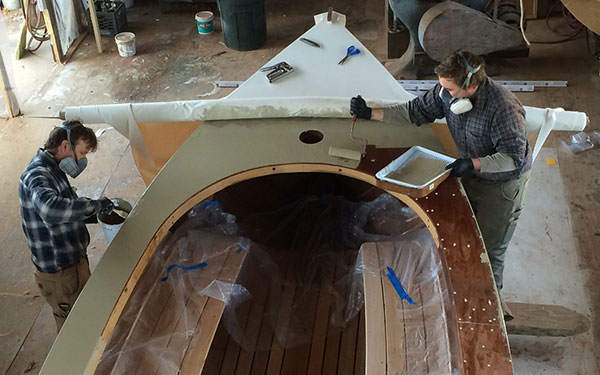 After nearly 40 years of messing around with canvas decks, we at Gannon & Benjamin feel that we have finally discovered a system that lasts. It depends upon industrial polyurethane-based, elastomeric coatings. We use a liquid polyurethane for both bedding and sealing our canvas; two of our favorites are from Vulkem (www.tremcosealants.com) and Gaco Western (www.gaco.com). These products are not made for this application, and not sold for this purpose, but in our decades of experience they are durable and good-looking and do this job well. Here are the basic steps to our process:
1) Apply a thick coat of the bedding with a squeegee and notched trowel over a plywood or planked deck. Roll out the canvas (it is important to order your canvas rolled and not folded; creases are difficult to remove), stretching and smoothing it in all directions, and then fasten the edges with Monel staples. When the deck is complete, these staples will be covered by trim.
2) Leave the deck alone for a couple of days to allow time for the base coat to off-gas through the canvas.
3) Apply the top coat with a squeegee and brush, then spread it with a roller. This process will seal the canvas, but will not fill the weave. The Vulkem product we use, "351," is beige-tinted (several other tints are available, including gray), and requires no further painting; its finish lasts for years without further maintenance. —Nat Benjamin