Makers of Blocks, Deck, and Spar Fittings for Every Sailboat Need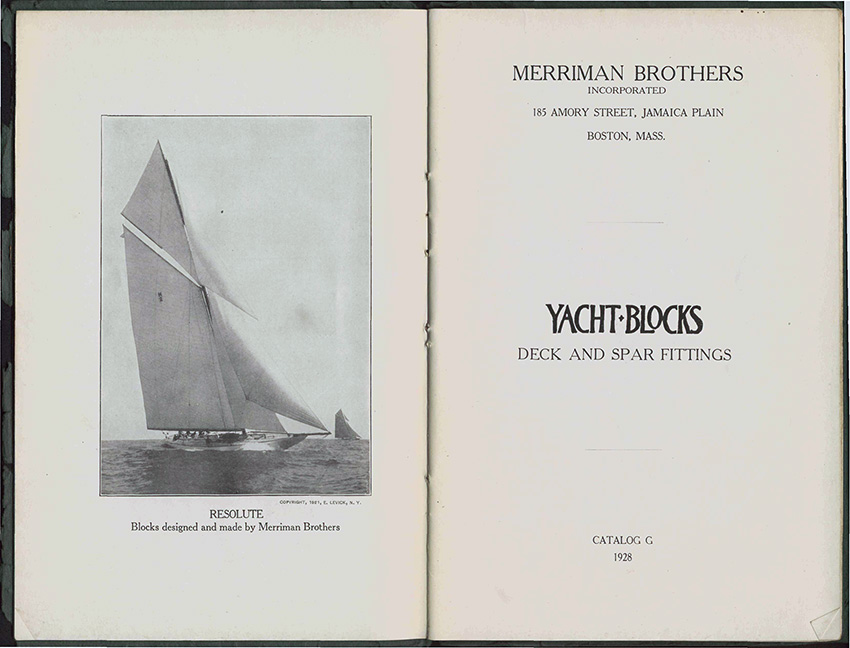 The MERRIMAN Bros. Inc. was founded in 1898, and published catalogs of yacht hardware up until the 1960s; it offered for sale most of the well-known bronze fittings that you have seen on the decks and in the rigging of the finest sailboats. The trident stamp set into the bronze winches, turnbuckles, wood shell blocks and other hardware parts, mark them as Merriman fittings.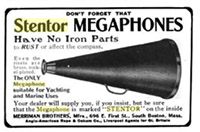 The Merriman brothers, Edward B. and Franklin, were metallurgists with a keen interest in boats and sailing. In 1907 when the racing cutter AVENGER was launched at the Herreshoff yard in Bristol, RI, she carried 37 new blocks designed by Nat Herreshoff and built by the Merriman brothers. Their yacht hardware business grew to include custom blocks made in their Jamaica Plain factory for RESOLUTE, (shown above in the catalog PDF) and for countless other yachts large and small. Their main business was not blocks and winches, however; it was Merriman megaphones, including the familiar cheerleader megaphones. They had a patent for the Stentor Megaphone dated April 4, 1899, naming the rivets, metal mouthpiece, and adjacent parts in the patent. The Navy specified Merriman megaphones because of their scientifically proven horn angle of 22 degrees. The Penobscot Marine Museum has a Stentor Megaphone from 1900 in their collection.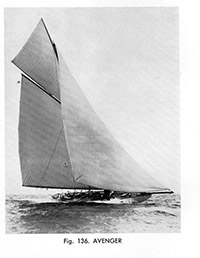 The Herreshoff cutter, AVENGER, by the way, was "one of our greatest prize winners," according to L. Francis Herreshoff in his book Introduction to Yachting, page 170-71. With many innovations for her time, such as hollow spars, and an overlapping jib, she won three successive Astor Cups in 1907, '08, '09, and again in 1911 when owned by Alexander S. Cochran. AVENGER was 74′9″ LOA, 53′ LWL, and 14′6″ beam with a draft of 9′6″.
Merriman Bros. Inc. factory was located in Jamaica Plain, near Boston, Massachusetts, and subsequently moved to Hingham, Massachusetts. In 1963 Merriman Bros. Inc. became a subsidiary of UTD Corporation in Hingham. It ceased operations in 1967.
Bror Tamm's Merriman Bros. Catalog —1928
This particular copy of the Merriman Bros. Catalog, 1928, has the signature B.Tamm on the cover. Inside, you can find the price lists for the various bits of hardware in enigmatic tables on each page.
Bror Tamm, a consummate shipbuilder and rigger, was foreman and superintendent of George Lawley & Son in Scituate, Massachusetts. "No shipwright has had a greater capacity for understanding and appreciating the materials, human and otherwise, that were lent to his command," according to Louie Howland. (See WoodenBoat No.46, May/June 1982: "A Farewell to Bror Tamm")
Born in 1890 in Sweden to a shipbuilding family, Bror Tamm started work at George Lawley's Yard in 1912, and stayed there through thick and thin until it closed in 1947. He continued to be a source of yachting erudition, and built small boats and models until his death in 1982.
His work and managerial skills were admired and sought by the premier yacht designers and customers of the time: Frank Paine, L. Francis Herreshoff, Irving Johnson, Ray Hunt, Walter McGinnis, and the "Stephens boys," Olin and Rod. He "laid down" (lofted) 260 yachts, including VANITIE, HIGHLAND LIGHT, the 235′ motor yacht CAMARGO, and the great schooner MIGRANT, and oversaw as many more through the process of construction, including many military commissions. He was in charge of construction and rigging, including the 170′ wooden spar for Herreshoff's J-Class WHIRLWIND. Perhaps this copy of the Merriman catalog was in the shop, sprayed with the wood shavings off the huge spar, leading up to the 1930 AMERICA's Cup defense.
Wouldn't it be fun to order your deck hardware from one of those catalogs, including those listed prices? This Merriman Bros. Catalog is part of a collection of marine hardware catalogs given to the Research Library at WoodenBoat Publications in Brooklin, Maine, by Mr. Michael McMenemy. He gave it along with six other Merriman Bros. catalogs of Yacht Fittings, Blocks and Rigging and Equipment, from the years 1939, 1940, 1948, 1955, 1961, and one undated catalog from the final years, probably 1963. We are pleased to have these catalogs included in the Rare Book Section of the WoodenBoat Research Library. Merriman fittings can occasionally be found for sale in good condition on eBay.
—Queene Hooper Foster, WoodenBoat Library