The Maritime Tour of the Antigua Classic Yacht Regatta
Brought to you by WoodenBoat!
---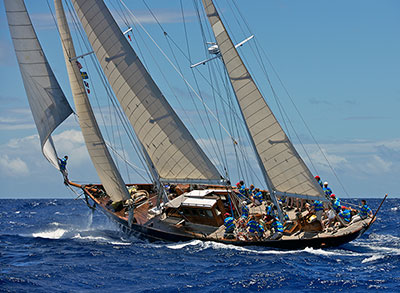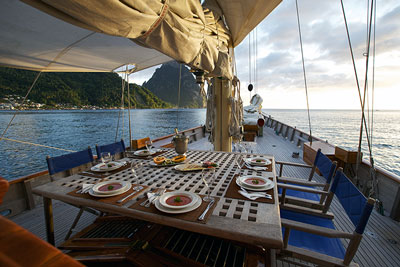 Welcome to the Maritime Tour of the Antigua Classic Yacht Regatta. On this tour, you'll join WoodenBoat magazine editor Matt Murphy and the crew of the 1928, 88′ ketch SINCERITY for five incredible days of tropical sailing in company with some of the finest classic yachts from Europe and North America. You'll also enjoy:
A self-guided tour of the legendary Nelson's Dockyard, which was home to Admiral Horatio Nelson from 1784 to 1787 and once the heart of the British Navy in the Caribbean
An illustrated slide talk and short film on the last working sailing craft of the Caribbean by videographer Alexis Andrews and photographer Alison Langley
Gourmet hors d'oeuvres and cocktails on deck
Two dinners prepared and served onboard
Daily sandwiches
...and the sailing experience of a lifetime!
SINCERITY: Your Boat for the Week
SINCERITY was designed by Vincenzo Baglietto and built at Cantieri Baglietto in Varazze, near Genoa, Italy. Originally named JANUA, she was launched on Saturday August 4, 1928. She was built of 3″ teak planks on oak frames, under the strict survey standards of Lloyd's register to obtain the highest specification.
SINCERITY is as a fast and comfortable cruising boat. Her cutaway forefoot and Bermudan ketch rig make for an easily handled yacht. While her Edwardian visage today has a vintage quality, she was unusually modern for her time. High bulwarks and plenty of reserve buoyancy in the bow and stern keep her long sweeping decks drier then almost any comparable yacht.
SINCERITY's main saloon, with its rich mahogany paneling and furniture, bronze portholes, and detailed marquetry is outstanding. Sailing this yacht is truly an experience that sets you back to an era long gone by. See the SINCERITY website at www.yachtsincerity.com.
The Antigua Classic Yacht Regatta
The Antigua Classic Yacht Regatta is one of the world's premier classic yachting events. It brings together a fantastic collection of boats and people in the ideal conditions of the Caribbean. Our tour of the 27th annual running of this event will take place April 16-23, with racing on April 18-22.
The Regatta hosts between 50 and 60 yachts each year and enjoys a wonderful variety of competitors, including traditional craft from the islands, classic ketches, sloops, schooners, and yawls, and a fleet of stunningly beautiful Spirit of Tradition yachts, J-class yachts, and Tall Ships. The fleet makes a wonderful spectacle of sail, in the ideal trade-wind sailing conditions of the Caribbean. The sailing, combined with Antiguan hospitality, plenty of rum, sunshine, and great camaraderie in a friendly relaxed atmosphere, places the Antigua Classic Yacht Regatta in a class of its own.
Here is the complete itinerary

.
Pricing and Booking
Price: In order to give you the best travel options, your charter fee and airfare/lodging will be separate transactions.
Charter Fee: $2,500, payable to WoodenBoat publications
The price depends on your choice of accommodations. For quality and proximity to the boat, we recommend the following two options:

Galleon Beach. This quiet compound of self-catering cottages and villas on Freeman's Bay is a short and delightful water-taxi ride away from Falmouth Harbour, where SINCERITY will lie for the duration of the regatta. Rates begin at $245 per night. For details, visit www.galleon-beach-antigua.com, or call 1-268-562-8174.

Antigua Yacht Club and Marina Resort. This marina-hotel complex overlooks the venue where the regatta's classic yachts will be berthed, and is a short walk from the shopping and restaurants of historic Nelson's Dockyard and Pigeon Beach. Rates begin at $204 for a single. For details, visit www.aycmarina.com, or call 1 (268) 562-3030
Airfare: As of October 2013, the price of a roundtrip ticket from Boston to Antigua started at about $550. Your fare will, of course, depend upon your departure city, any mileage discounts or vouchers you'd like to apply to your ticket, and your schedule. Please book your travel through your preferred channel; plan to arrive for a welcoming reception aboard SINCERITY on April 16, and plan a departure anytime on April 23.
Booking your place aboard SINCERITY for the regatta:
If you have questions that aren't answered here, or would like to book the charter portion of the trip, please contact WoodenBoat at 207-359-4651, or e-mail matt@woodenboat.com.
Cancellation fees and travel insurance
Because of the costs associated with operating this charter, we cannot offer refunds of charter fees in the event of cancellation. We thus strongly recommend that guests purchase travel insurance that covers this fee.