Past Issues of WoodenBoat Magazine
NATIVE SON and the Bay Rats
A restoration for heart and soul
---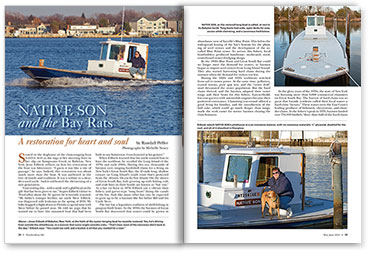 Jesse Eilbeck of Babylon, New York, inherited a decked garvey from his deceased uncle. The boat was originally part of a once-thriving fleet of "tong boats" that fished Great South Bay through the 1970s. Rapid land development, gentrification, and nitrification put an end to the peak years of this industry—and to a way of life. Jesse's restoration is an icon for that way of life, a celebration of the boat type, and a metaphor for a decimated fishery that's currently under rehabilitation. Author Randy Peffer himself is no stranger to tonging, having worked with Chesapeake Bay watermen for his classic nonfiction book, Watermen.
---
Life of a Clam Digger
WB No. 226 includes an article on the restoration of the clam tonging boat NATIVE SON from Great South Bay, New York. The clamming industry in this region is now gone, but you can view rare footage of its 1970s heyday in this film shot by Tom Seerveld when he was in high school, and edited recently by his son Chris. If you receive our digital edition, you can view the embedded film there while reading the NATIVE SON article.