Boatbuilding in South Florida: Part One—Islamorada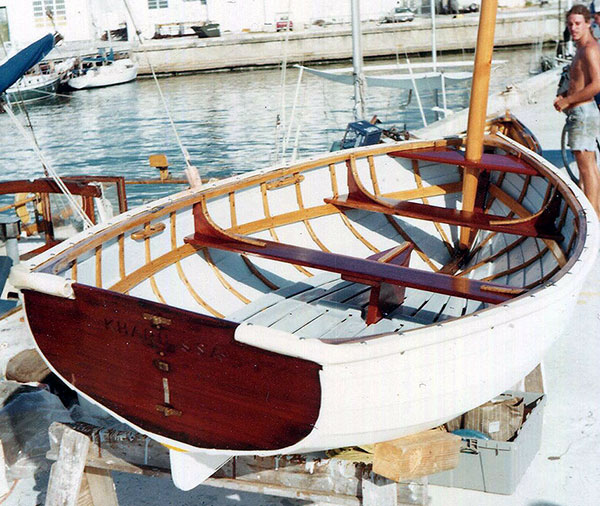 I sailed my first cruising sailboat, FISHERS HORNPIPE, from California to Florida in 1979/80. I re-entered the USA at Key West, and fell in love with the island. It was profoundly unlike anyplace I had ever been, and I had been to a lot of places. I found a slip in the old Truman Annex, and then had to find money to pay for it. Because I design, build and restore wooden boats, I soon found a job restoring an antique lapstrake Scottish tender for a cruising family. I also converted it to a sailboat, adding a rudder, daggerboard, mast, sprit and sail, all of which I made. That got me through that first winter—I had arrived flat broke.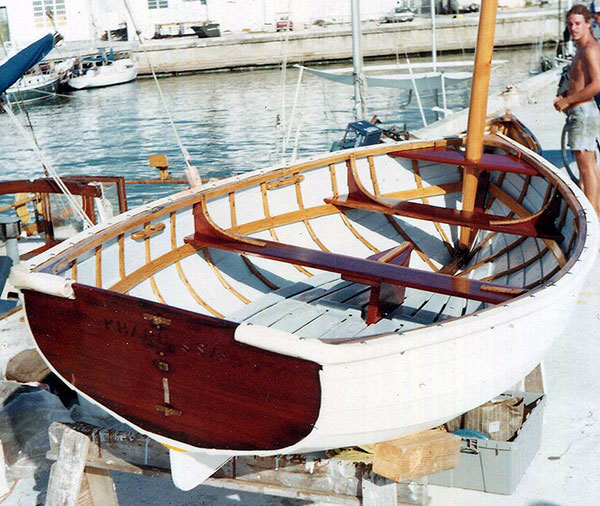 That year (1981) I sailed as far north as Maine, stopping for the summer to work in the South Street Seaport Museum as a shipwright, and at City Island (both in New York City) to restore an Alden Malabar Junior. Over the following year, I sailed as far south as Grenada in the southeastern Caribbean. In the spring of 1983 I sailed north again, but returned to South Florida for the winter.
For living on a sailboat, it became blatantly clear that wintering in the north was extremely impractical, and that spending summers anywhere south of Block Island, Rhode Island, was absolutely miserable. Consequently I became migratory, which is really the prehistoric norm for the Human Species (as well as for many other large animals)—following that eternal summer. And 35 years later, I am still migratory, sometimes "commuting" by boat, and sometimes by truck.
I built my first commissioned sailboat design in Ft. Pierce, Florida, in late 1984 (the Exuma 52 SARAH). In early 1985 I leased property in Islamorada, in the Florida Keys, where I set up a grass-roots boatyard. I was there for five years, and built the Exuma 44 TERESA, the sharpie 19 GATO NEGRO, the 57-foot aluminum ketch LUCAYAN, and the Terrapin 34 TOMFOOLERY.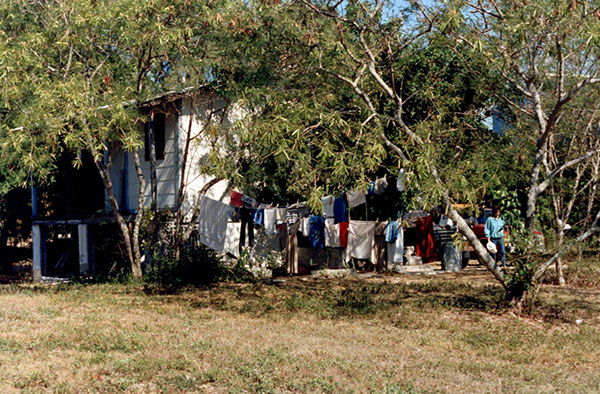 The Islamorada boatyard was almost paradise—it rarely rained, it was never cold, and when it was too hot we all took off our clothes and jumped in the canal. The canal was about 200-feet long and had a 150-foot concrete dock. The property faced south onto the Hawk Channel, but the water between the island and the Channel was very shallow—less than two feet at low tide. And the tides were small—maybe 18 inches during the springs. There were two channels leading from our canal out to the Hawk, but they only carried three feet.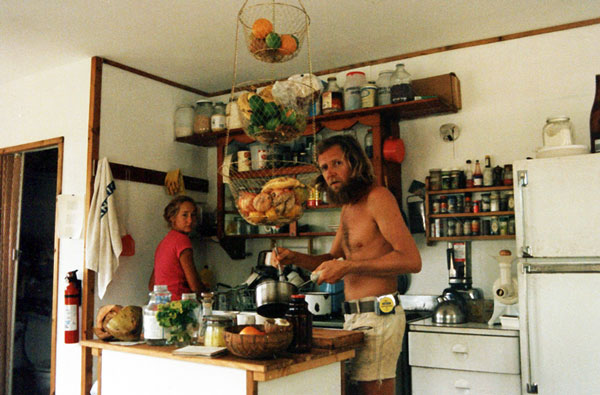 The property also had an old derelict fish camp, which I repaired and used as a kitchen, crew lounge and office. It had only one room (plus a tiny bathroom), so I built a platform and pitched a tent out on the point by the water. Hence we slept in tents during the five winters we were there. I love living in a tent—as long as it is a nice one, dry in rain, and big enough to stand up in. I had an oriental carpet on the floor, an oil lamp to read by, and frequently a beautiful young woman to share my single mattress on the floor.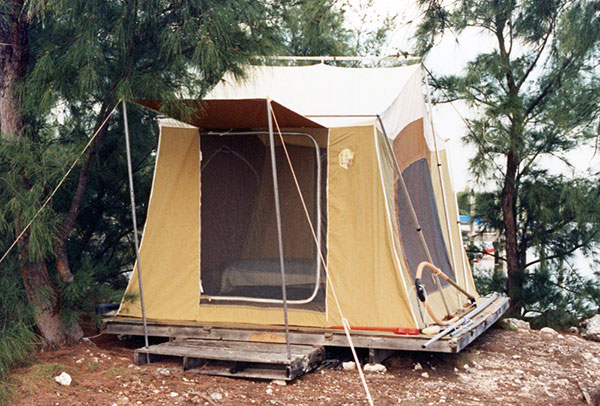 The bathroom attracted the tiny indigenous tree frogs, which were adorable. While brushing your teeth in the tiny sink, a tree frog might peer out from the overflow hole to watch. They also liked the toilet. One time we had a city girl visiting, and while using the bathroom, she let out a blood-curdling scream… it seems a tree frog had been hiding under the toilet rim, and jumped right into her crotch! We had no hot water, which didn't bother me at all. Bill Smith, however—being a South Florida native—was unhappy with cold showers, and finally rebuilt the rusty old hot water heater under the camp.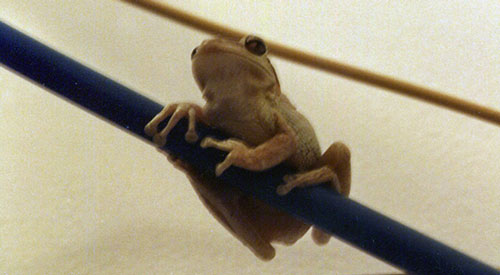 I have already written about building the first Exuma 44 TERESA. I had Eliot Greenspan and Teresa Rodriguez with me (both had sailed on FISHERS HORNPIPE), and Bill Smith, who helped me build SARAH in Ft. Pierce came down to work with us during the week. Tere, Eliot and I often slept in one tent, while Bill pitched another for himself. Other visitors and workers also brought tents, and the yard looked quite festive at times. Jill Coconaugher joined us at some point, and became one of my best boatbuilders in years to come.
My truck during those years was a 1971 International Harvester Scout II, with a removable roof. When I returned to Islamorada each fall, the roof came off and stayed off until late spring. We wore foul weather gear when it rained. I built bench seats in the back, and with a sheet of plywood and the mattress from the tent, we would cruise to Key West (85 miles away) on the weekend to party, with two or three of us crashed out drunk in the back… Teresa was the designated driver for the long, late trip home.
In 1986 I fixed up an old aluminum runabout, and we went diving and fishing from it in subsequent years. We water-skied behind it using a surfboard for a ski. That year TERESA was struck by lightning, and would have sunk except her watertight bulkheads kept her afloat. I dove under her, nailed a plywood patch over the hole in the hull below the battery box, pumped her out, and motored to the nearest boatyard. With the patch on, she didn't leak a drop.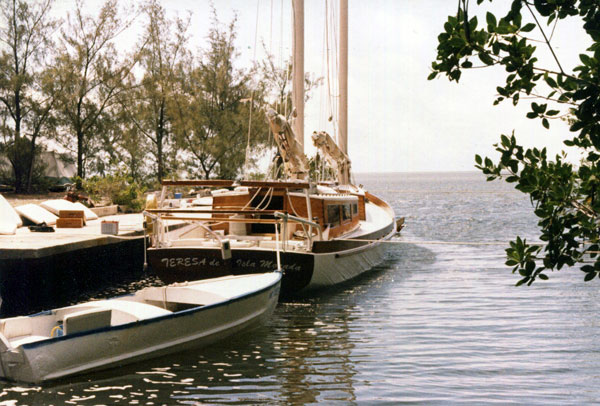 We finished building the 57-foot LUCAYAN in 1987, whose aluminum hull had been welded up by Bob Isles in Key Largo. She was the prototype of a Tom Colvin design, the only time I built a boat for a client which was not of my own design. She was a very nice boat, and was later sold and renamed HANNIBEL. In between boatbuilding jobs, I designed and built the Sharpie 19 GATO NEGRO, which was a perfect sailboat for the keys. I sailed her often, and my workers sailed her every chance they got.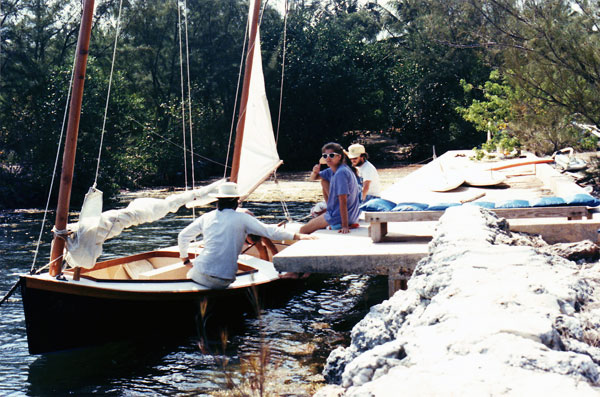 Our final project in Islamorada was building the Terrapin 34 TOMFOOLERY. For that project I had Beth Stevens with me, who became my third "wife." Bill Smith continued to commute to the Keys to help, and two local men, Alan and Doug, plus a girl named Jennifer also worked with us. The job came very late in our normal season, and we knocked out the whole project in 16 weeks, from lofting to launching.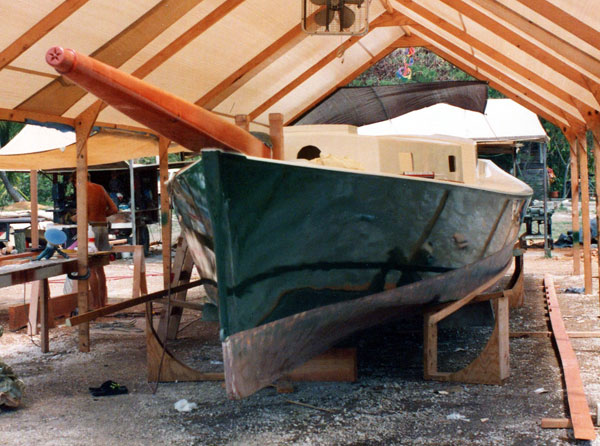 For all our boatbuilding projects, we worked outdoors, under simple tents made of 2x4s and poly tarps. I had a tool trailer I made called "the taco stand"—because that's what it looked like. It had three big hinged doors which lifted up to provide shelter from sun and rain, with some tools built in, and others easily removable. I towed it to wherever I had work.
Among the few challenges to working in the Keys, wildlife must be included: We had tree rats, large green scorpions, black widows, brown recluse spiders, rattlesnakes, fire ants, and drunk Miami teenagers. There were also poisonous plants; but coconuts, mangos, papayas, key limes and tamarind trees made up for them.
I cannot think of a much more ideal location for building boats than South Florida in winter. Nearly all of our OEM suppliers delivered right to our door. A light breeze blows the sawdust and paint fumes away, the weather is as close to perfect as is possible, the water is warm and perfect for swimming and diving, the sailing and fishing are excellent, and there is a bar and seafood restaurant on every corner. The women are skinny, tan, and scantily-clad, and life during my time in Islamorada was very, very good. Plus, I got to do the work I love best—building wooden boats.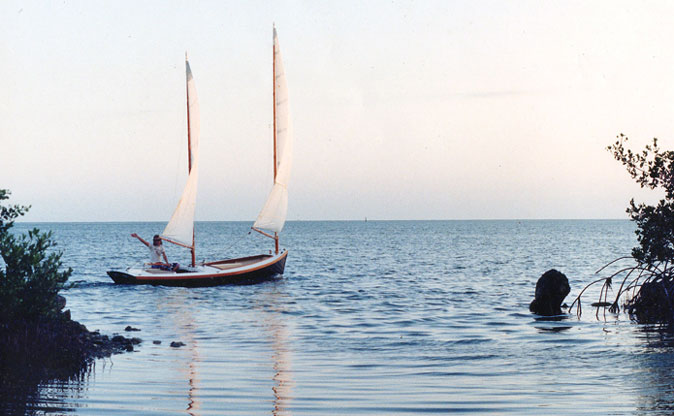 9/8/2015, Appleton, Maine