Boatbuilding in South Florida: Part Three—Fort Pierce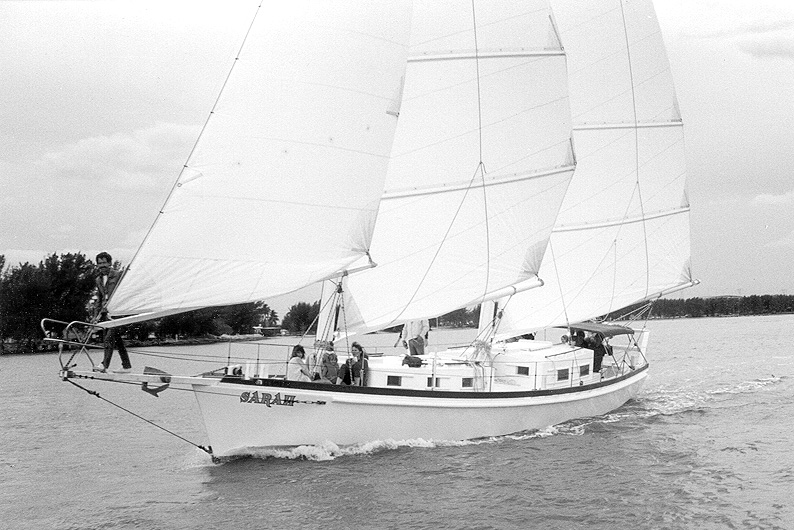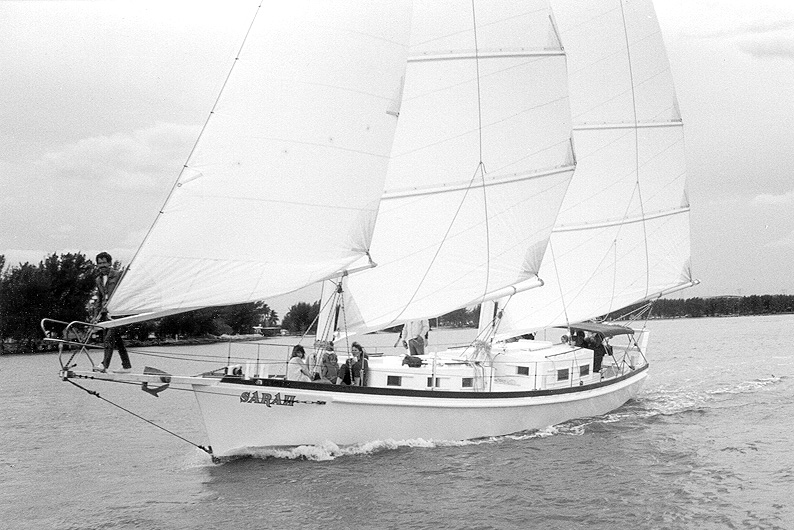 Fort Pierce is at the northern extremity of South Florida, about halfway between Miami and Cape Canaveral. It is a small southern city, little more than a century old. It was named after an Army fort built there in 1838, during the Second Seminole War. The city was incorporated in 1901.
Ft. Pierce is not a tourist destination, like so much of South Florida—it is primarily agricultural, having a large citrus fruit agribusiness and cattle industry. It also has a fishing industry and a boatbuilding industry. Today, there are 49 listings under "boatbuilders" in the Yellow Pages, including Pursuit, Maverick, Whiticar and Twin Vee, all of which build fiberglass powerboats more or less focused on the sportfishing trade (Whiticar built high-end cold-molded wood sportfishing boats).
Ft. Pierce is "old Florida"—a mixture of Crackers, Blacks, Hispanics, and Indians. Poverty is endemic, and Ft. Pierce has at times had the highest crime rate in the US, as well as the highest incidence of AIDS. It is relatively inexpensive, and as in so much of America, there is a wide gulf between the wealthy and the very poor. A girlfriend of mine once described it as "the little southern hick town with big inner-city problems."
One of the founding fathers, George T. Backus, migrated from New Jersey in the early twentieth century, set up a fishing business using Sea Bright Skiffs (launched from the beach), and consequently started a boatbuilding company for outfitting local fishermen with the skiffs.
I first visited Ft. Pierce in 1981, and met Michael Polvere, who commissioned me to design a large sharpie cruising boat for him and his family. The design evolved into an arc-bottomed schooner (not a sharpie), which we built in the fall of 1984 in White City (Ft. Pierce). This was the Exuma 52 SARAH, which was my first design and build in cold-molded wood. I built her hull, decks and masts, and Michael more or less completed her. Caught up in a divorce, SARAH languished for many years until Bill Smith purchased her and restored her as a charter boat. She ended up in Key West, in the Danger Charters fleet, which runs three of my schooners.
I met Bill while building SARAH, and he became one of my closest friends and my boatbuilding partner. Together we built many boats, and the reason I have spent so much time in Ft. Pierce is largely because Bill lives there.
After I split up with my woman partner Beth Stevens, I left Key West and relocated to Ft. Pierce, in 1992. I leased a big steel building on Naco Road, and Bill and I built the Exuma 55 WILD HARE, the 17-foot oyster skiff MALLARD, the Pilot Schooner 60 LEOPARD, and the Terrapin 44 OYSTER. Bill also built the Sharpie 36E BONITA (an Egret-type) and the Terrapin 25 SKIMMER (prototype for the fiberglass production boat of the same name).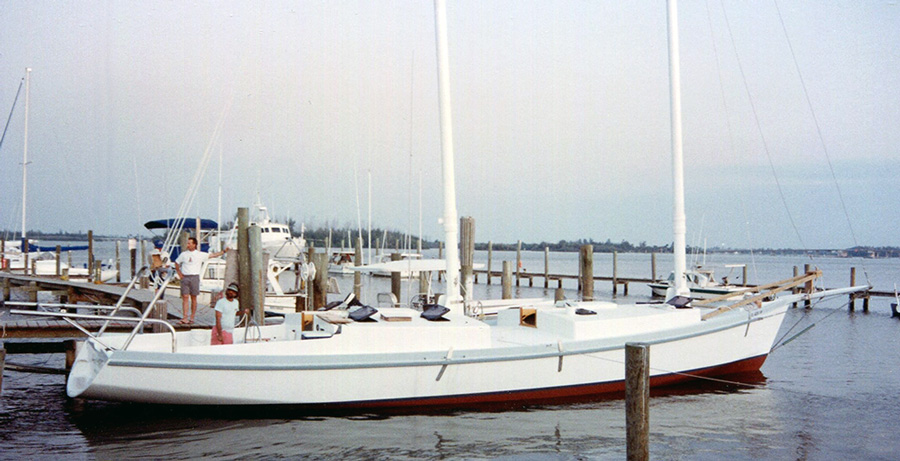 WILD HARE was to be an owner-completed boat, as was SARAH, but she was abandoned in Lake George, in northern Florida, until purchased nearly two decades later by Mike Merkt, who restored and completed her. He in turn sold her, and she now resides in Harbor Town Marina in Ft. Pierce.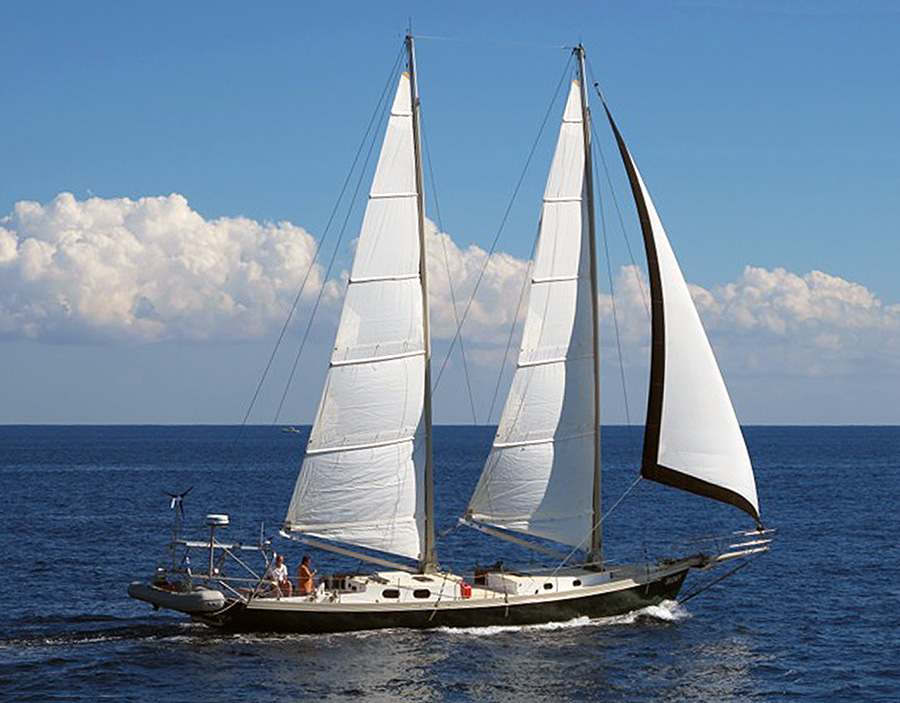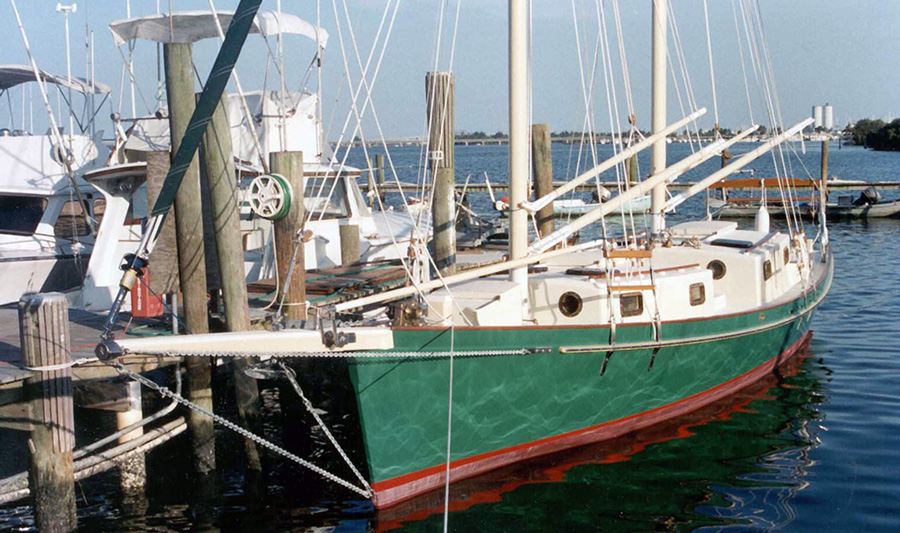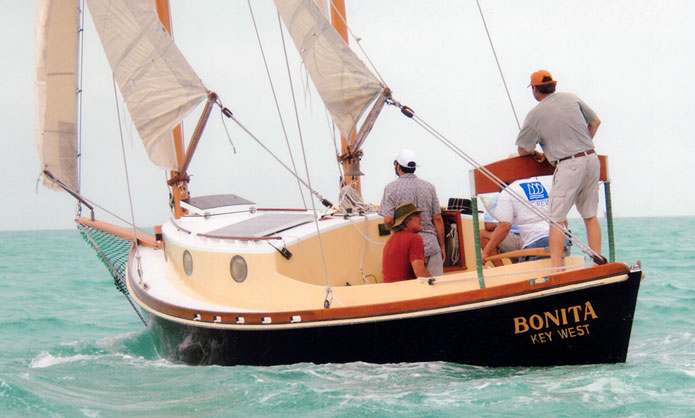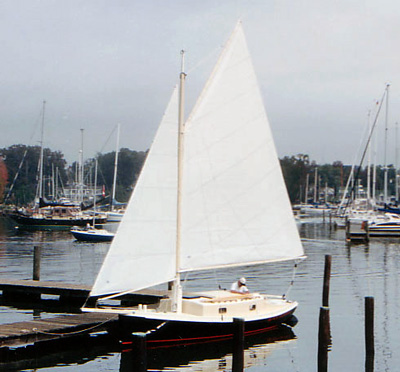 After launching LEOPARD in March 1994, I sailed her to Maine and back, worked on finishing her in Ft. Pierce at Riverside Marina, and relocated back to Key West for four years. In late 1998, I sold LEOPARD and relocated back to Ft. Pierce again, where I built the Lorcha 50 T'IEN HOU in 2001 and 2002. My new location was in the old ice house at Riverside Marina. During this time, Bill Smith was restoring SARAH, and we also built the masts, ballast keel and centerboard for the Exuma 52 SUNNY DAYS, under construction in Key West by Sonny Eynman, Joe Kitchell and Andy Erkhart. SUNNY DAYS was later acquired by Danger Charters, and was renamed DANGER'S PRIZE.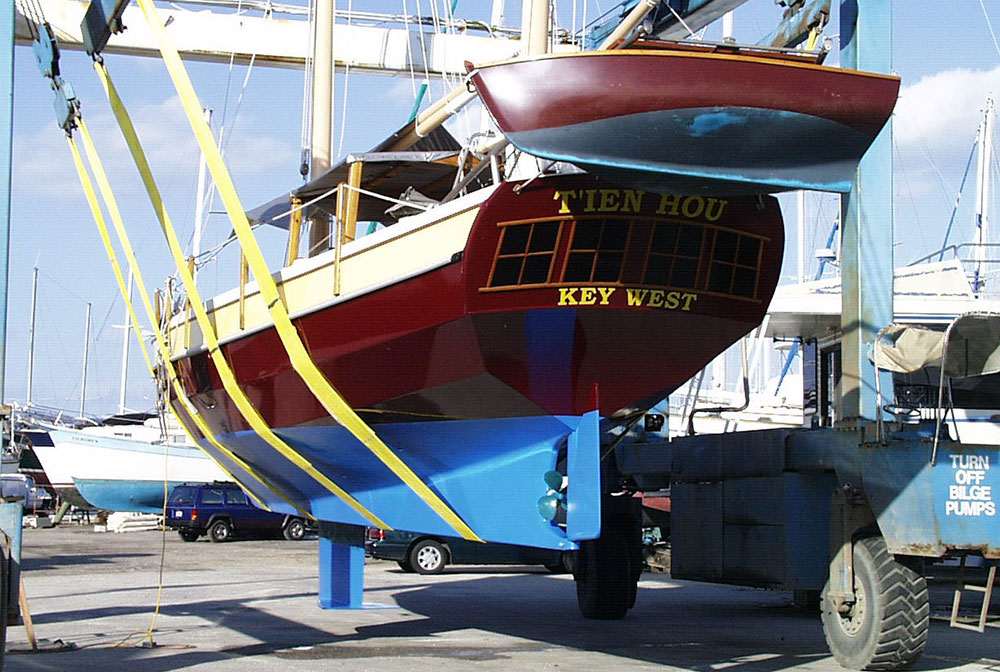 While located in the ice house, I also built a 15-foot center-console beach-cruiser, and a 9-foot Bahamian Dinghy (in T'IEN HOU'S davits in the above photo), which the Angel's named BABY HOU. And Delfine and I restored a derelict lapstrake 25-foot Nordic Folkboat in the style of a Herreshoff Buzzard's Bay 15 daysailer (also 25-feet on deck), which I named VALKYRIE, after Bill Smith's niece.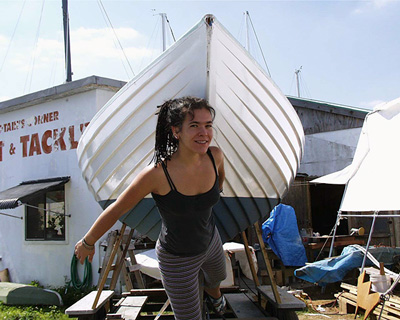 I moved my entire operation to Maine after 2002, but moved it back to Ft. Pierce again in 2005. I purchased a large contractor's trailer, and located it in the south yard at Riverside Marina. While there, I built the Sharpie 45 IBIS, launched in early 2010, the 14-foot Sea Bright Skiff JERSEY GIRL, and restored the 1965 Chris Craft Commander 27 JB, launched in early 2015.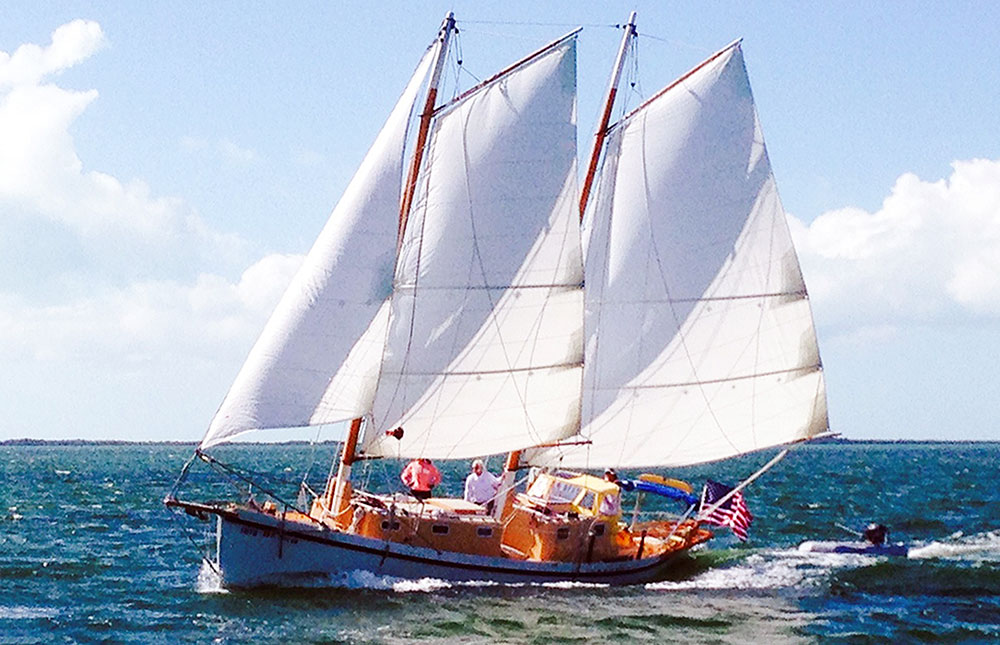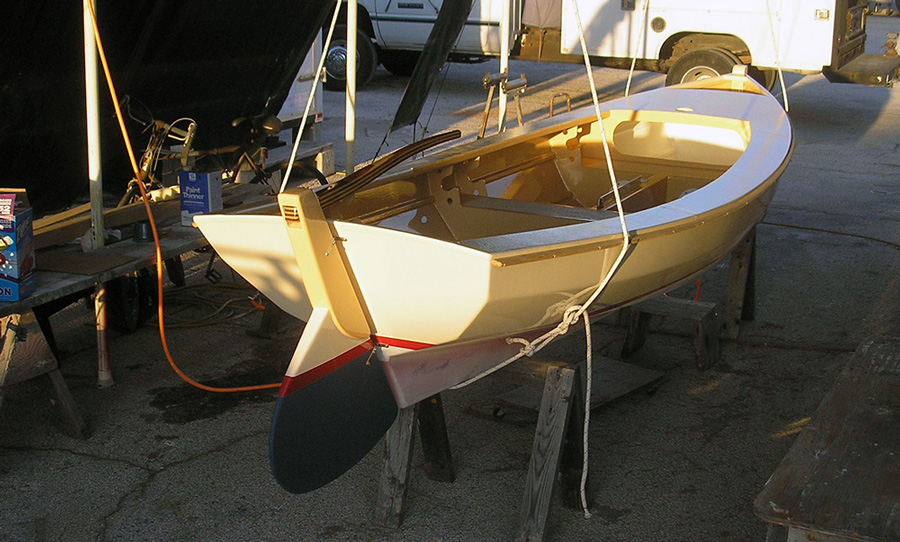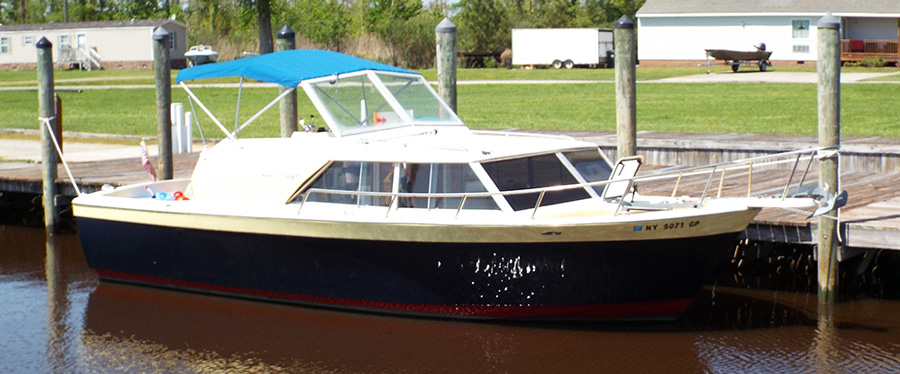 During this time I also did some restoration work on the 1968 Chris Craft Constellation YESTERDAY, working with Timmy Concannon, one of the owners of Riverside.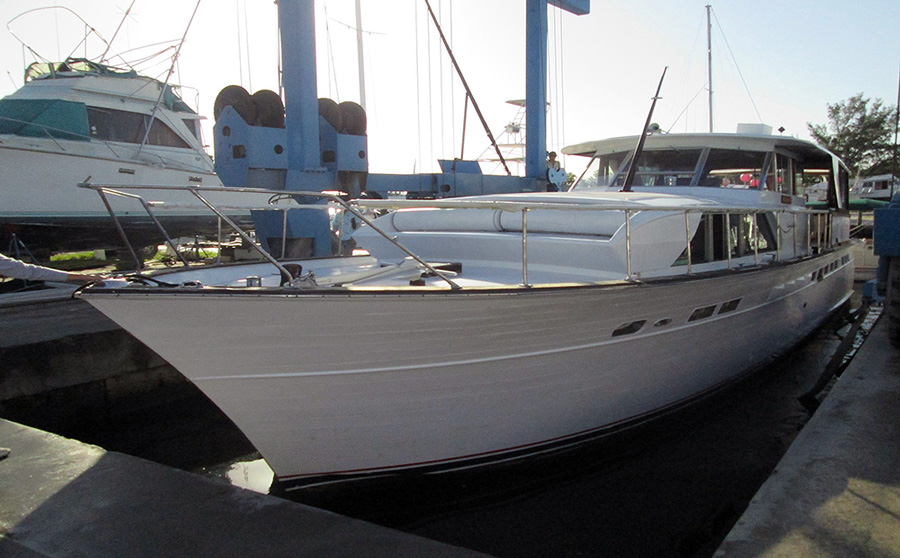 My next project at Riverside in Ft. Pierce will be to build my floating retirement home, subject of Blogs #37, #38 and #39. As I am now in my 70th year, I would love to move into "semi-retirement," and spend much more time living and cruising on the water, especially in the Bahamas, which are the closest thing to "home" I have ever known.
10/23/2015, Appleton, Maine