Boatbuilding in South Florida: Part Two—Key West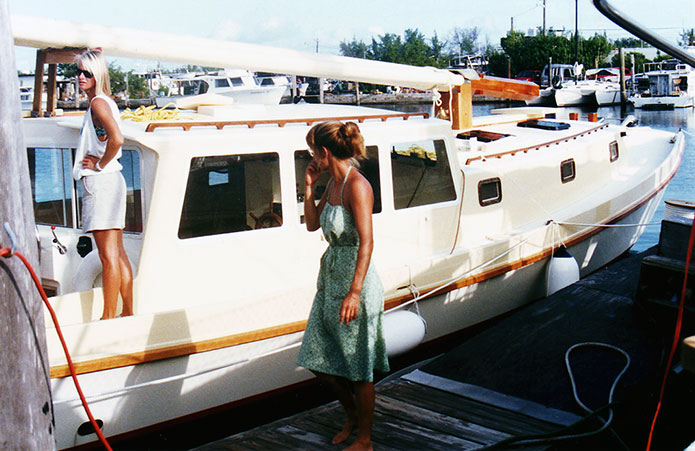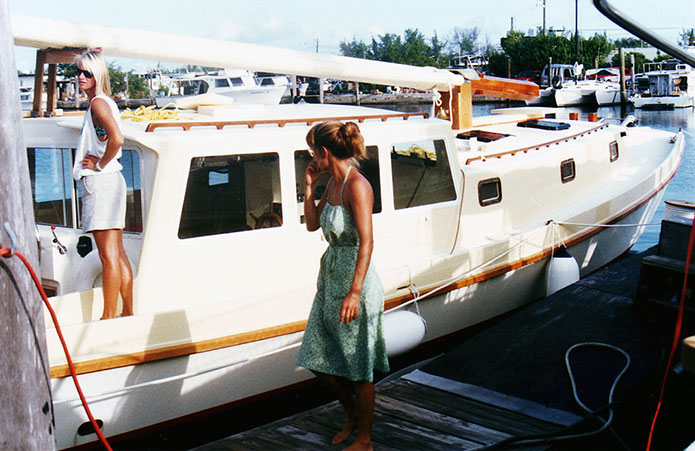 After living and building boats in my idyllic little yard in Islamorada, I tried finding a new workspace on the Florida east coast. Beth Stevens came with me as my partner, and we looked at many possibilities, without any real success. We spent a season in Port Salerno, where we did a second restoration on Tony Bianco's Malabar Junior IMAGINE, in cold-molded wood this time, but returned to Key West in 1991.
I got a design commission for a highly modified version of my Scow Schooner 45, and upon completion was told to build the boat. Beth, Shawn (#3 son) and I were then living in Safe Harbor Marina, in a modest commercial space that we converted into an office and living quarters. For the new boat project, we rented a workspace in Peninsular Marina, a commercial boatyard on Stock Island (part of Key West). It had a covered shop area and an open area in which we built the scow.
The scow project went well, and I had a crew of five—three women and two men (besides me). It has been noted that almost all of my boatbuilding crews include more women than men—quite frankly, I find women to be better workers, and more pleasant to work with. And I enjoy teaching women to do work that is often considered unsuited for them—it is nice to break down those arbitrary biases.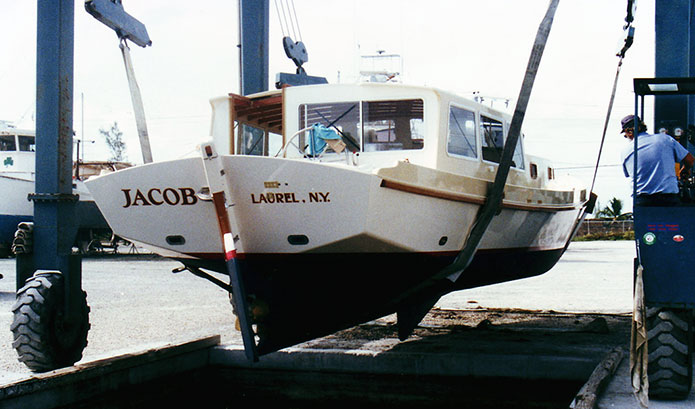 On completion of the scow—which was named JACOB—I delivered her to New York with Alix, one of my women professional sailor friends. We had a good trip, stopping in marinas at night and having dinner ashore. In New York, I got JACOB's masts up (three—she was junk-rigged), bent on her sails, and took her out for trials before returning to Florida.
After JACOB, Beth and I split up, parting company as friends. I moved back to Ft. Pierce, (where I had built the Exuma 52 SARAH), and where my boatbuilding partner Bill Smith lives. We built three cruising schooners during 1992, '93 and '94, which I will write about in a subsequent blog. One of these was my Pilot Schooner 60 LEOPARD, in which I returned to Key West in the fall of 1994. I leased shop and office space in the old Singleton fish house, and with friends, built a number of 9-foot sailing prams.
My friends Wayne and Lara Fox run the charter company Danger Charters in Key West, and I designed a 44' three-sail bateau (skipjack) for them around that time, which was built in aluminum by Marine Metals in Norfolk, VA. Wayne also had his boyhood boat in his driveway in Old Town—a 25-foot 1926 N.G. Herreshoff Buzzard's Bay 15 named MONSOON. She was a gaff-rigged keel/centerboard sloop, in rough shape. Although Wayne is a very competent boat carpenter, he didn't have adequate time for MONSOON's restoration, and hired me and Ryan Guirlinger (one of our mutual co-workers), to complete the job. Ryan is a professional charter boat captain as well as a boatbuilder, and has worked and sailed with me over the years.
MONSOON was a joy to work on, and I learned a lot about the methodology employed by the brilliant N.G. Herreshoff. The design, from about 1896, was ahead of its time. After her completion, I found her to be one of the finest day-sailors I have ever experienced.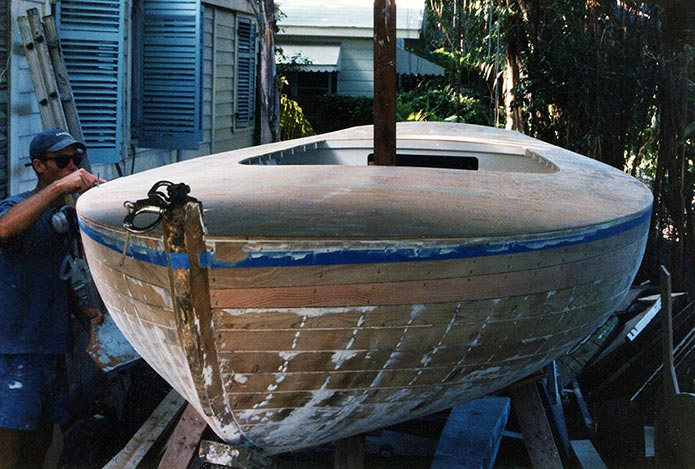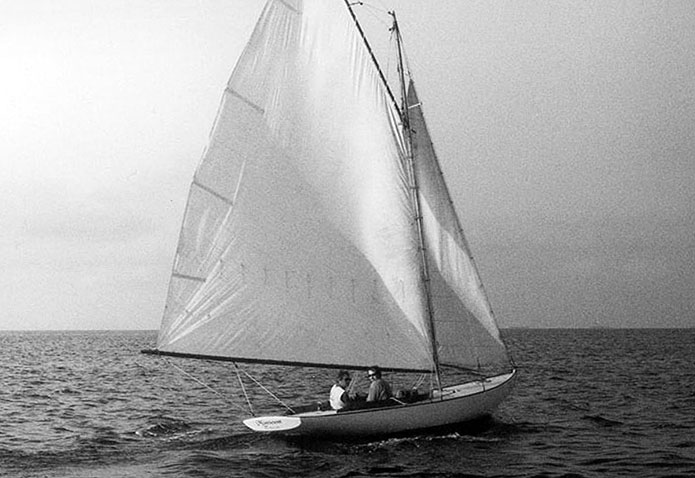 In late 1995, one of the owners of Manly-DeBoer Lumber Company (the largest and best in Key West), hired me to draw a custom design for a modest-sized sharpie powerboat. Erik DeBoer had built and owned a Phil Bolger TENNESSEE years earlier, and wanted a larger boat of similar type. Erik, his father and I worked on the aesthetics of this design together, employing "art-deco" elements of the commuters from the 1930's, and when I finished it, Erik told me to build it. I hired Ryan Guirlinger and Rick Keith to help me, and we went through three "glue girls" (the glue girl job is a hard one). I still had my shop and office in the old Singleton plant—a large steel building right on Old Bight in the heart of Old Town Key West—and I lived on board LEOPARD, moored at the docks out front. It was a very "colorful" place to live, quite expensive (even though I had the good-old-boy rent deal), and… the women were to die for! (The men too, if you swing that way….)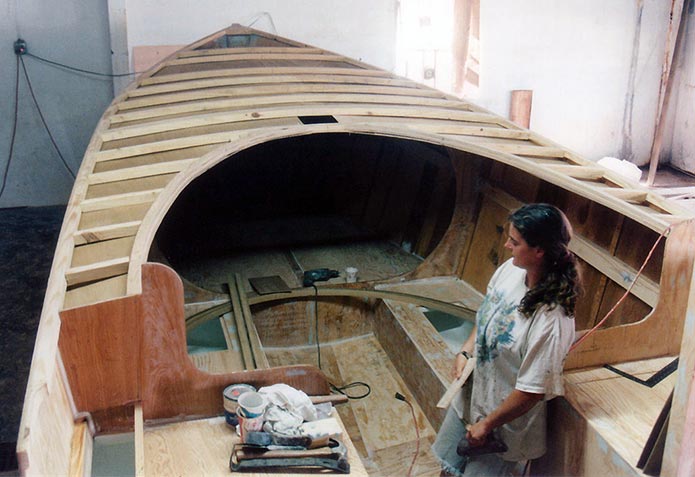 MAGIC was a very successful boat in every way, and rapidly became my best-selling design, which I found frustrating at first, considering myself a sailboat designer. I got over it. I came to embrace the concept of designing very fuel-efficient powerboats, comfortable, only moderately fast, and as environmentally friendly as I could make them. I also enjoyed resurrecting the tasteful aesthetics of the "classic" motor yachts from a bygone era. Consequently my Commuter Series powerboat designs have constituted a happy success, even though they haven't made me wealthy (nothing ever has).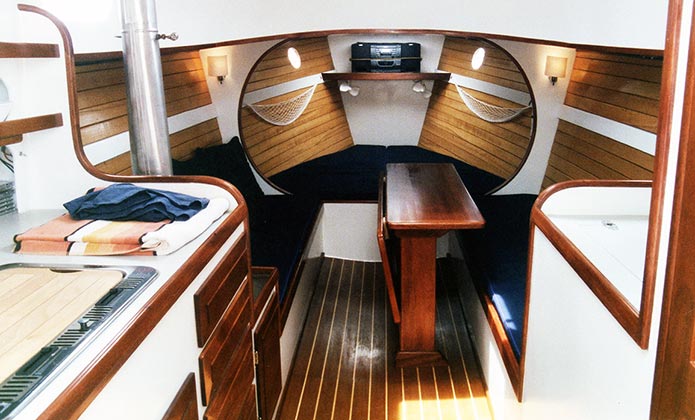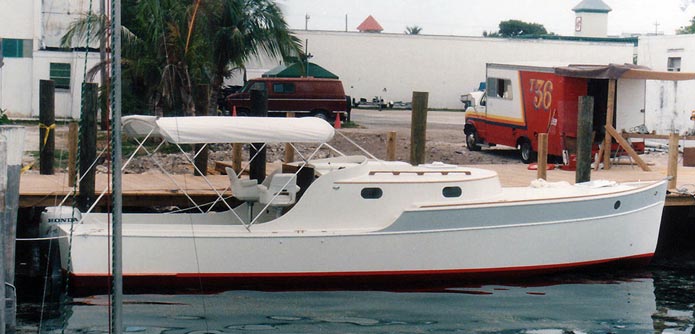 In 1997 I completed my preliminary design for a circa-1830 Swansea Pilot Schooner at the request of my dear English friend and crewmember Lucy Trinder—which became the Pilot Schooner 28. Joe Kitchell and Andy Erkhart, local charter boat captains, got wind of this (Key West is a small island), and next thing I knew we were building three of these lovely little pilot schooners, with their owners helping Ryan, Rick and myself.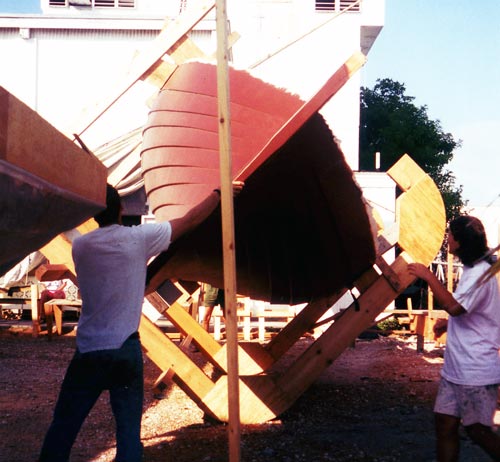 These little schooners proved to be very seaworthy; they have sailed extensively in the Caribbean, and all the way to Maine. They are beamy, have full, deep keels, internal lead ballast, and traditional gaff rigs with overlapping fores'ls. I adapted traditional lapstrake (clinker-built) construction to cold-molded wood/epoxy, employing ¾" marine plywood planking covered with Xynole-polyester fabric and epoxy. The frameless hulls are incredibly strong, and I love lapstrake construction more than any other. Joe and GLANCE were caught in a severe tropical depression in the Caribbean, and he wrote about his experience on the Woodenboat Forum. His story confirmed the seaworthiness of this historic pilot schooner type.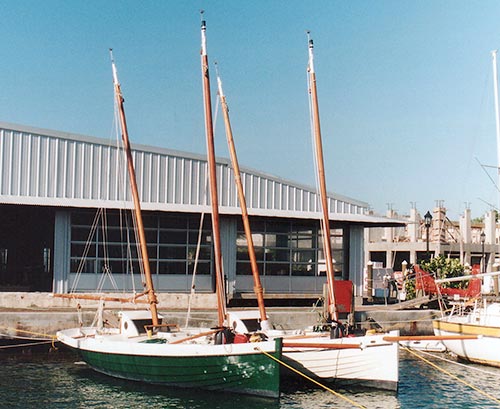 There were a number of excellent boatbuilders in Key West at that time, including Sonny Eynman, owner of Sunny Days Charters. Sonny bought plans for my Exuma 52, and built her on Stock Island, with my talented friends Joe Kitchell and Andy Erkhart as his builders. She is a very fast schooner (no surprise there), and was USCG-certified for 28 passengers. Sonny eventually sold her to Danger Charters, and Wayne renamed her DANGER'S PRIZE. After Bill Smith restored our original Exuma 52 SARAH, Wayne and Lara leased and finally purchased her, completing their fleet of three Reuel Parker Danger Charters schooners.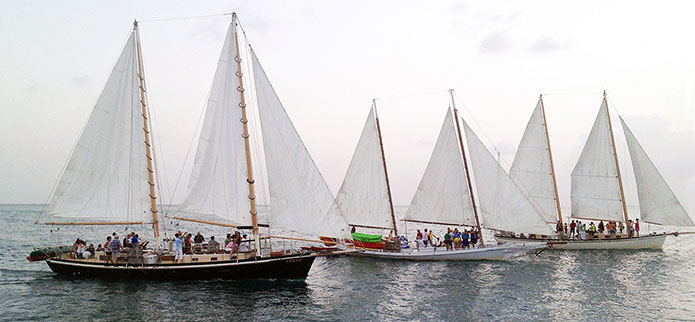 While building the three Swansea Pilot Schooners, in early 1998, I was diagnosed with stage-four cancer of the neck and throat. I underwent two surgeries in Key West, and underwent radiation treatment in Bangor, Maine, the following summer. I had to leave LEOPARD in Key West, under Lucy's care. She survived hurricane Georges that September (see Blog #19), and when I returned to Key West, I sold her to Jeff Thomas in Virginia, and I moved back to Ft. Pierce.
Thus ended my time building boats in Key West. I miss it—riding my bicycle down the shady Old Town streets; smelling the sweet scent of night-blooming Jasmine; watching some of the world's most beautiful women; eating in the excellent little seafood restaurants; enjoying the mixed cultures of Conchs, Cubans, Gays, Shrimpers and Bahama Village; studying the excellent old architecture; seeing the tropical trees, plants, and flowers; sailing in the trade winds… and yes, hanging out in the 500 bars (on an island 4 miles long)! There was also art, music, dancing and love in evidence everywhere. Sweet Cayo Hueso!
9/28/2015, Appleton, Maine