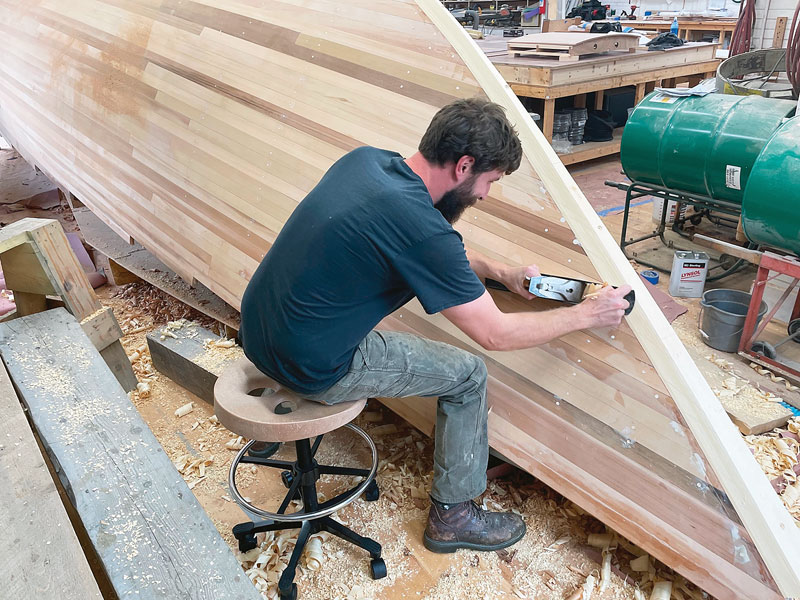 Reviewed by Adam Palmer
Geoff Warner's Owl Stool is an iconic design. Its original version has a carved hardwood seat and two holes to accommodate the base of the pelvis. It's a proven concept that eases the pressure at the base of the spine when one has been sitting for a while. The seat looks like an owl's face. Sometimes, things name themselves.
Geoff, the stool's designer, has been a furniture maker since the early 1980s in Stonington, Maine. He developed the Owl Stool by carving until it just felt right, as a reaction to his discomfort with his old shop chair. The original stools were made of wood, but Warner has recently introduced a new version built of post-consumer recycled plastic and wood composite. It's called the Owl ErgoPro Adjustable Stool.
Many products are tagged "ergonomic" but end up having varying levels of usefulness; I'm typically skeptical of them. However, I can attest to the ErgoPro Owl Stool being a legitimate ergonomic design, having used one of them over the past year to plank two boats.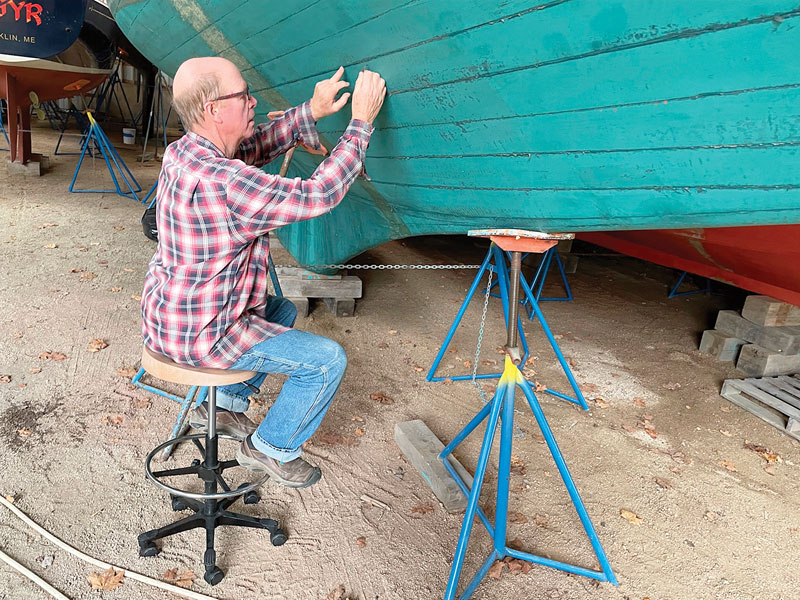 When I work from this stool, I do a lot less shifting around and adjusting for a sore posterior than I do when sitting on, say, a simple bench. As a boatbuilder, I suffer from a variety of aches and pains on a daily basis. It's clear that I can work longer when sitting on this stool.
When working on the bottom of a large, deep-draft sailboat that's in an upright position, one might spend quite a lot of time working from a stool—even more so if that stool's height is adjustable, allowing access to a range of areas. When I was younger, I had a foreman insist that "You can't build boats sitting down!" It didn't take very long to realize that this is not true. I have done a great deal of effective work not only sitting down but also lying down. And if I have a stool or creeper on casters, as the ErgoPro is, so much the better. This stool longs to be paired with a rolling tool caddy or, as in my case, an old rolling surgical cart. I have spent many eight-hour days rolling back and forth, with the cart in tow, working on boats this way.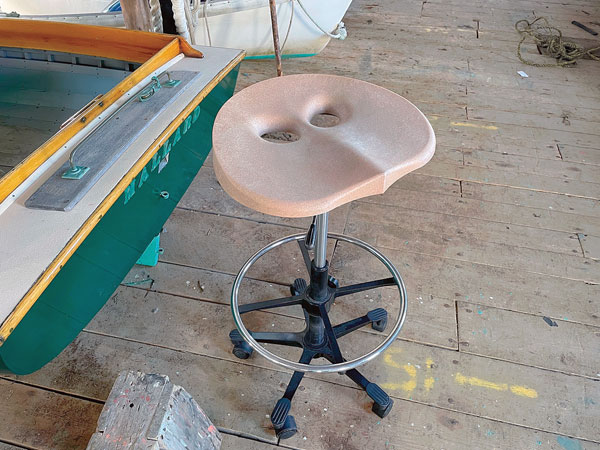 The original hardwood Owl Stool was three-legged; later revisions had four legs, and still later versions retained the wooden seats but had the option of metal bases in a variety of colors—and with casters. These can be adjusted high enough to be appropriate for a drafting table or low enough to serve as a meditation stool.
The original wooden Owl Stool seat is lovely, but not appropriate for the boatshop. I would quickly mar it by leaving a heat gun or grinder sitting on it. The ErgoPro's composite seat comes in four different colors, though the one I've been using is now the standard mix of dirt, varnish, epoxy, paint, and burn marks, a mix that is the inevitable result of existing anywhere near my shop.
This updated model also has five legs with casters and appears to be just about bullet-proof; it has survived a year at a boatyard without needing to be duct-taped or welded. This is no small feat, because a boatyard can destroy just about any equipment that passes through it. This is the only stool in the yard that still has a complete set of casters and a fully functional adjustment mechanism. The fact that it can handle the rigors of an active boatshop is a pretty good indication that in a milder environment, such as a home shop or studio, the Owl Stool ErgoPro might possibly be the last stool you buy.

Adam Palmer is a boatbuilder at Brooklin Boat Yard in Brooklin, Maine.
The ErgoPro Owl Stool is priced at $399.99. For more information contact Geoffrey Warner Studio, www.owlstools.com.