The Penobscot Bay Food Cruise
Presented by WoodenBoat's Maritime Tours and Down East Magazine
---
July 20-26, 2014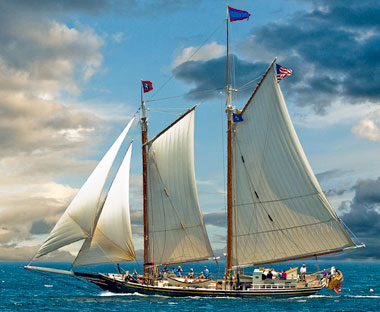 Join the crew of the 1871 coasting schooner STEPHEN TABER for an unforgettable cruise of Penobscot Bay, along the way experiencing some of the region's finest locally produced food. Over the course of five days, the TABER will visit the islands of Isle au Haut, Islesboro, and Vinalhaven, as well as the incomparable campus of WoodenBoat Publications—home of the world-renowned WoodenBoat School. WoodenBoat and Down East have teamed up to create a very special week of food and sailing aboard the TABER, with highlights that include:
A visit with food historian and Down East magazine columnist Sandy Oliver and a tour of her legendary vegetable garden—and lunch in her garden
A chocolate-making workshop—and sampling of the offerings—at the Isle au Haut-based Black Dinah Chocolatiers, named one of the Top Ten Chocolatiers in North America by Dessert Professional magazine
A guided tour of the 64-acre campus of WoodenBoat School and WoodenBoat Publications with WoodenBoat magazine editor Matt Murphy—this to be followed by an island lobsterbake near the WoodenBoat anchorage
A rendezvous with an oyster boat in the Fox Island Thorofare—and a subsequent feast in a serene Vinalhaven anchorage
An on-deck social hour and dinner with Down East magazine editor Kathleen Fleury
And, of course, five days aboard an authentic Maine windjammer, exploring one of the world's finest cruising regions!
The price for the week is $1,650 per person. To book your space, please contact the schooner STEPHEN TABER at 207-594-4723; info@stephentaber.com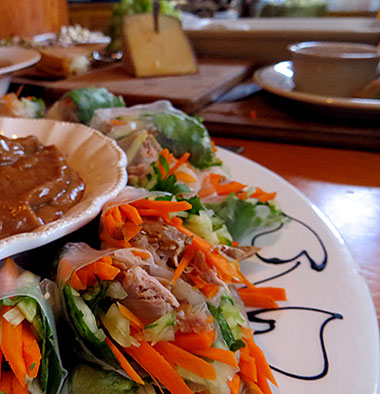 SCHEDULE
July 20
Guests board at 4:00 at Windjammer Wharf
On-deck Olive Oil tasting by Fiore
Social Hour with Down East editor Kathleen Fleury, followed by welcome dinner at In Good Company restaurant
July 21
8:00 Breakfast, departure from Rockland
11:30 Arrive Islesboro Island for a shore visit with Sandy Oliver. Garden tour and luncheon ashore.
4:00 Back aboard for evening sail and dinner underway.
July 22
Morning sail to WoodenBoat Harbor
1:00 Tour of Wooden Boat campus and facilities with editor Matt Murphy
3:00 Lobster bake on Babson Island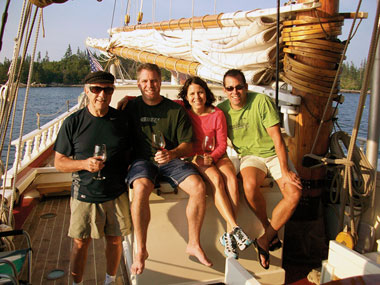 July 23
Morning sail to Isle au Haut
1:00 Shore visit to Isle au Haut for a visit to Black Dinah Chocolates
2:00 Chocolate making workshop with Kate Shaffer
5:00 Back aboard for wine, cheese, dinner.
July 24
Morning sail through Fox Island Thoroughfare and East Penobscot Bay
4:00 Evening rendezvous with North Haven Oyster Co. Informal presentation by aquaculture expert Adam Campbell, followed by Champagne and Oyster sampling; dinner
July 25
Morning sail back to Rockland Harbor Windjammer wharf
10:00 Disembark