Family BoatBuilding Links
Please contact us with any questions about participating in, or producing a Family BoatBuilding event.
WoodenBoat Magazine
P.O. Box 78
Brooklin, ME 04616
T: 207-359-4651
F: 207-359-8920
Email: jim@woodenboat.com
Produce a Family BoatBuilding Event With Our Support.
---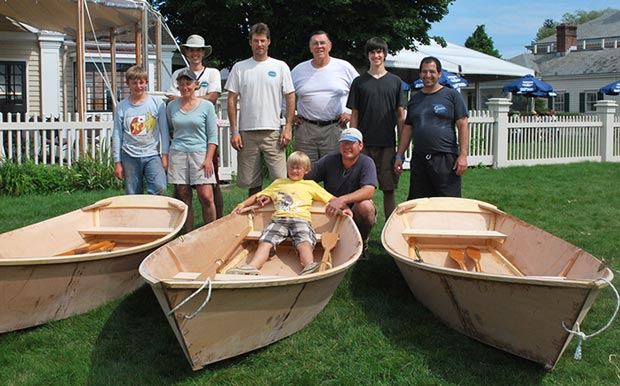 Build your organization by encouraging new boatbuilders and boaters in your community!
Fundraising, media attention, advertising: Your organization can produce a Family BoatBuilding event to benefit itself or a worthy cause. Whether you run a business, a non-profit association, or a church group, we invite you to make Family BoatBuilding a part of your annual event schedule.
WoodenBoat needs your help to get more families on the water!
By introducing members of your community to boating and boatbuilding, and creating the kind of fun, inspirational, and structured event Family Boatbuilding has successfully launched worldwide, you will heighten your organization's profile and make a positive contribution to your local community. All that's needed is a commitment to producing a high-quality event for the families and groups that will participate.
We will provide you with a source for materials and boat kits, and we offer support through information and promotional advice.
Getting started: your Family BoatBuilding event
To begin planning a Family BoatBuilding event for your community, just pick a date and a venue. Many producers are selecting a date during Family BoatBuilding Week; however, we will continue to offer our informational support year-round.
One of the most critical aspects of planning the event is choosing the location: Events must be held under cover!The hot sunny days of summer can lead to heatstroke and exhaustion, and should your event coincide with rain, wood that is damp will not be conducive to construction.
Your commitment as a producer
Your Family BoatBuilding event is your own. We at WoodenBoat won't dictate the format or logistics of your event. We will only act as a support system: offering information, suggestions, and a forum for discussing ideas with other Family BoatBuilding producers.
We do ask that you permit us to publicize your event as part of our Family BoatBuilding Week promotions, including your event name, dates, and contact information.
Choosing your boat
Through producing our own Family BoatBuilding events, we have found that providing a boat kit with pre-cut parts and clear instructions ensures a well-run event and avoids potential pitfalls in instruction and execution. Kits permit participants to assemble a real boat within a reasonable timeframe (2 1/2 days) and avoids potentially dangerous situations.
If you prefer not to buy kits and you would rather assemble boats from plans instead, we urge you to pre-cut all the parts so that participants merely have to put the pieces together. Please remember that Family BoatBuilding participants are not expected to have any advanced woodworking skills!
Structuring your event
Family BoatBuilding from WoodenBoat on Vimeo.
Family BoatBuilding's most experienced event organizer is the designer of the Bevin's Skiff, Joe Youcha, from Alexandria (VA) Seaport Foundation. Joe, who has produced hundreds of events, has offered several suggestions for Family BoatBuilding producers that will be valuable in organizing your own event:
Plan on having one dedicated volunteer for every three or four families and boats. Among your volunteers, identify one group leader who is competent in the construction of the boat(s) chosen, and capable of inspiring and sustaining a group dynamic. If your group hasn't produced a Family BoatBuilding event or something similar before, you may want to limit your first effort to 15 boats and families or groups.
Gather your volunteers together before the event and discuss individual responsibilities. Build a test boat together before the actual Family BoatBuilding event. Build a second one, if necessary! Get the process streamlined so you needn't guess at methods or materials when the event comes around.
You should provide the following tools and supplies as needed: Cutting machinery, sawhorses, extra tools (good nail-pullers, drywall screws, etc.), clean up supplies (rakes, brooms, paper towels, and trash bags), safety equipment (gloves, glasses, ear plugs, hand-cleaner, rags), first-aid kits and water. You may also need to set up a sharpening station and a power-tool station away from the group for disk-sanding and routing, and it is a good idea to inform participants in advance that they will need roof racks, rope, or tow capacity to haul their new craft.
Cost
Producing a Family BoatBuilding event doesn't need to be costly. Rather, a Family Boatbuilding event serves as an opportunity for you to produce a community-outreach event at a reasonable expense to participants, with the potential of raising funds for your organization. You should provide the setting and marketing for the event, and families or groups can pay the purchase-price of their kits to participate.
We do ask that you consider offering scholarships of some kind to families who can't pay the full cost of the kits. Fully 1/3 of the families we include in our events need some level of sponsorship in order to participate. We suggest that you find local sponsors to fund their costs, or raise the cost of participating slightly for paying participants.
Also, consider asking local businesses for sponsorship dollars and supplies in exchange for hanging their banners or signs around your event. This is an opportunity to encourage your local economy by recognizing caring neighborhood businesses.