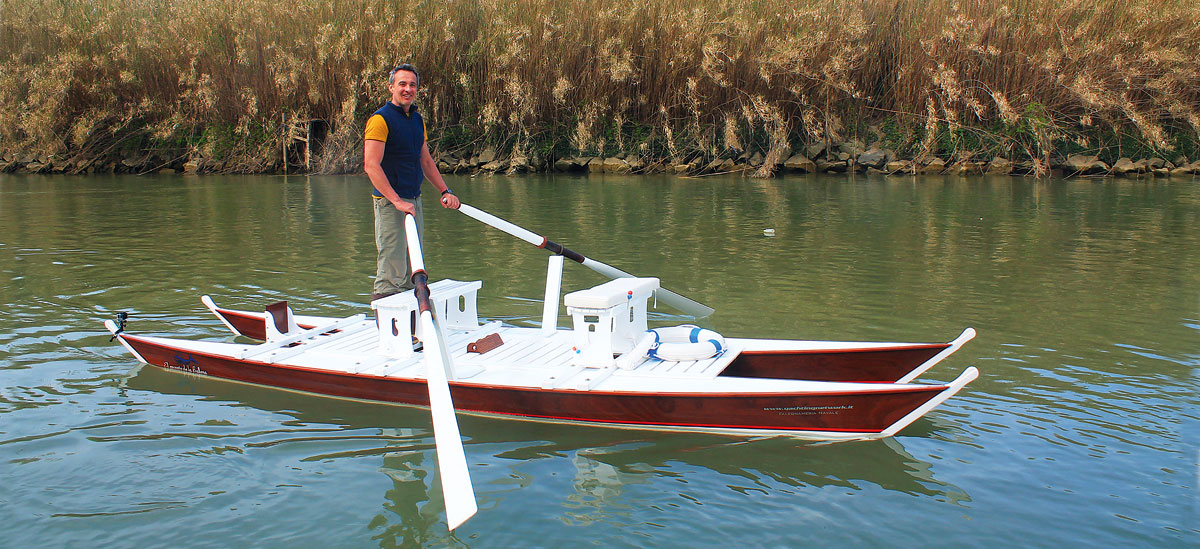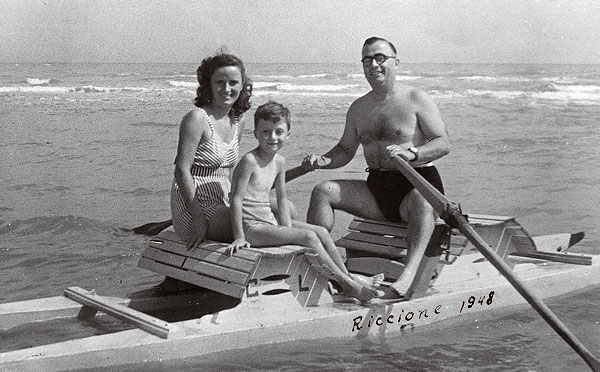 The pattino, or moscone, is a most unusual type of rowboat. Originally built of wood, it developed in Italy beginning early in the last century and evolved over the subsequent decades from a strictly working boat to a pleasure craft for beach-going tourists. The word "pattino" comes from the Italian pattinare, which means to skate or slide—an apt description of how these boats move through the water. Moscone is Italian for any big fly, and is the name used for these boats on the Adriatic coast; it's a likewise apt description of the boat's insect-like appearance.
Pattinos, you see, are oar-powered catamarans. They have a wide stance and spread long, winglike oars. Originally humble, low-budget boats, pattinos were first built for coastal fishing, often by fishermen for their own use. They are simple, consisting of two long, narrow hulls joined by a pair of crossbeams. The boats have a flat deck (originally used for net storage) and a bench for the oarsman. The catamaran configuration makes the pattino stable in the surf, while its light weight is an advantage when launching and landing on the beach. The type was once common along sandy beaches, primarily in central Italy: the Romagna and Marche regions on the Adriatic coast, and Tuscany (especially in the Versilia area) and Lazio, near Rome, on the Tyrrhenian coast.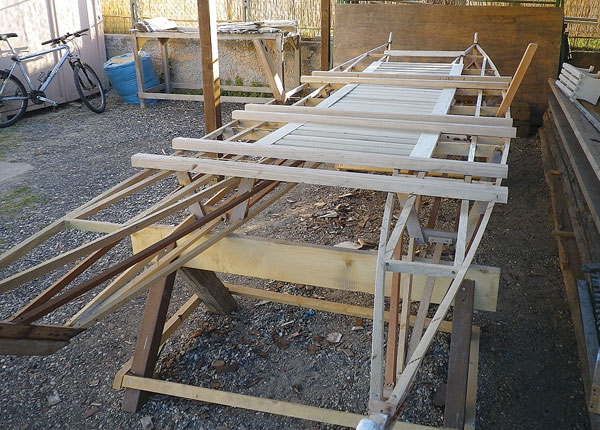 Over the years, the simple design was refined for pleasure use, and became popular among tourists after World War II. Historic records and pictures of posh Italian beach resorts from as far back as the 1920s confirm the growing popularity of the pattino—which peaked in the 1950s and '60s; large rental fleets were common until the 1980s. Despite its simple and modest appearance, the pattino is unique—an icon of Italian summers. The boats were waterborne limousines for cheeky, happy-go-lucky Italian playboy adventurers. They were likewise symbols, as are the Vespa and the Fiat 500, of the Italian working class. Pattinos evoke enthusiasm and optimism.
There were different types and versions of pattino. Some had benches or seats for one or two people. Others carried a chaise longue, for practicing—as they said in the old days—"horizontal activities." Fleets for rent were normally painted in the livery colors of the resort where they were based. During the economic boom of the 1960s and '70s they allowed thousands of Italian families to row their way through long summers. Anyone who spent a vacation on an Italian beach has memories of pattinos coming and going, with lines of people waiting to rent one. They were families with children, groups of youngsters, or couples who just wanted to get as far away as possible from the crowded and noisy beaches. While it was evolving into a pleasure boat, the pattino also evolved into a lifesaving craft, with a simple deck and signature red hull. Such lifesaving boats are certified by the Italian Coat Guard, and plastic ones are still in use along the coast.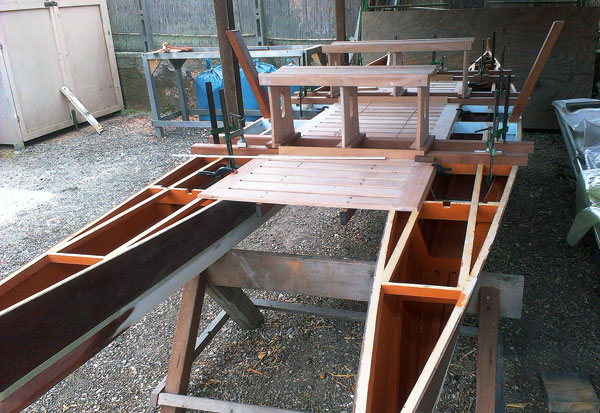 Over the years, many famous people have owned and enjoyed their own pattinos: Carlo Azeglio Ciampi, president of Italy from 1999 to 2006, kept a white one at his private beach residence in Santa Severa, north of Rome; Charlie Chaplin had his especially built by a shipwright from Viareggio, in Tuscany, for his home on a Swiss lake; Brigitte Bardot, well-known for her love of classic boats, also kept a pattino; the Italian writer Alberto Moravia owned one and wrote about the pattino in his novel Agostino, recalling his holidays in the 1940s on famous beaches of Forte dei Marmi in Tuscany; and the Italian singer Mina, whose 1960s song "Stessa spiaggia stesso mare" (The same beach, the same sea) extolled the pattino as a symbol of the sweet life—the dolce vita.
During the 1980s, the pattino's popularity slowly declined, perhaps because of competition from fiberglass paddle boats and outboard motors, but more probably because prosperous times valued economic status over muscular agility. Fortunately, after years in the shadows, the pattino has returned to Italian shores. Nostalgic lovers and classic wooden boat admirers have reassessed this fine and elegant boat—not to mention the pleasure and privilege of going slowly! An early summer morning promenade becomes a dreamlike journey, a trip to taste simple, almost forgotten things. Sliding over the water, the silence broken only by the noise of the oars in the water, the pattino creates a delicious sense of calm and quiet.
I was born in Rome and grew up in Lido di Roma, the city's seaside area. My relationship with the water began when I was a child; I lived by the sea all year long, fishing, sailing, and surfing. Pattinos were always present in my childhood; during summers, my brothers and I—and the rest of our family—spent considerable time on the water, fishing, swimming, and rowing. Later, when I became a certified lifeguard, the pattino was part of my equipment. And as a lifeguard on the beaches near Rome, I witnessed the decline and disappearance of the classic pattino. Pattinos back then were different from those of today: they were bigger and had a different shape and layout. Compared to today's factory-produced fiberglass pattinos, the earlier wooden hulls were heavier, but faster and stronger. However, they were originally often fastened with galvanized-iron nails that, after a few seasons, streaked the paint with rust stains, ruining the looks of the boats. But even then, in poor condition and leaking, pattinos would still carry out their duties.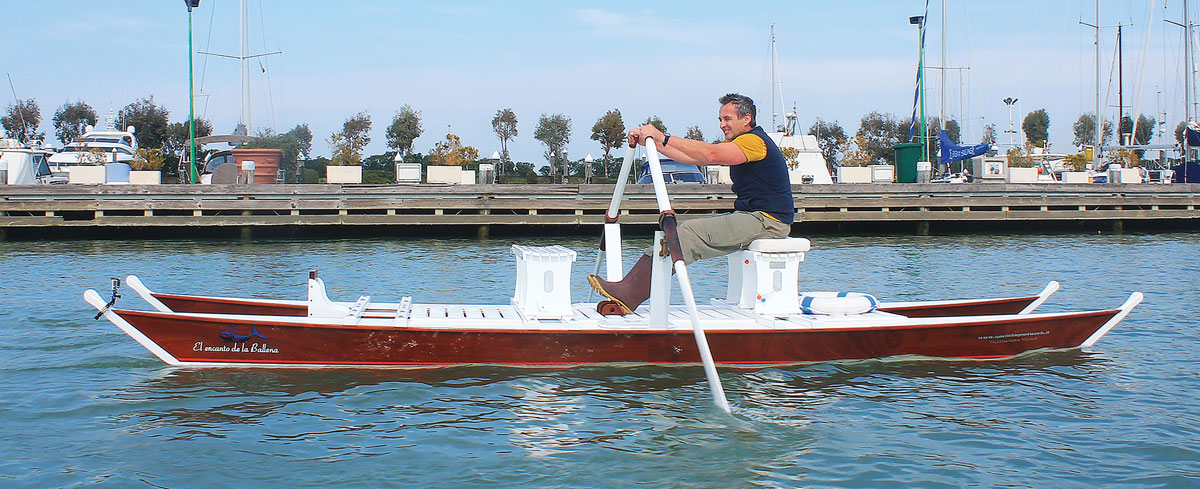 After spending years learning the boatbuilding trade in local yards, in 2002 I decided to open my own company and workshop in Fiumicino at the mouth of the Tiber, the ancient river of Rome, and build classic mahogany pattinos. But my mission evolved, and for years the primary activities of my workshop were yacht carpentry, teak decking, and refitting classic boats. We are now building pattinos again, and in fact are the only yard that builds the classic version of these boats.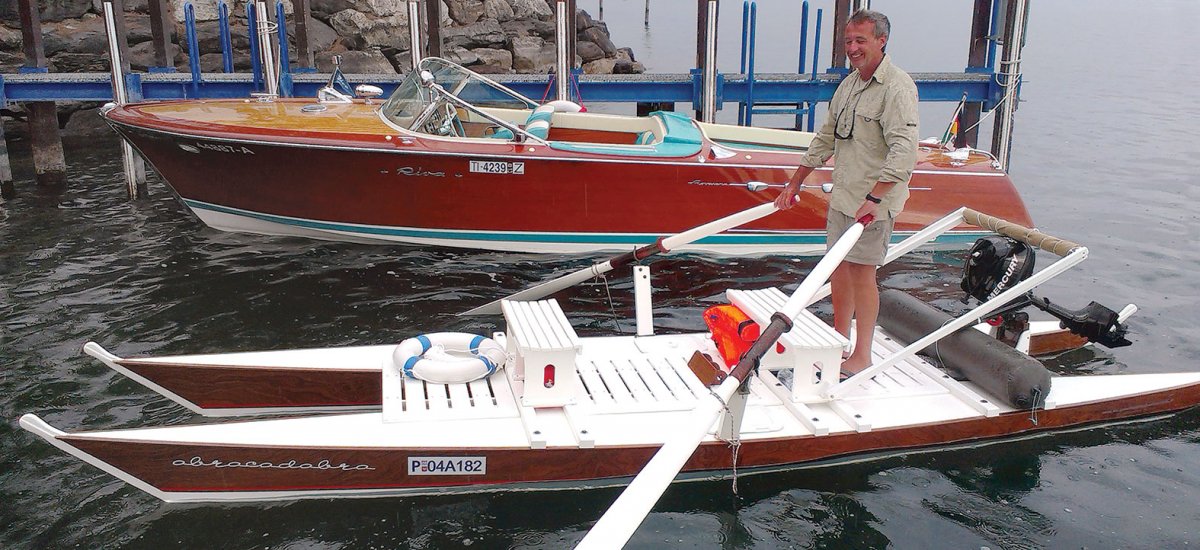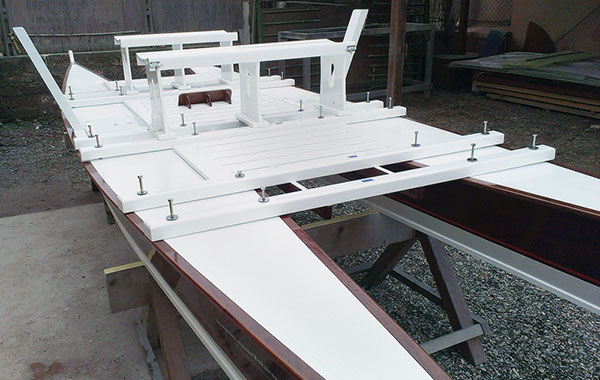 This new pattino construction began when one of my customers, the owner of a 50′ powerboat, asked me to build a special boat for his summer residence. His powerboat was moored 25 km away (about 15.5 miles) from his home, and the drive, the hunt for a parking spot, and then the dinghy ride out to the mooring in the bay simply took too much time—especially when all he wanted to do was to go out for a day cruise with his family, close to his summer beach house. So he asked me to build a pattino that's a bit larger than normal, for increased stability and to provide enough space on deck for his wife and two children. He decided to invest his energy differently—in rowing, rather than commuting to his boat.
So, from the lines of an old classic pattino, I drew a new one but kept the elegant vintage appearance. I envisioned a longer boat, at 19′3″ (5.90m), with more beam than the earlier type, which traditionally was only about 13′9″ (4.20m) long. A keel, frames, and two side stringers give the new pattino more strength (the bare frame weighs just 36 lbs, or 16.5 kg) than the original solid-wood-planked pattino. This updated construction also allowed me to reduce the thickness of the hull planking. The result is a solid hull, with better handling, even in choppy seas or an onshore swell than an original—and better stability and balance. A slight rocker reduces the wetted area of the hulls while maintaining buoyancy, and the extra length allows more speed while rowing and a steady momentum through the water. The planking is of top-quality mahogany plywood; the framing of solid oak and mahogany. I don't use any screws or nails in these boats, as I believe they will last longer without them. My 19′ pattino has room for two 135-liter (4.75 cu ft) storage lockers for fishing, camping, or picnic gear. There is also space for an extra pair of oars, a mount for an electric outboard motor, and fittings for a wooden bimini-top frame. I make a smaller and simpler version at 16½′ (5.0m), without the lockers or reinforcements for an engine; this boat weighs only 165 lbs (75 kg).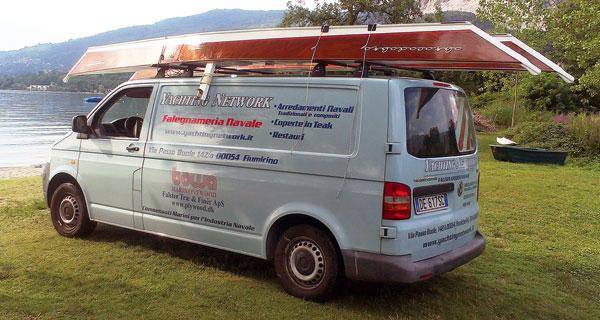 In 2013, one of my pattinos was chosen by the Italian state television (RAI) for use in a documentary film. Director Guido Morandini made a journey of over 1,865 miles (3,000 km) walking, rowing, and biking, starting from and returning to the ancient city of Troy. My pattino was used for the part of his journey along the Latium Coast to Ostia Antica, the ancient port of Rome, and then into the mouth of the Tiber River, finally rowing upstream to Rome.
In 2012 I made a coastal trip from Fiumicino to Sperlonga and back (220 miles); in 2013 I went up Lake Maggiore from Aroma to Locarno (Switzerland) and back (160 miles). Without pushing too hard, in calm water, and rowing at a constant 28 to 30 strokes per minute, I logged speeds of 3.8 to 4 knots.
The pattino is for wooden boat lovers who are nostalgic for the dolce vita—those who want a unique, elegant, and safe rowboat that they can even row standing up!

Luca Gentilini is a shipwright currently working as a joiner for Oyster Yachts of Southampton, England. Before that he was at Stirling & Son, working on the refit of THELMA, a 72′ Silver's motoryacht that was once the tender to the J-class sloop VELSHEDA. He hopes to return to Italy soon to reopen the doors of his shop in Fiumicino—and to build more pattinos.