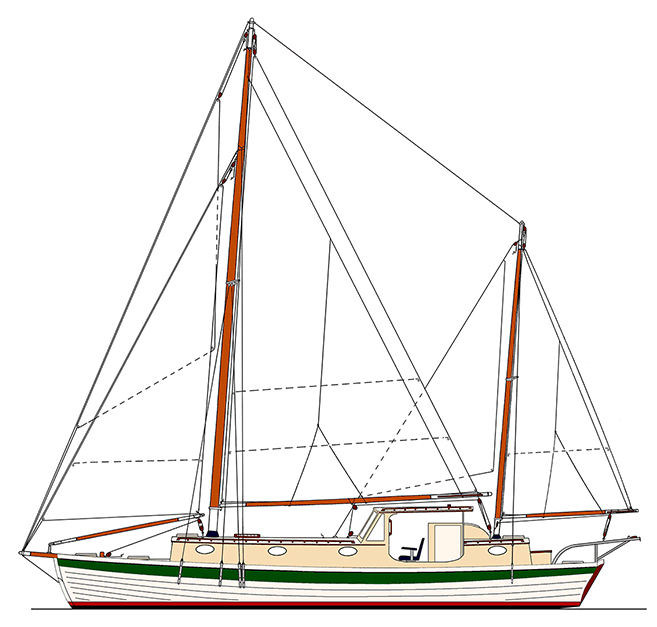 As many of you know, I am a devoted fan of the Sea Bright Skiff. These remarkable surf boats developed on the New Jersey shore in the early 19th century, and spread around America in the life/rescue service, once they became respected as the most seaworthy of all small craft.
I wrote about them in WoodenBoat Magazine (issue #230, Jan/Feb 2013), featuring a 14′ camp skiff I had just built. I have been designing them since 1995, starting with an 18′ "Microcruiser" intended to sail in the open ocean.
To date, I have designed six open-boat Sea Brights (11′ 6″ to 18′), four sailing pocket-cruisers (decked with cabins—23′ to 36′), three cabin-cruiser powerboats (26′ to 38′), a 35′ motorsailer, a 50′ long-range cruising sailboat (T'IEN HOU—presently in the Lesser Antilles), and most recently, a 39′ live-aboard cruising ketch—the subject of this blog.
I created this design in my search for a boat that would embrace all my parameters for a cruising live-aboard home: shallow draft, seaworthiness, a hardtop-covered center cockpit, a master's aft sleeping cabin, an outdoor head (in the cockpit), an inboard diesel capable of supplying modest motorsailer capabilities, speeds of at least 10 knots under sail, a large galley and office, a rig I can single-hand in my seventies, a small cargo hold, inexpensive build cost, and traditional beauty. The cargo hold is the only "miss." The rest of the parameters I got (I hope)!
I love lapstrake construction, and all the historical Sea Brights, from their inception through the 50-foot rumrunners of prohibition, were clinker-built using New Jersey white cedar riveted over white oak frames. Because I am a champion of cold-molded construction, all my lapstrake designs are for wood/epoxy—using marine plywood planks epoxy-glued and fastened with stainless steel self-drilling screws. I use a hand-held power plane to make my lap bevels, and to rabbet the "gains" into my hood-ends. Because of the gap-filling properties of epoxy, this work can be done very rapidly, without the painstaking precision required in traditional construction.
Sea Bright skiffs always had "hollow box-keels"—the flat plank keel bottom allowed the skiffs to be pulled up on the beach on rollers, and created a sump for the bilge. It also, in later years, allowed low placement of an inboard motor, and a horizontal propeller shaft (less power loss). Lead ballast, water and fuel tanks can be placed in the hollow keel, creating high self-righting moments and providing more interior space. I consequently employ box-keels with many of my new designs, both power and sail.
Lapstrake construction is very light, strong, and durable, and in cold-molded wood/epoxy construction, it uses much less epoxy than multiple laminations. Thus the method, while requiring more labor skill, is much less expensive in materials.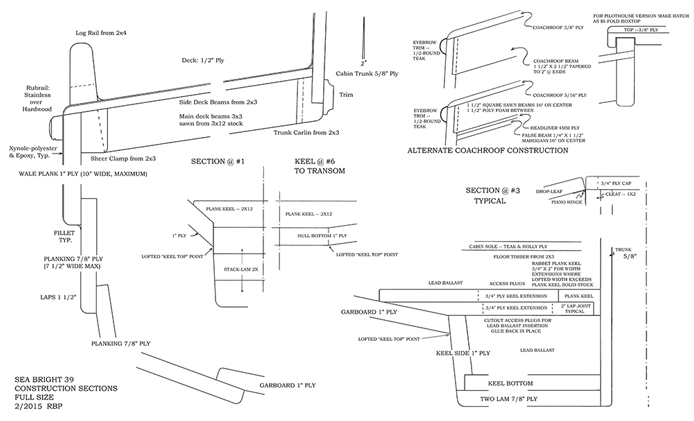 My box-keels are made from stack-laminated solid planks forward, transitioning to plywood-box construction approaching the centerboard trunk. Thus the gripe—the forward part of the keel—is very strong (six inches thick) and able to deflect collision with a submerged or floating object (our oceans are riddled with huge logs and shipping containers, floating just below the surface). The wider, hollow portion of the keel has a double-planked bottom, and a double planked inner keel. Combined with thick plywood sides, the keel becomes a "box beam," one of the strongest structures known to man.
Lapstrake planking is doubled at the laps, creating, in essence, full-length longitudinal stringers running from stem to transom. Lapstrake boats have always been among the strongest and most durable in the world, and using high-quality marine plywood with epoxy glue, they are now stronger than ever. Frames are redundant in this method—the hull is planked over thick plywood bulkheads, attached with big epoxy fillets.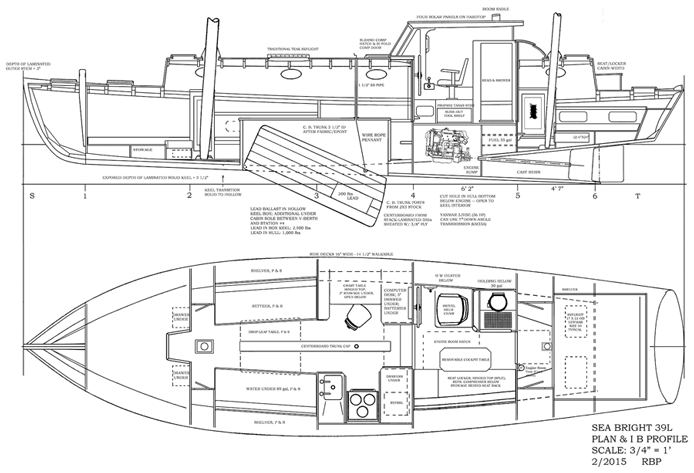 The hull is long, narrow and of light displacement. The lines are a blend of my Sea Bright powerboat models and my larger sailing models. This is what naval architect Nigel Irens calls an "LDL" hullform: "Light-Displacement-Length" (see WoodenBoat #242—Jan/Feb 2015). The run is extremely flat—essentially a semi-planing hullform, easily capable of exceeding "hull speed."
Specifications for the Sea Bright 39 are:
LENGTH BETWEEN PERP'S: 39′
LENGTH EXTREME: 43′ 6″
BEAM: 10′ 7″ (under the rails)
DRAFT : 2′ 4″ / 5′ 6″ Board Down
DISPLACEMENT: 10,000 lbs (approximate)
BALLAST: 3,500 lbs (2,500 lbs in keel/1,000 lbs in hull)
POWER: Yanmar 3JH5E (39 hp)
WATER: 178 gallons
FUEL : 55 gallons
HULL SPEED: 7.8 knots (will exceed easily)
SAIL AREA: 509 sq ft Working/669 sq ft Light Air
SA TO D: 17.1 Working/22.4 Light Air
BRIDGE CLEARANCE: 42′
ACCOMMODATIONS: Sleeps six in double V-berth, two settee berths and master's aft cabin. Headroom is 5′ 10″ on the centerline (5′ 11″ w/ foam-core coachroof). Cockpit/Pilothouse with swivel helm chair and bench seat to port, includes a removable table.
TYPE : New Jersey Sea Bright Skiff; suitable for moderate offshore conditions. This model is designed with watertight floatation compartments. The type has an excellent record as an offshore yacht and commercial fishing vessel, and can be used as an island-hopper, coastal cruiser, and ocean voyager.
The interior is open and comfortable. The galley, office, cockpit and aft cabin are based on my 50′ T'IEN HOU model, which is the most comfortable home I have ever known. The settee/berths are wide and long, with full backs covering large storage cabinets. The drop-leaf tables hinge off the centerboard trunk in the traditional manner. The V-berth is large, with drawers and hanging lockers suitable for long-term crew. The aft cabin has a queen-size berth, which can be slept in athwartships or length-wise (I prefer the former). I wrote about the head and cockpit shower in Blog #26—"Thoughts on Heads."
I chose the Marconi ketch rig because it is simple and easy to sail. This is a major departure for me, as a big fan of the gaff-rigged schooner. I will be (hopefully) sailing this boat well into my late 70s and beyond, and I want to be able to single-hand her for as long as I can sail (of course I would much prefer to share her with someone who looks good in a bikini…). Also, with the new light-weight mast construction I "developed" (see Blog #14), weight aloft will be minimized, and rigging will be light because masts and displacement are very light. The hull will be "easy" on her sails, so they can be made from a lighter-weight Dacron. [I increased the size of the mizzen slightly in my final Sail Plan, made after I created the color drawing at the beginning of this blog.]
When motorsailing alone, I would often use the "jib and jigger" configuration—quick and easy to raise and furl, and self-tending. I would employ Pro-Furl roller-furling on my jib tops'l, eliminating the necessity of going out on the bowsprit. Single-handing off the wind, the rig will perform well under mains'l alone.
My center cockpit will have side- and back-curtains to close it in—creating a real pilothouse—for cruising in the north country. If I can find space for it, I will include a small solid-fuel stove. I would love to bring my Splendide Italian washer/dryer—but that's going too far. I want to be comfortable in my old age… but not decadent!
So—this is the second (and more practical) choice for my floating retirement home…. Will this be the one? What do you think?
4/28/2015, Saint Lucie Village