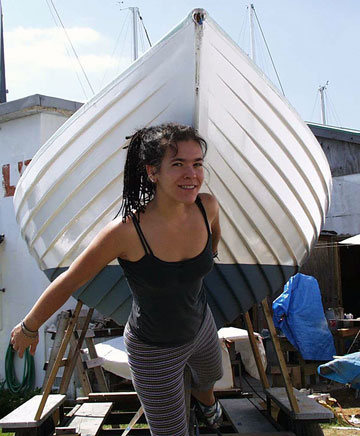 No, they are not a myth—Reuel's Angels really do exist!
For reasons which verge on magical good luck, the Outer Banks of North Carolina have always provided me with great crewmembers. For the last thirty-two years, I have visited Ocracoke Island, a beautiful, remote place of long sandy beaches, high dunes, brackish creeks and ancient hardwood hammocks—the hide-out of Blackbeard. On my first visit, back in 1981 (in my cutter FISHERS HORNPIPE), we took a schoolteacher and a Swedish exchange student (both knockouts) sailing back to the mainland. Ever since then, I have found crew in Ocracoke—and not just any crew—but bright, beautiful, outdoorsy women crew.
On subsequent trips, in my cat schooner TERESA, in my pilot schooner LEOPARD, and in my ketch T'IEN HOU, I have always found sailing women in Ocracoke. Many of them became repeat customers, sailing the east coast and the Bahamas with me, and most became life-long friends.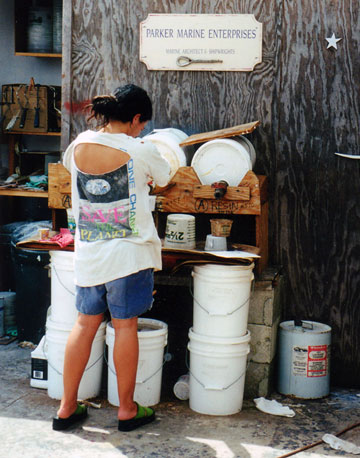 I have also found female boatbuilders in Ocracoke and environs, those very rare women worth their weight in gold. A woman with epoxy in her hair and sawdust in her pockets is my kind of girl!
When I started building T'IEN HOU in Fort Pierce, in 2000, and needed help, my Ocracoke connections sent me a bright, talented, beautiful petit woman named Delfine. I was, at that time, also restoring a lapstrake Nordic Folkboat in very rough condition, and Delfine was one of the fastest learners and most meticulous workers I have ever known. She also had the ability to concentrate for hours at a time, and I never had to tell her how to do anything twice.
Delfine is French-Canadian, but speaks beautiful lilting English and Spanish, as well as German, Dutch, French (of course), and who knows what else. She has an excellent artistic sense, and is a great and innovative cook. We lived in the old ice house at Riverside Marina (in the background of the photo above), cooked on a two-burner stove, and bathed in a plastic tub in the shop.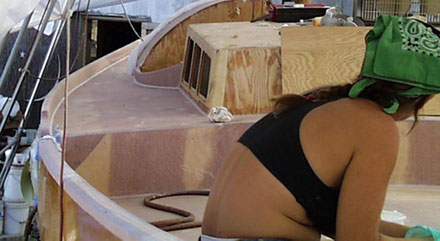 When construction on T'IEN HOU was in its second year, we were joined by Davina, another Outer Banks woman who lived on her own boat and worked on boats for a living. Davina was good with fabric and epoxy, and dove right into covering T'IEN HOU'S decks and cabins. We made a great team, and we launched T'IEN HOU on Dec 22, 2001.
I sailed T'IEN HOU to the Bahamas with another friend (Jenny Nelson) in early 2002—Delfine and Davina were off on projects of their own. After weeks of sailing, I realized I had made a mistake in trying to marry the three-masted junk/lorcha rig to a 50′ Sea Bright skiff hull, and immediately upon return to Florida, pulled out T'IEN HOU'S foremast and converted her to a gaff-rigged ketch with sprit-rigged mizzen.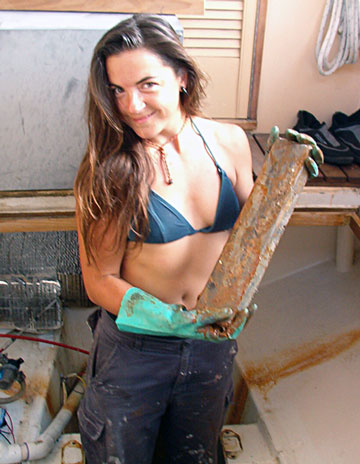 During the winters of 2003, 2004 and 2005, I made further alterations to T'IEN HOU, including a roller-furling jib tops'l, a larger diesel, an autopilot, hardtop and windshield (making the center cockpit into a pilot house), standing rigging, self-tending stays'l (or inner jib), and a reorganization of ballast. I modified the electric winch system used to raise and lower the delta-wing retracting keel, placing new controls at the helm. I also re-cut all the sails, and modified much of the rigging—sheet and halyard systems, reefing systems, etc. One could only call this an extremely major refit.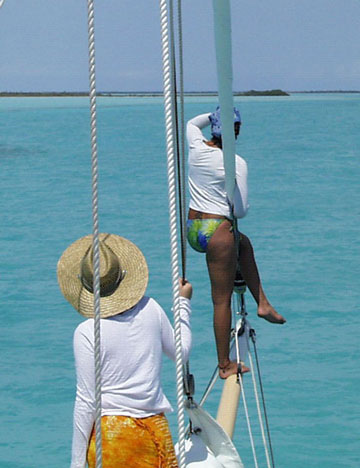 For this work, another Ocracoke boatbuilding woman came down to help, named Mavis (who also owned her own boat). The four of us turned T'IEN HOU into a very comfortable and efficient motorsailer, which carried a cloud of sail and was fast and weatherly. My three wonderful female boatbuilders were by then calling themselves REUEL'S ANGELS—and that is certainly what they were!
With T'IEN HOU's major refit finished, it was time to go sailing—to run sea trials—and what better place to do so than the Bahamas! I kidnapped my angels (they didn't really resist), and in late March of 2005, we sailed down the coast to Biscayne Bay, and across the Gulf Stream to the Bahamas for a long cruise.
We sailed T'IEN HOU to Bimini to clear customs/immigration, thence to Andros—the largest island in the Bahamas. The middle of Andros is riddled with tidal creeks, many of which flow completely through the island—distances of 25 miles or more. After much searching (there are no aids to navigation, and the charts were made over 100 years earlier), we entered the North Bight of Andros in the late afternoon, having searched out the hidden entrance, which I named "the Keyhole".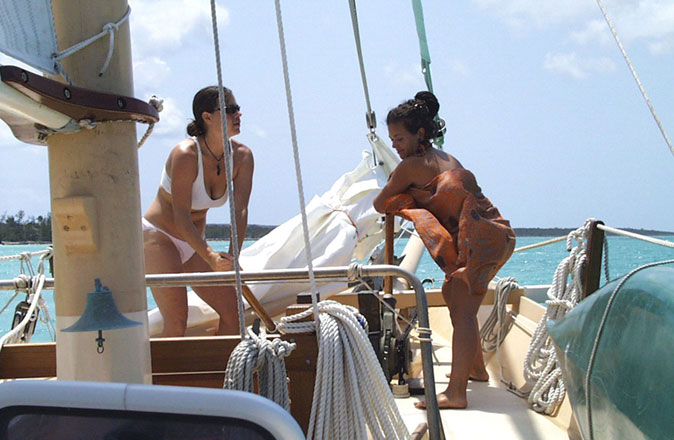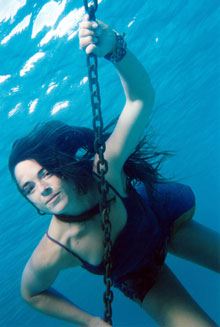 T'IEN HOU was well-suited to navigating the Bights of Andros, having a draft of 3-feet, when much of the Bight is only 3-feet deep at high water! We often left a long white trail behind us, as T'IEN HOU plowed a channel through the soft white marl.
We had an idyllic two months of cruising that year. The Angels were fantastic—one of the best crews I have ever had. We went exploring ruins, hiking, fishing, swimming, diving, and collected fresh seafood everywhere we went. And we partied!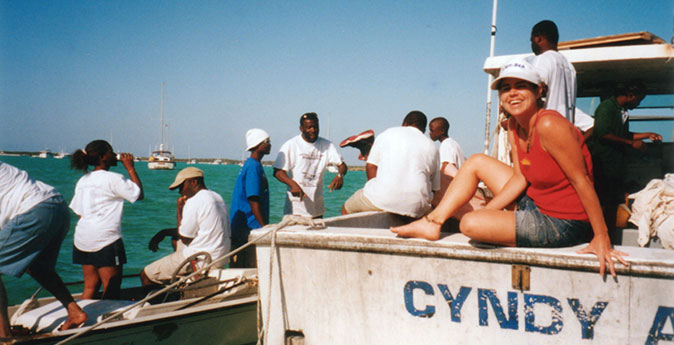 We visited Andros, the Exumas, Cat Island, Eleuthera, and Nassau. We were in George Town, Great Exuma for the Family Island Regatta, and had a blast! The Regatta consists of native racing sloops—wooden boats with cotton sails—and the ensuing parties are never to be forgotten! (Lengthy recovery times are often indicated…)
Davina was adopted by one of the racing crews, and disappeared for days at a time.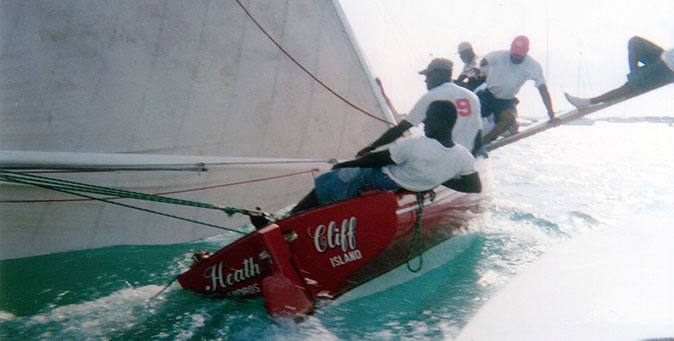 All too soon it was time to return stateside—the Angel's had other jobs to go to, and my migratory clock was ticking (all those geese can't be wrong). Thus ended one of the best cruises of my long life.
* * * * *
The Angels and I are now scattered to the four winds. Delfine is living in California; Davina has sailed off into the sunrise with a new lover; Mavis hitched up with an oil tanker captain I introduced her to, and runs a boatyard in Guatemala; and I… miss them more than words can ever say.
Here's to Reuel's Angels! SALUD!
Fort Pierce, Florida, 12/05/2013