Boat Plans & Kits Categories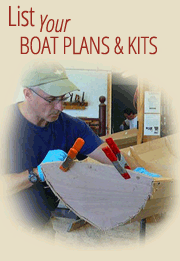 Please login or register to post your Boat Plans & Kits.
You are here
Coho

"Of all of the boats I have reviewed, the Coho is my hands-down favorite. The combination of light weight and superb handling make this a wonderful boat. It is a good-tracking cruising boat I would recommend to anyone, whether novice or an experienced paddler." - Sea Kayaker Magazine Featured in the documentary, "Paddle to Seattle" (where two friends paddle from Alaska to Seattle in Cohos), the Coho has proven itself as one of the best touring kayaks available. Her 23″ beam provides good stability when loaded for a long paddle. Excellent buoyancy in bow and stern make her seaworthy for open ocean swell and surf, as well as quiet water. Although the Coho will migrate with you on long adventures, she's so light at 39 pounds that many folks buy her primarily for day use. The Coho has been on the market for 14 years and hasn't lost any of its appeal. Like her namesake, she flows fast, light, and lean through the water. Be sure to checkout our website to read more!
DESIGN SPECS
Designer:
Year of Design:
LOA:
Beam Length:
Draft Length:
Materials:
Skill Level to Build:

Beginner- No Prior Woodworking Experience Required

Cost:
Website:
Contact Information:

355 Hudson St
Port Townsend 98368
Phone: (360) 385-6143
<< VIEW ALL BOAT PLANS & KITS