Boat Plans & Kits Categories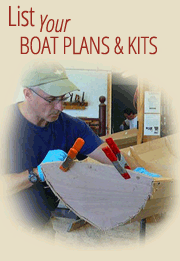 Please login or register to post your Boat Plans & Kits.
You are here
microBootlegger

In 1924 George Crouch designed a ground-breaking speedboat name Baby Bootlegger. Baby Bootlegger was an innovation in its time, introducing the "rolled sheer" where the deck blends smoothly into the side, and the long stream-lined stern, it was the prototype of the mahogany runabouts that became popular in the 1920's. While this may be an unexpected starting point for a kayak, the graceful, efficient shape struck my fancy.
In the 1880's J. Henry Rushton was at the forefront of an explosion in the popularity of canoeing. His canoes were not what we currently think of as a "canoe" instead they were generally a boat where the paddler sat down in the bottom of the boat and used a paddle with blades at both ends. Often his boats had long decks with a cockpit where the paddler sat. In other words, what most people might think of as a kayak, but are typically called "double paddle canoes.".
Taking the idea of a Rushton-style double paddle canoe a
DESIGN SPECS
Designer:
Year of Design:
LOA:
Beam Length:
Draft Length:
Displacement:
Materials:
Propulsion:
Skill Level to Build:
Cost:
Website:
Contact Information:

54 South Rd

Groton 6340
Phone: (860) 659-8847
<< VIEW ALL BOAT PLANS & KITS