Boat Plans & Kits Categories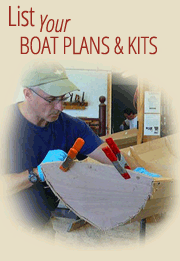 Please login or register to post your Boat Plans & Kits.
You are here
Night Heron

This boat brings the volume of the hull out towards the ends more for a higher prismatic coefficient. This gives it good efficiency at faster speeds. It has fairly hard chines with no concave sections. A slight lean will allow the boat to turn easily. The low back deck permits the paddler to easily lean back so their head touches the back deck. The foredeck is high enough that most paddlers will be able to get there legs in and out whiled sitting down. The design can be built with higher deck for those who need more room.
Strip-plank construction allows a rugged, lightweight boat be built without a lot of expertise. The narrow, flexible strips can conform to graceful shapes making an efficient and beautiful design.
DESIGN SPECS
Designer:
Year of Design:
LOA:
Beam Length:
Draft Length:
Displacement:
Materials:
Propulsion:
Skill Level to Build:
Cost:
Website:
Contact Information:

54 South Rd

Groton 6340
Phone: 860 659 8847
<< VIEW ALL BOAT PLANS & KITS