Boat Plans & Kits Categories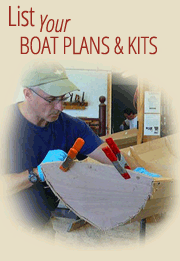 Please login or register to post your Boat Plans & Kits.
You are here
Papoose

This charming addition to our cradle boat fleet is adapted from a type known as a pram. Prams have transoms at both bow and stern, and are used extensively as tenders for larger vessels because of their roominess in a relatively short length. Papoose is 38″ long and 23″ wide, and is an easy boat to build, using common lumberyard materials. Plans include large-scale construction drawings for all assemblies and full-size patterns for all parts. Comprehensive construction notes describing all components and building procedures are number-keyed to the corresponding parts in the drawings, so there is no guesswork.
DESIGN SPECS
Designer:
Year of Design:
LOA:
Beam Length:
Materials:
Skill Level to Build:
Available as:
Cost:
Website:
Contact Information:

Jordan Wood Boats
PO Box 194
South Beach, OR 97366
Phone: 541-867-3141
<< VIEW ALL BOAT PLANS & KITS