January/February 2015, Issue 242

Save a Classic

TENANGO

An Elco Flat-top

Elco cruisers, although built assembly-line fashion and known as "standardized," were among the best of their type—right up with Consolidated, Chris-Craft, Wheeler, and Richardson.

January/February 2015, Issue 242

WoodenBoat Magazine

Rebirth of a Westport Pond Boat
Catching Up with Meade Gougeon
CAPRICE and GHOST
Making Cabin Trim
Motorboats of the Future
A Strip-Built Baidarka—Part 1
The Charter Boat DAVID B's Conversion
Sailing Off the Anchor

Newsstand Only Special Issue

Small Boats 2015

A guide to trailerable small craft you can store and maintain at home.

High-performance dinghy, family daysailer
A McKenzie-style drift boat
A charming house and camp boat
A nicely mannered rowboat
The smallest of K. Aage Nielsen's double-enders
A sail-and-oar boat in the style of Arthur Ransome
A high-performance expedition boat
Welcome!
You are now logged in.

ADVERTISEMENT
Rockport
,
ME
"ZAIDA," 1937 Alden Cutter 60′- Iconic vessel in need of restoration. $139,000
WoodenBoat Magazine's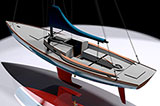 Extended content from issues of WoodenBoat magazine: Sketchbook, videos, photographs, and articles posted here relate to specific issues of WoodenBoat.
I have considerable pride in both the design of SkiffAmerica, and the actual boat. At this point I can say I am just as proud of what I have...
If you're in the market for a boat to build, this is a fine place to start. And if you are a designer offering plans or kit boats, we invite you to enter your information, there is no charge! This is for boats of ANY hull material.
Skill Level:
For both professionals and amateurs

You have an opportunity to build this boat, at no charge — as long as you build it with kids.