Boat Plans & Kits Categories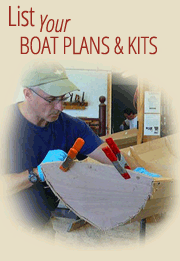 Please login or register to post your Boat Plans & Kits.
You are here
15' 0" Freedom 15

Freedom 15
modern efficient pleasure canoe
Like its sisterships, the Freedom 15 features an asymmetrical hull with a fine bow and slightly fuller stern. The mid section has mild tumblehome for comfortable solo paddling and good structural rigidity. A small canoe has an easier time turning corners and needs some design features to aid with straight-line tracking. To this end, the Freedom 15 has less rocker and deeper aft sections for effortless steering. The 35" beam gives it a stability factor of 104 which means it will give confidence to those on board, and yet be a pleasure to paddle. We see it on lakes, rivers, and portages being used for camping, day trips, fishing and just playing around.
DESIGN SPECS
Designer:
Year of Design:
LOA:
Beam Length:
Draft Length:
Displacement:
Materials:
Propulsion:
Skill Level to Build:
Available as:
Cost:
Website:
Contact Information:

P.O. Box 191

Peterborough ONTARIO K9J 6Y3
Phone: 705-740-0470
<< VIEW ALL BOAT PLANS & KITS