Boat Plans & Kits Categories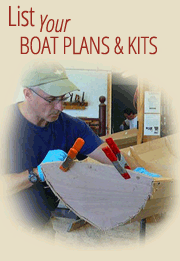 Please login or register to post your Boat Plans & Kits.
You are here
16' 0" Champlain

Champlain 16
A popular Peterborough Classic
The Champlain High-ender, built by the Peterborough Canoe Company, was one of their most popular designs. Originally built in cedar/canvas, it appeared in their final catalogue of 1961. The Champlain Lowender, with less height in the ends, was built on the same mold. A good traditional style general purpose recreational canoe. Features a moderate displacement, soft bilge and moderate rocker - paddles well in the 'heeled over' position. Ideal for recreational paddling (solo or tandem) and light tripping.
DESIGN SPECS
Designer:
Year of Design:
LOA:
Beam Length:
Draft Length:
Displacement:
Materials:
Propulsion:
Skill Level to Build:
Cost:
Website:
Contact Information:

P.O. Box 191

Peterborough ONTARIO K9J 6Y3
Phone: 705-740-0470
<< VIEW ALL BOAT PLANS & KITS