Boat Plans & Kits Categories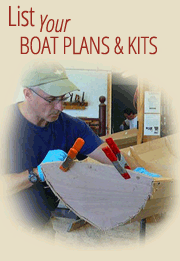 Please login or register to post your Boat Plans & Kits.
You are here
17' 0" Solo Tripper

For those beautiful days out for lunch on the river or an evening on the lake by yourself, this is the boat. This asymmetrical design (the forward sections are finer than those aft) can be paddled from a tractor style seat while switching sides every eight strokes or from a traditional seat with the boat heeled over. Over two and a half inches of tumblehome either side bring the gunnels in for comfortable paddling.
Designers comments: "The large tumblehome was designed into this boat for ease of paddling, but what it does to the appearance of the boat is dramatic. The narrow gunnel width emphasises the slim lines and the high section curvature near the waterline looks dramatic. And I think you will find this boat paddles even better than it looks."
DESIGN SPECS
Designer:
LOA:
Beam Length:
Draft Length:
Displacement:
Materials:
Skill Level to Build:
Available as:
Cost:
Website:
Contact Information:

P.O. Box 191
Peterborough ONTARIO K9J 6Y3
Phone: 705-740-0470
<< VIEW ALL BOAT PLANS & KITS