Boat Plans & Kits Categories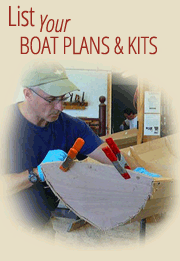 Please login or register to post your Boat Plans & Kits.
You are here
Eastport Pram

The Eastport Pram's™ many joys are multiplied when you add the sailing rig. Not a clumsy add-on, the large standing-lug sail and efficient rudder and daggerboard convert the pram into a proper sailboat with enough real performance, upwind and down, to keep the most seasoned sailors interested. The 48-inch beam means that the likelihood of capsize is remote as long as the sheet is never tied down. This is the perfect craft in which to learn to sail, whether the crew is age 8 or 80.
Small tenders should be able to withstand heavy handling alongside the mothership or in the dinghy park. Planking is 6mm okoume throughout, with three 9mm frames and seats. There's a big, deep skeg for tracking under tow. In addition to multiple layers of fiberglass on the bottom panel, there are two cypress rubbing strips on the bottom to take the abrasion of dragging on a beach. For added safety, permanent flotation tanks are built in beneath the seats
DESIGN SPECS
Designer:
Year of Design:
LOA:
Beam Length:
Draft Length:
Displacement:
Materials:
Propulsion:
Skill Level to Build:
Available as:
Cost:

$879 Rowing Kit + $799 Sailing Kit / Plans: $69

Website:
Contact Information:

1805 George Avenue

Annapolis Maryland 21401
Phone: 410-267-0137
<< VIEW ALL BOAT PLANS & KITS